France 1998 - An Overview
The 1998 World Cup returned to France after an absence of 60 years.
After four straight tournaments featuring 24 teams, FIFA expanded the event to 32 nations to allow a greater representation from the weaker confederations.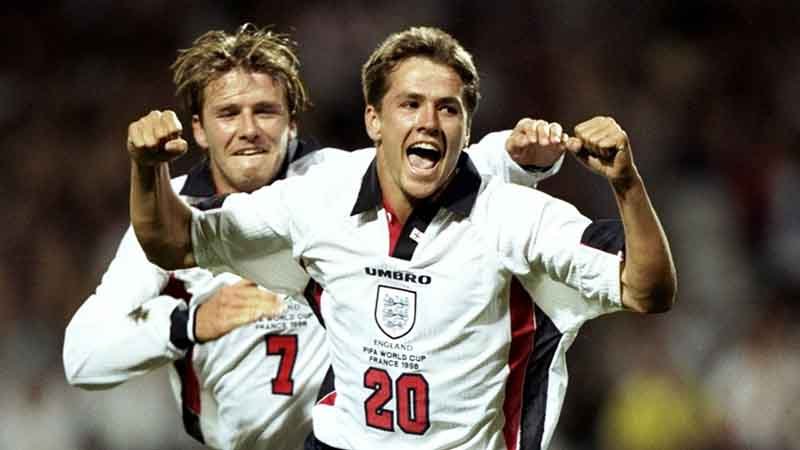 A record 174 countries entered the qualifying campaign, with all major countries making it through to the finals.
Hosts France hadn't appeared at the tournament since 1986.
A record 22 red cards were dished out, mainly due to the fact that referees had stricter guidelines to follow when booking players.
Cameroon's Rigobert Song became the first man in history to be sent off twice. He also saw red in 1994 against Brazil.
England and Italy suffered more penalty shootout heartbreak, but the Three Lions had a new young star in 18 year-old Michael Owen, who scored a superb solo goal against Argentina in a memorable game which also saw David Beckham sent off.
Germany, with an ageing team, ran out of steam against Croatia in the quarter-finals, with Lothar Matthaus making his record 25th World Cup appearance and taking part in his fifth finals.
Argentina, Netherlands and Denmark made sure it was an enjoyable few weeks for neutral fans with their attacking football while the  golden goal rule was introduced for the first time in the World Cup finals.
France's Laurent Blanc scored the first ever golden goal in the hosts 1-0 win over Paraguay.
Robert Prosinecki became the first player to have scored for 2 different teams in World Cup finals, having scored for Yugoslavia in 1990 and for Croatia in 1998.
Argentina striker Gabriel Batistuta scored a hat-trick against Jamaica, becoming the only player in history to score two hat-tricks in different World Cups, following his treble four years earlier against Greece while Zinedine Zidane became the first player ever to be sent off in a the final game of the tournament.
VITAL STATISTICS
| | |
| --- | --- |
| Host country: | France |
| Dates: | June 10 – July 12 (33 days) |
| Teams: | 32 (from 5 confederations) |
| Venues: | 10 |
| Champions: | France |
| Runners-up: | Brazil |
| Third place: | Croatia |
| Fourth place: | Netherlands |
| Matches played: | 64 |
| Goals scored: | 171 (2.67/game) |
| Attendance: | 2,784,684 (43,511/game) |
| Top scorer: | D. Suker Cro (6) |
[mp_ads_system ads_system_select="48205″]
THE FINAL: France 3 Brazil 0
The 1998 World Cup final was a mouthwatering encounter, featuring defending champions Brazil and host nation France, who were playing in the showpiece for the first time.
The match was held at the Stade de France on the outskirts of Paris and had an attendance of 75,000.
All the talk before kick-off was over the condition of Brazilian superstar Ronaldo, who was said to have suffered a convulsive fit in his hotel room just hours before the final.
The striker was initially left out of Brazil's team sheet, before he was mysteriously reinstated 72 minutes before the match was due to get underway.
During the game, the Brazilian was a shadow of his usual brilliant best and was injured in a collision with France goalkeeper Fabien Barthez.
France's own talisman Zinedine Zidane, who was named man of the match, scored two headers before half-time and Emmanuel Petit added a third goal in the final minute.
For Brazil, this marked only the second time that they had lost a World Cup final, following their 2–1 upset loss to Uruguay on home turf in 1950.
The 3–0 scoreline was also Brazil's heaviest defeat in any World Cup match.
As for Les Bleus, the clean sheet meant they had conceded only two goals throughout the tournament and their superb team went on to win Euro 2000 jointly held by the Netherlands and Belgium two years later.
https://youtu.be/fLrpI76KgvY
THE ROAD TO THE FINAL
Brazil
Group stage
Scotland 2-1
Morocco 3-0
Norway 1-2
Round of 16
Chile 4-1
Quarterfinal
Denmark 3-2
 Semifinal
Netherlands 1-1 (4-2 pen)
France
Group stage
S.Africa 3-0
S.Arabia 4-0
Denmark 2-1
Round of 16
Paraguay 1-0 (gg)
 Quarterfinals
Italy 0-0 (4-3 pen)
 Semifinal
Croatia 2-1