2006 Germany - An Overview
Germany was selected to  host the 18th World Cup tournament amid accusations of corruption and bribery.
Countries that that had supported Germany's candidacy were allegedly awarded lucrative business contracts while Franz Beckenbauer, a World Cup winner as both a player and a coach, was also accused of being involved in 'persuading' countries to support Germany's candidacy.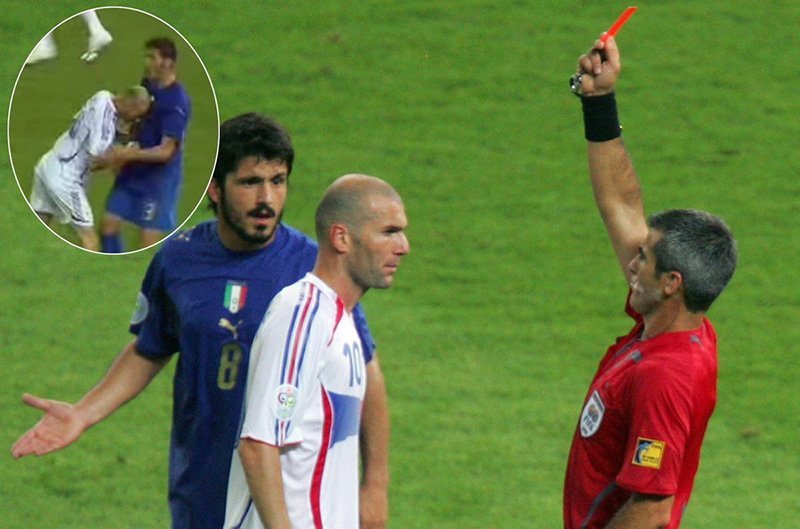 Beckenbauer had repeatedly denied all charges but he was warned and fined by FIFA in early 2016 for not cooperating investigation into the award of the 2018 and 2022 World Cups.
The tournament though proved a huge success as it was the most watched event in television history, with an estimated 26.29 billion non-unique viewers. The estimated audience of the final between Italy and France was over 715 million people.
Germany, fexperienced a sudden increase in patriotic fervour with flag waving, traditionally frowned upon by German society since World War II.
It was the first World Cup for which the previous winner had to qualify; the host nation continued to receive a place in the Finals while four African teams also made their debut in the world cup finals: Togo, Ivory Coast, Angola and Ghana who impressively made it to last 16 by beating the Czech Republic, third ranked in the world, 2–1, along with the United States 2–0, before losing to the defending champions Brazil 0–3.
Despite early success by Australia, Ecuador and Ghana, the tournament marked a return to dominance of the traditional football powers.
Four years earlier football 'novices' like USA, Senegal and South Korea had progressed  well into the knockout stages while Turkey finished in third place.
Six former champions took part in the quarter-final round, with Ukraine and Portugal as the only relative outsiders.
Argentina and Brazil were knocked out in the quarter-finals, leaving an all-European final four (Italy, France, Germany, Portugal) for only the fourth time after the 1934, 1966 and 1982 tournaments.
There was a dearth of goal scoring in the knockout stages despite a flurry of goals in the group stages.Italy, Germany, Argentina, Brazil and France were the only teams to score more than one goal in a knockout match.
There was no shortage of yellow and red cards though as a record number of 345 yellow, and 28 red cards were brandished with the 'Battle of Nuremberg' between Portugal and the Netherlands breaking all records as Russian referee Ivanov showed 16 yellow and 4 red cards.
VITAL STATISTICS
| | |
| --- | --- |
| Host country: | Germany |
| Dates: | June 9 – July 9 |
| Teams: | 32 (from 6 confederations) |
| Venues: | 12 |
| Champions: | Italy |
| Runners-up: | France |
| Third place: | Germany |
| Fourth place: | Portugal |
| Matches played: | 64 |
| Goals scored: | 147 (2.30/game) |
| Attendance: | 3,359,439 (52,491/game) |
| Top scorer: | M.Klose GER (5) |
[mp_ads_system ads_system_select="48205″]
THE FINAL: Italy 1 France 1 (5-3 pens)
The final began at a frantic pace with both sides scoring in the opening 20 minutes.
Zinedine Zidane opened the score with a 7th minute penalty while Italian defender Marco Materazzi equalized 12 minutes later.
The two scorers would hit the headlines not for their scoring prowess but for an off the ball incident towards the end of extra time game that ended with the Frenchman headbutting the Italian.
Zidane was red carded, and unfittingly this was to be his last piece of action in his long and illustrious career.
Both teams had the chance to win before the game reached the penalty stage.
Italy's Luca Toni hit the woodwork while in extra time Zidane saw his goalbound effort superbly saved by Italy's Buffon.
France could have been awarded a second penalty after Zambrotta appeared to have brought down French striker Florent Malouda.
The player that gifted France the EURO championship in 2000 with the golden goal, David Trezeguet, turned villain as he was the only one of the ten penalty takers not to score.
THE ROAD TO THE FINAL
Italy
Group stage
Ghana 2-0
USA 1-1
Czech Rep 2-0
Round of 16
Australia1-0
Quarterfinal
Ukraine 3-0
 Semifinal
Germany 2-0 (aet)
France
Group stage
Switzerland 0-0
S.Korea 1-1
Togo 2-0
Round of 16
Spain 3-1
 Quarterfinals
Brazil 1-0
 Semifinal
Portugal 1-0
s