If you've lived in Cyprus for more than a year, you know exactly which beaches you prefer. Looking for a pebbly shore, and a quiet day by the sea in Larnaca? Then Oroklini Beach is the place to be. Eastward bound, and in search of sand, snorkeling, and facilities on a Blue-flagged beach? Fig Tree Bay's a good choice. Or if you're after total peace and quiet near Limassol, and in possession of a 4×4, then it's down to Ayios Yiorgos. But here's the thing: even if you've known the island your whole life, there are hundreds of coastal spots still to be discovered. Or, if you're a tourist, you probably have little notion of just which beach suits your needs. And that's where the new app, Cyprus Beaches, comes in extremely handy…
Developed by Andreas Papadopoulos in cooperation with the CTO, Cyprus Beaches was released at the start of May. Available for both Android and iOS (in Greek, English, and Russian) it's still in the fine-tuning stage, but the basics are there, the photos spectacular, and the options legion. You can search by region, morphology, facilities, access, number of visitors, activities and atmosphere. You can filter for disabled access, for public transport routes, for nearby picnic sites; for a party atmosphere, for wifi, for sunbeds and umbrellas. You can even access the Get Directions option which will gps you on your way. Or, you could just sit back and scroll through the entire list of 135 beaches, taking in a slide show of more than 500 coastal shots (taken both from the ground and the air) to see which beach takes your fancy.
Less a labour of love than an abiding passion for its creator, the Cyprus Beaches app has been four years in the making. Or possibly a decade, depending on how you look at it. The author of four books pertaining to the beaches of Cyprus (published between 2012 and 2017), Andreas is passionate about his homeland, and especially fascinated by the local coastline.
"The sea holds your gaze like the land holds your feet," he enthuses. "I've visited beaches all over the world but Cyprus," he suggests, "is unique. In Scotland, you get unbelievable beaches, but you can't swim; it's too cold. In North Carolina, it's beautiful, but the huge waves are incredibly dangerous. Even in Mykonos you get uncomfortable winds. But here, along with richly varied coastal terrain, you get warm, clear, shallow, safe waters and weather that's generally mild and pleasant."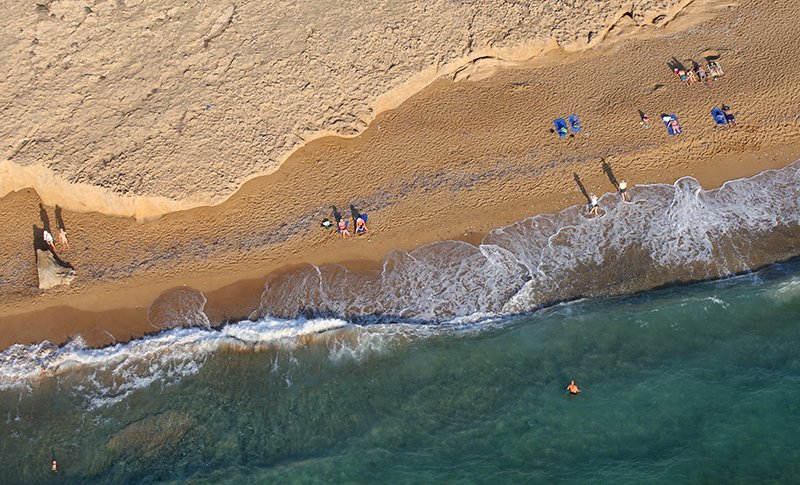 It's a rare combination of parameters, a blend of factors which lends itself perfectly to exploration and discovery. And this ties in perfectly with Andreas' ultimate aim for the newly-released app: that it should facilitate the exploration, appreciation and care of the island of Cyprus. "So often you hear people complain that we don't take care of our country. And I am of the belief that this is the case not because we are incapable of looking after our island, but because we don't really know it. If you get to know Cyprus – really know and understand the beauty and the value we take for granted – then you grow to love it, to be proud of it, and begin to take care of it."
Andreas himself exemplifies this sentiment: not only has he written four books on the island's beaches, and recently released the app, he's also the owner of both Discovering Cyprus (a directory of all beaches on the island) and protaras.org, as well as being an ardent photographer of the island's beauty. In fact, all the photos of beaches (and there are at least four pictures of every spot) come courtesy of the man behind the app…
"I've visited every single one of these beaches myself," Andreas grins, adding that he's certainly put his car through its paces in the process! "Firstly, I note down all the features such as morphology of the coastline, the attributes of the sea – whether it's deep or shallow, its colour and clarity – and the wind direction. I take sand samples and check the softness, particle size and colour. And I also look at the nearby facilities: bathrooms, wifi, disabled access, and so forth… Then I choose the right time of day and photograph the beach: both from the ground and the air…"
This he does mainly by paragliding above the shore, a process which is – he suggests – incredibly enjoyable but rather costly; especially when you run the risk of dropping your camera equipment into the sea! "Once I was 100 metres up in the air and pressed the lens release rather than the focus button – it was almost a total disaster," he laughs. "But it's all worth it in the end!"
In the course of his coastal journeying, Andreas has had any number of novel experiences: he knows where all the turtles nest and has seen the hatchlings; he's pedal boated up close to the elusive Mediterranean monk seal, and – thanks to his love for Cyprus' coastline – is currently involved in a project to green the beaches, in cooperation with the Department of Forestry, the municipalities, and the Blue Flag organisation CYMEPA. He's also busy adding the beaches of Larnaca to the app (all other districts have been covered), while looking forward to a future in which Cyprus Beaches becomes interactive.
"This is a soft launch; a primitive app in a way because users can't rate or comment," he says, adding that he hopes to amend this in time. "At the moment, I can't communicate with users, and I do want to include these interactive parameters in the future – giving everyone the opportunity to make our beaches better," he explains. With approximately 10 downloads a day just a month after launch – and no marketing or publicising to date – the app looks to be well on the road to success. "It's not like a book: printed, published, and unchangeable. It's dynamic. And I believe it's already helping both locals and tourists to appreciate the beaches and nature of the island. So this," Andreas concludes, "is really just the beginning…."
The Cyprus Beaches app is available to download for both iOS and Android at a cost of €2.29. For more information, visit www.discoveringcyprus.com/ or 'Cyprus Beaches' on Google Play and the App Store.