THEO PANAYIDES finds that the maths whiz charged with overseeing the facility in Limassol expected to draw in hundreds of thousands of extra tourists has had a successful life, built on rising to a series of challenges
Just beyond MyMall, right on the edge of the city, land is being cleared for City of Dreams Mediterranean, the casino resort that's projected to lure an extra 300,000 tourists a year to Limassol. A few minutes and a couple of streets away, a temporary casino – a 'mere' 33 tables and 242 slot machines, though still a multi-million-Euro investment – is due to open in a few days, presumably to whet our appetites till the main event opens in 2021. And a few minutes down from that – at the intersection of two main roads, in a building with a security guard who takes my name and makes me sign in – is the second-floor office where Craig Ballantyne, the casino's 'property president', ponders this massive project, chatting cheerfully and sipping a cappuccino.
Craig is beefy, shaven-headed, with unblinking grey-blue eyes and a Scottish accent that's survived all these decades away from Dundee – and he loves to talk. "I love having an argument," he tells me – but he also loves to talk about himself, and his life in casinos. The various adventures he's had don't go unrecorded; "I write all these things up, for posterity". After 40 years in the business (he's now 67), he's writing his memoirs, though he still hasn't settled on a title. "'Casino Myths and Other Things'," he offers vaguely, in the spirit of a work in progress – and the second half of that title could admittedly use some work. The first half, however, sounds like a winner.
Casino myths loom large in our conversation. "There are many myths about casinos," he points out wryly. The myth of 'dealer signature', for instance. The myth of patterns, and good luck coming in waves. "I've lost five times in a row, this time I'm going to win so I'll increase my bet," he says, in the voice of the inveterate gambler. Roulette players will invariably bet on red after three consecutive blacks, or on 17 after 29 if it happened to come after 29 the last time. Gamblers consult the display boards in casinos, showing the last few numbers, like a seer consulting her runes – despite the obvious fact that probabilities don't change, whatever you choose to bet.
"It could be birthdays. It could be all the 9s – 9, 19, 29 – because these are your favourite numbers." Craig managed a casino in the early 00s where a player won €4.2 million over the course of a week – "and actually the guy's game was so, so simple. He played nine numbers, maximum bet". The player never varied his bet, regardless of whether he was winning or losing, and he played a section of the wheel, choosing nine numbers that were next to each other. Then he'd place his bet and leave the rest to Chance, or God or whoever. A casino is a place of magical thinking.
Craig himself is nothing like that. I take it you're not very spiritual, I hazard near the end of the interview, when I've gotten to know him a little; "Nope!" he agrees, and laughs uproariously. His front teeth show when he laughs, his round, bobbing face giving him the look of a jovial rabbit – but it's clear he's nobody's fool, and I'm guessing he's not always amiable. (I do overhear him talking to subordinates later, and catch a glint of steel in his voice.) One of his many challenges, he recalls at one point, was the Mont Parnes casino in Athens, a case of a joint venture which was 51 per cent state-owned: "The union was very strong, but the performance of staff generally was very weak. So I had to change the mentality. And I believe I transformed it, in less than two years." I assume he did that by firing people? "No, by doing the right things," he retorts firmly. "I mean OK, there were some terminations, but only for the right reasons". The union couldn't protest, because he was always careful to follow the letter of the law. "Must – follow – the law!" says Craig, knocking on the table for emphasis.
That's always been his style: firm, logical, above all methodical. One of his hobbies is cooking (he only has a handful of hobbies, the others being golf, snooker and classical piano), and his most successful dish is his beef bourguignon – "basically because it's 49 steps," he explains, and laughs again. "I know that sounds crazy, I suppose you could say I'm a little OCD when it comes to setting things out. I'm the same in business. I look at the KPIs [key performance indicators], I look at the analyses, I look at what every member of staff does, and I determine performance based on that". Craig is the type of person who keeps a mental spreadsheet of his life so far: "When I was at school – the secondary school in Linlathen – we used to have positions in school, and from all the terms I can remember I was 3rd, 1st, 2nd, 1st, 1st, 1st, 1st, 1st, 1st, 1st. And then I was the dux of the school," he concludes, 'dux' being a Scottish term for 'top student'.
His record spoke for itself. "I was very good at maths when I was young," he recalls, with fine understatement. The Royal Bank of Scotland offered him a job right out of high school, without a degree (he did attend Dundee Commercial College during his time in banking), then he joined Ladbrokes, the betting company, in his early 20s – a job that suited his flair for complex mental arithmetic. "You could have six horses winning or coming placed, so you were betting on winning and placing for six horse combinations. And then you multiply them up by doubles, trebles, quads, fives and sixes," he rattles off, by way of example. Ladbrokes moved him to their new casino division a few years later, by which time he'd also shown himself to be an excellent manager: "So, from 1976 on, I was a manager".
42 years later, that's still what he does – though not in Britain; even now, "most of the casinos in the UK, you can fit inside your house," he quips dismissively. So where has he worked? "I'll try and do them in chronological order," he says, pausing to lay down the sequence in his head: "So – Poland, Russia, Ukraine, then Romania, Kenya, Lebanon, Egypt, South Africa, Greece, Russia, Cyprus". Poland was also where he met Gosia, his second wife; they've been married since 1998. (He also has a daughter, in her 30s, who lives in Canada.) His second stint in Russia was actually in Vladivostok, working for Hong Kong billionaire Lawrence Ho who needed an experienced veteran to spearhead his Russia operations. Ho is the chairman of Melco, the parent company behind the City of Dreams franchise – which explains why Craig is now here, tasked with setting up the first CoD casino outside the Far East.
Those countries all sound quite… challenging, I point out delicately. Never mind placid places like the UK, he's never even worked in a gambling mecca like Las Vegas; would he have liked to? "Not necessarily. Not in the middle of a desert, thank you." Macau – where Ho owns a number of casinos – is more his speed.
Maybe he could try it after Cyprus, I suggest.
"Oh no, that's me finished!" he replies, and gives another of his great rabbit laughs. "This is definitely the last one!" He's 67, after all, and has worked crazy hours, six days a week and often seven, for nearly 50 years; "I've never had my holidays, not really". He's retired twice already, and twice changed his mind. People ask why he keeps doing it, and they have a point. Note, however, that his hobbies – golf and snooker, both of which he plays to a high standard – are individual sports; he's never been terribly keen on team sports like rugby and football. "I think I like being challenged as an individual – and I think that's why I took the challenge of Cyprus from Lawrence… People say 'Why aren't you retired, Craig? You're 67, you've made enough money'. But I like the challenge."
The emphasis on unaided, individual success is significant. Craig Ballantyne, after all, is a man who's been successful all his life. He never had that shimmer of self-doubt which afflicts most young people in their 20s; from school dux to maths whiz to casino manager, his path has been clearly defined. But there's something else too. Craig was born with a talent for numbers, and numbers have their own special character. Numbers mean logic; numbers mean transparency; numbers – notoriously – don't lie. His preference for personal challenges and a kind of stubborn individualism is reflected, indirectly, in his work, much of which has been spent standing apart from the crowd – protecting his casinos against corruption (the opposite of transparency) and relying on cold mathematical logic, as opposed to magical thinking.
His 40-plus years in casinos appear to have been a constant battle against crooked dealers, corrupt employees and larcenous customers. In Poland, he once made a citizen's arrest of a man who'd stolen chips from a gaming table, having marked the chips with UV then traced the man from Warsaw to Poznan. In Kenya, "I woke up to a Kalashnikov in my face one morning, I was arrested by the immigration authorities because I'd fired the food and beverage director" (who happened to be friends with the son of then-president Daniel arap Moi). Also in Poland, he foiled a complicated blackjack scam "which was worth in excess of six million – and that was what we call an unshuffled slug of cards," he explains, and laces his hands around an imaginary deck to show me how cards can be shuffled in a way that keeps one section of the deck the same.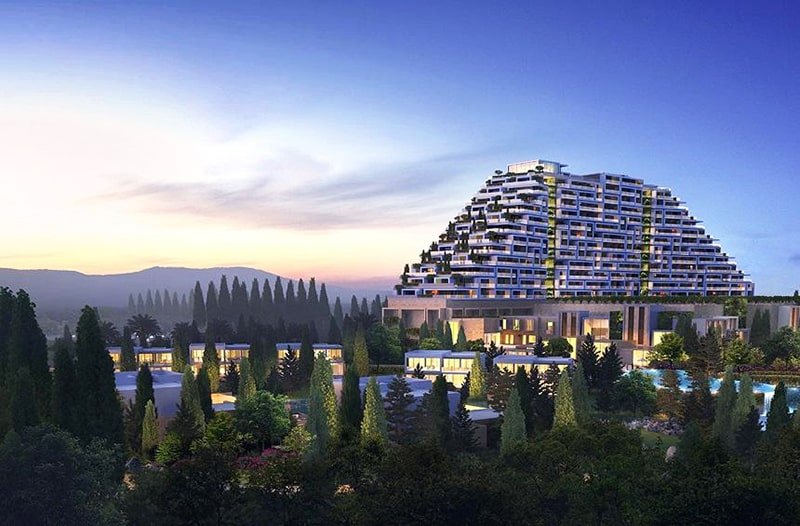 Craig can do this, despite not being a professional cardsharp (he can also spin a ball better than most dealers; you pick up a lot after 40 years) – but his main weapon was always the numbers, indeed that's how he first became suspicious of the scammers, "because I looked at the analytics and the game margins didn't look right". Craig is hard-nosed, and immune to casino myths. In a place where people believe that betting money on their son's birthday will somehow invoke Lady Luck, this assertive, down-to-earth, even somewhat dour Scotsman is the last redoubt of rational thinking.
What's he like as a person? Is he conservative? "I'd say yeah, I'm very conservative I think. I'm a great believer in 'everything in moderation'." He likes to drink, but stops after a couple of whiskies. He'll light a cigar now and then, but that's all. He used to bet but doesn't anymore, partly due to having been burned by the stock market. He doesn't enjoy a wild social life; "I want to be low-key… I'm not [casino mogul] Steve Wynn and all these guys". He's also, he insists, law-abiding, whether it's rooting out corruption or following AML (anti-money laundering) regulations. If a customer changes €100,000 into chips then comes back to the cash desk and returns the chips, asking for an electronic transfer, Craig will decline; "I say no, you came in with cash, you get cash". These days, legal guidelines for casinos are almost too robust, he notes – then goes off on a rant about double standards, and bookies being allowed to advertise while casinos aren't. Like he says, he loves an argument.
What about the claim that casinos enable gambling addiction?
"I've been in this business for more than 40 years. How many times have I seen a serious addict in my life?" He holds up the fingers of both hands, though it's unclear if he actually means 'Ten' or 'Not many'.
Yeah, but you can't really know, I point out. Maybe someone makes a relatively small bet, but that's all the money they have in the world.
"I'm not in the business of – let's say, creating social problems," he replies smoothly, "I'm in the business of providing a legal service in the right way… I'm not interested in having people addicted to gaming, where they destroy their business, their family and everything else. In fact, I'm probably more moral than most people – certainly most governments! When I was in Poland, to give you a small example, I actually reduced the hours of gaming by six hours."
He would say that, of course. Craig Ballantyne has been tempted to try other things over the years – open his own restaurant, most notably – but casinos have been his life, and he'll always stand up for them. Meanwhile, City of Dreams Mediterranean looms large on the horizon, not just a resort but a "holistic" resort, not just a casino but also a 500-room hotel, 22 high-end villas, four restaurants, 11 bars, an amphitheatre, a wedding chapel, outside areas totalling 52,000 square metres, MICE facilities (Meetings, Incentives, Conventions, Exhibitions) totalling 9,600 square metres. It's going to be huge, certainly by Cyprus standards if perhaps not by Macau ones – and this smart, veteran manager is here to set it up, putting the numbers to work one last time before retirement. "The reality is, my job's very hard," says Craig, and laughs again. "You want my job, come and get it!" Another casino myth exposed, obviously.