If you need a break from the World Cup action on the pitch after nearly two weeks of non-stop football matches, let's take a look at what's going on off it and the lighter side of football.
The Cyprus Mail has compiled a series of videos, tweets, jokes and quotes to keep all fans happy – regardless of their allegiance.
WARNING – If you are politically correct, then please do not read further
The English, or should I say Brits, have been the main source of most of the jokes and commentators' gaffes so we should give them a first mention beginning with Rob Molloy's (rather unfortunate) joke on what he thought about the English team's prospects at the World Cup.
The England football team visited a Russian orphanage yesterday. "It's heartbreaking to see their sad faces with little hope' said Vladimir aged 6"
Former Danish and Man U goalkeeper Peter Schmeichel also took a swipe at England with the following tweet
HaHa ? pic.twitter.com/qdCcD14h4w

— Football Trolls #WorldCup (@FootballlTrolls) June 14, 2018
Humble pie for the rest of the year for Rob and Peter.
Harry Kane is finally getting the plaudits he deserves after finding the net 5 times already with an Arsenal fan actually admitting that Harry is a good player
Hate to say this but that Kane…well he is good even though he plays for them
It was no surprise then that Kane was elevated to Messiah status alongside the likes of Messi and Ronaldo.
Both goals scored by Kane! #Eng ???????

The Saviour! pic.twitter.com/t3qHbm9NRA

— Football Trolls #WorldCup (@FootballlTrolls) June 18, 2018
The English supporters finally learnt why the VAR experts failed to spot two very obvious penalties for England against Tunisia and deny Kane a third and fourth penalty.
Apparently everybody in the VAR room were impatient to know why Laura ended her fling with Wes on Love Island (not the real Love Island, but a fake one)
VAR crew officiating England vs Tunisia pic.twitter.com/StybXh5yD8

— чм2018 ❤ (@Gibbe84) June 18, 2018
Enough said about England. Let's move on the team that a lot of people actually thought would win the tournament, Argentina, and who just managed to scrape through to the knockout stages largely thanks to the inexperience of the young Nigerian team.
We can but not start with Argentina's only true star, the person who manages to draw the attention of all even though the last time he kicked a ball in international football was in the 1994 World Cup against Greece before being banned for testing positive for ephedrine, Diego Armando Maradona.
His Mr. Bean impersonation was spot on and this alerted the BBC who are now trying to sign him up for the next Mr. Bean series.
Close Enough!! pic.twitter.com/BZczhv7WHI

— Troll Football (@TrollFootball) June 26, 2018
However despite his child-like enthusiasm even Diego could not manage to stay awake and watch the Argentina v Nigeria game to the end.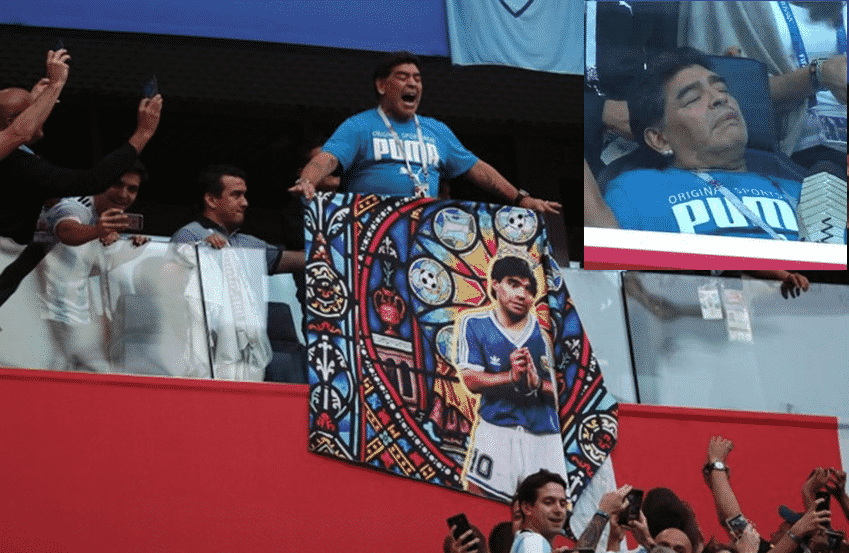 The current Argentinian superstar, Lionel Messi is having a few problems of his own and he has already called his club President telling him which Barca player should leave.
"Hey Bartomeu it's me. Sell Rakitic. Do it now."#ARGCRO pic.twitter.com/6IVf6Xoh5P

— Football Trolls #WorldCup (@FootballlTrolls) June 21, 2018
Spare a thought for Argentina's coach Jorge Sampaoli who has come under a lot of stick for his team's woeful displays. Argentina's true star went as far as saying that  Sampaoli should not dare return to his homeland after such a disgraceful display (against Iceland).
Sampaoli's confidence was clearly rocked as he can be seen during the game against Nigeria asking Messi if he should bring on Aguero!!!!
"¿Lo pongo al Kun?" – Sampaoli asks Argentina head coach Lionel Messi whether he should sub on Kun.
A few minutes later Aguero is brought on…#ARG ##albiceleste #WorldCup pic.twitter.com/1N6mGhUcxz

— Gilles (@GrimandiTweets) June 27, 2018
Even the great Pele had something to say about Argentina
Pelé is SAVAGE!! ? pic.twitter.com/4c0dyAXIhC

— Troll Football (@TrollFootball) June 25, 2018
Despite high expectations, Iceland failed to qualify for the knockout stages but their fans were in a much more forgiving mood as the team was more or less auto selected.
HAHAHA! How the Icelandic national team was picked, this is absolutely hilarious!! #football #Iceland #Euro2016 pic.twitter.com/MH4GbENfVO

— Icelandic Football (@icelandfootball) June 23, 2016
The chart later hit the headlines. "Sheepherders and imprisoned bankers: How Iceland found its team," read a headline.
In part 2 we will take a look at Germany's Auf Wiedersehen, Mexico's new training tactics, Neymar's cute hairstyle, the endearing hosts and much more.