A total of 45 people from the fire department, the forestry department, the civil defence and the ambulance service, arrived in Greece Tuesday from Cyprus on a Greek C130 military aircraft to help deal with the devastating fires in Attica that have killed at least 74 people so far, including whole families with children found clasped in a last embrace as they tried to flee the flames.
There were no Cypriot citizens among the dead and wounded, Cypriot Ambassador to Greece, Kyriakos Kenyevos, told the Cyprus News Agency.
He said the Cyprus embassy in Greece assisted ten Cypriots who asked for help. Most of them were elderly who were trapped in the Mati area. The embassy intervened in order to free them, informing the Greek authorities of their whereabouts.
The entire Cypriot rescue team was due to leave on the C130 Tuesday morning but the addition of two fire-fighting trucks meant some personnel had to travel to Greece by other means. Ten members of the civil defence departed on a private company aircraft while another nine firefighters are due to depart Cyprus in the afternoon.
Fire service spokesman Andreas Kettis told CNA they were putting together a second 40-member mission, who would be on standby in case they were needed to travel to Greece. This team will consist of 10 members of the fire brigade, 10 employees of the forestry department, 10 members of the civil defence, and 10 members of a voluntary group.
In his statements after the departure of the C130, fire service director Markos Trangolas said that around 10am there were 45 people leaving on the C130 for destinations in Elefsina. "Together with the staff, two fire brigade fire trucks were sent," he said.
He also said that at 4.30pm on Tuesday, nine members of the fire brigade will depart with Cobalt, the private airline. He said at the same time 10 members of the civil defence departed around 10.30am with the Aegean private airline. The first Cypriot mission, he said, was made up of 64 people. Both airlines provided free tickets.
They will join the rest of the mission as soon as they arrive.
"Now when they will begin this operation will depend on the situation and the basic needs of the fire department of Greece," he added.
Spain is also assisting under the EU Civil Protection Mechanism, EU Crisis Commissioner Christos Stylianides announced.
"Thank you very much in Cyprus and Spain for the immediate mobilisation of teams of firefighters, rescuers, firefighting vehicles and aeroplanes to help Greece fight the devastating #fires in Attica, European solidarity in action," Stylianides tweeted.
Meanwhile, President Nicos Anastasiades had a telephone conversation Monday with President Prokopis Pavlopoulos during which he expressed his full sympathy for Greece and the Greek people.
The flight programme at Larnaca airport was affected Monday. Three departures and three arrivals to and from the airport of Larnaca to the airport of Athens were delayed by 2-3 hours. The flight programme has now been restored.
The Ministry of Foreign Affairs of Cyprus announced the emergency telephone numbers of the Embassy of Cyprus in Athens
0030-6953009291 and 0030-6995621288.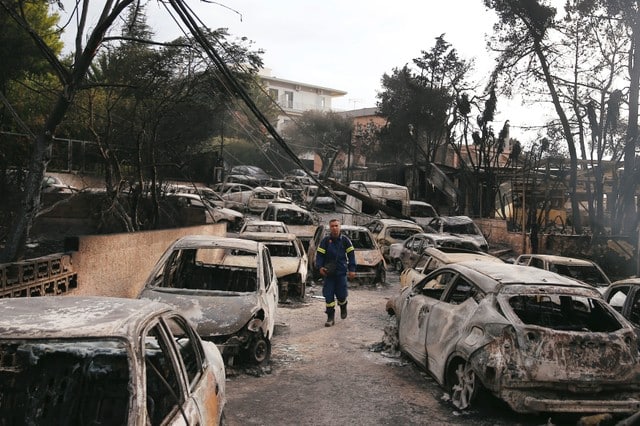 The inferno was by far Greece's worst since fires devastated the southern Peloponnese peninsula in August 2007, killing dozens. It broke out in Mati, east of Athens, late Monday afternoon and was still burning in some areas on Tuesday.
"Greece is going through an unspeakable tragedy," Prime Minister Alexis Tsipras said as he appeared on television to declare three days of national mourning.
Emergency crews found one group of 26 victims, some of them youngsters, lying close together near the top of a cliff overlooking a beach.
"They had tried to find an escape route but unfortunately these people and their kids didn't make it in time. Instinctively, seeing the end nearing, they embraced," Nikos Economopoulos, the head of Greece's Red Cross, told Skai TV.
The strong smell of charred buildings and trees lingered in the air in parts of Mati on Tuesday, where white smoke rose from smouldering fires.
Residents wandered the streets, some searching for their burned-out cars, others for their pets. The eerie silence was punctured by fire-fighting helicopters and the chatter of rescue crews.
A Reuters photographer saw at least four dead people on a narrow road clogged with cars heading to a beach.
"Residents and visitors in the area did not escape in time even though they were a few metres from the sea or in their homes," fire brigade spokeswoman Stavroula Maliri said.
Coastguard vessels and other boats rescued almost 700 people who had managed to get to the shoreline and pulled another 19 survivors and six dead bodies from the sea, the coastguard said.
In total, at least 60 people were killed and the death toll was expected to rise, Evangelos Bournous, mayor of nearby Rafina-Pikermi, said.
It was unclear how many people remained unaccounted for as coastguard vessels combed beaches to find any remaining survivors, with military hospitals on full alert, the government's spokesman said.
One of the youngest victims was thought to be a six-month-old baby who died of smoke inhalation, officials said. Of the at least 94 people injured, 11 were in intensive care, and 23 were children, they added.
"KILLER FIRE"
Mati, 29 km (18 miles) east of the capital, is a popular spot for Greek holiday-makers, particularly pensioners and children at camps. Poland said two of its citizens, a mother and her son, were among the victims.
Greece's fire brigade said the intensity and spread of the wildfire at Mati had slowed on Tuesday as winds died down, but it was still not fully under control.
The service urged residents to report missing relatives and friends. Some took to Twitter and Facebook, posting photographs of young children and elderly couples they hoped to locate.
Newspapers printed banner headlines including "Killer Fire" and "Hell".
Greece issued an urgent appeal for help to tackle fires that raged out of control in several places across the country, destroying homes and disrupting major transport links.
"Our thoughts go to Greece and the victims of the terrible fires," French President Emmanuel Macron said in tweets published in French and Greek. Forest fires are also raging in Sweden.
Authorities said they would use an unmanned drone from the United States to monitor and track any suspicious activity.
Tsipras and Greek officials have expressed misgivings at the fact that several major fires broke out at the same time.
Wildfires are not uncommon in Greece, and a relatively dry winter helped create the current tinder-box conditions. It was not immediately clear what ignited the fires.
A hillside of homes was gutted by flames east of Athens. A mayor said he saw at least 100 homes and 200 vehicles burning.
On Monday, Greek authorities urged residents of a coastal region west of Athens to abandon their homes as another wildfire burned ferociously, closing one of Greece's busiest motorways, halting trains and sending plumes of smoke over the capital.