By Evie Andreou
THE monastery of Trooditissa dedicated to the Virgin Mary on the southern slopes of the Troodos mountains on Friday defended a decision not to let in tourists.
The 13th century monastery complex is open to pilgrims but a sign outside its door informs visitors that entry is not allowed to tourists.
The sign caught visitors off guard recently when they visited the monastery.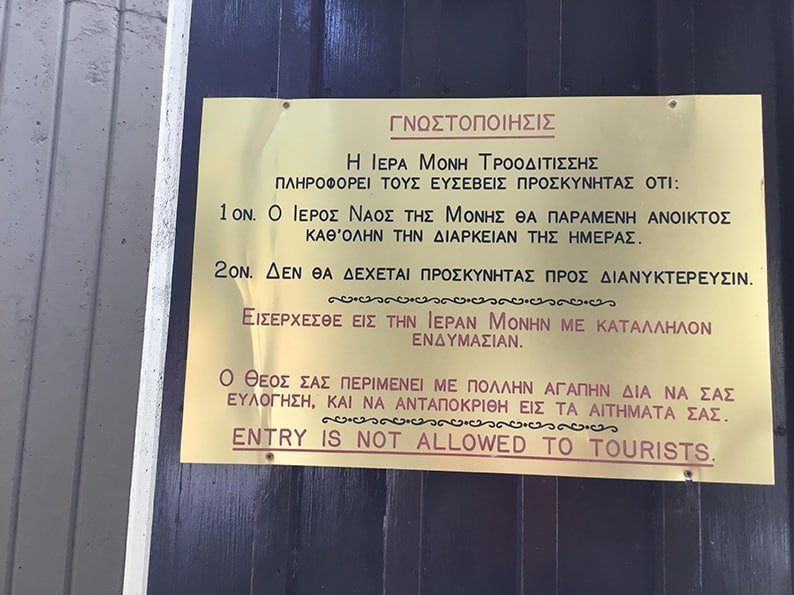 But the policy has been in effect for years, the monastery told the Cyprus Mail, adding that it was a space where people leave behind the secular world "to dedicate themselves to God and prayer."
For that reason, it said, "for the past 20 years, our monastery took the decision not to allow entrance to tourists, either as organised groups or individuals."
"As an orthodox monastery, it allows entrance only to orthodox pilgrims who come to the monastery for prayer and spiritual guidance," it said.
A Church source also told the Cyprus Mail that the monastery was not a tourist destination for sightseeing but a place of prayer. He added that daily arrivals of many tourist buses were disturbing the peace necessary for a place of prayer.
Pilgrims were welcome, the source said, but they could not allow in those who go there just for sightseeing. The monastery allows visitors from Russia or from other countries who are Orthodox Christians and want to pray.
The source also said for the same reason, the monastery decided to ban the fair or 'panayiri' that organised each year on August 15 – the day the Church marks the Assumption of Virgin Mary – outside the grounds of the monastery as it was not in accord with the sanctity of the place. This was also because there was not enough space for scores of visitors and their cars arriving for the fair which was causing traffic problems.
The importance of the monastery and its impressive surroundings are two of the reasons it has been a pole of attraction for tourists. In a bid to avert visitors, the monastery has also asked the Cyprus Tourism Organisation to remove it from its brochures.
The CTO, even though it does include the Trooditissa monastery on its list of sites and monuments, mentions that "it is a retreat for prayers, and as such it is closed for visits, although the church there is open to visitors." The monastery however, said that the church too is out of bounds for tourists.
There are 16 monks currently at the monastery that is located between the villages of Platres and Prodromos.
The exact date of the founding of the monastery is not known, according to the CTO, but it is believed to have been established immediately after the iconoclastic era by a hermit who resided there during the years of the iconoclasm. The earlier buildings, which were of the middle Byzantine period – 12th century – no longer exist.
The present church was built in 1731, the CTO said, and "contains a priceless silver-leaf covered icon of the Virgin Mary brought from Asia Minor, believed to give childless couples hope if they pray to her."