Novak Djokovic sweated it out from behind the baseline to beat Australian John Millman 6-3 6-4 6-4 at the U.S. Open on Wednesday and set up a semi-final with Japan's Kei Nishikori.
Djokovic, a two-times champion at Flushing Meadows, struggled with the humidity at Arthur Ashe Stadium but kept his cool mentally, saving the only break point he faced in the first set and wrapping up the opener in an hour.
"(I was) very tested," Djokovic said. "Almost three hours. It's midnight now. Credit to John for putting up a great battle."
Millman is used to the searing heat in his native Brisbane, but needed to leave court to change with the score level at 2-2 in the second, telling the umpire he was unable to put the ball in his pocket because his shorts were soaked through with sweat.
The U.S. Tennis Association said in a statement that Millman was sweating so profusely that the moisture dripping onto court had made the surface too dangerous to play on.
"These night matches the humidity goes through the roof," Millman said. "It is tricky, but it's the same for both people. You're dripping.
"But that's no excuse or anything. I'd play in a swimming pool if I got to play a quarter-final every week at a Grand Slam. That would be pretty fun."
Millman, who beat Roger Federer in the previous round, returned after a brief interval but found no joy against Djokovic's serve and the Serb broke the Australian in the penultimate game before serving out the second set.
The match was marked by long rallies, with 57 of the pair's exchanges stretching to more than nine shots.
"I was struggling, he was struggling," Djokovic added. "Changing a lot of t-shirts, shorts and just trying to hang in there and find a way to win the match.
"Not easy conditions to play in, but it's the same for both players."
Djokovic broke early to take a 3-1 leave in the third set but a lapse in concentration allowed Millman to draw level.
The Serb was given a time violation warning and double faulted to offer Millman a break point opportunity before losing his first serve after running down the shot clock a second time.
A forehand error from Djokovic let Millman level at 3-3 but the sixth seed carved out three break points in the next game, converting the third before serving out the match and sealing the win with a backhand volley in two hours, 48 minutes.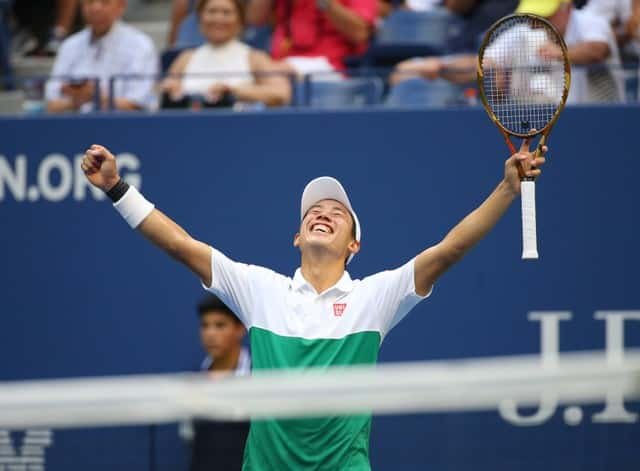 NISHIKORI V CILIC 2-6 6-4 7-6(5) 4-6-6-4
Kei Nishikori advanced to the U.S. Open semi-finals on Wednesday with a grinding 2-6 6-4 7-6(5) 4-6-6-4 win over Marin Cilic, gaining a small measure of revenge on the man who crushed his grand slam dream in the 2014 final.
The victory also completed a historic day for Japanese tennis with Naomi Osaka routing Ukraine's Lesia Tsurenko 6-1 6-1 and the pair became the first Japanese man and woman to reach the semi-finals of the same grand slam.
"It's great to see," said Nishikori. "I think she can win a title now, even though grand slam. I feel it is a big chance for her. I am also happy for myself."
It was a much different outcome from 2014 when the big-hitting Cilic floored the Japanese counter-puncher 6-3 6-3 6-3 to claim the U.S. title.
Cilic has made two grand slam finals since but Nishikori has never been back and will now take on either twice U.S. Open champion Novak Djokovic or unseeded Australian John Millman for a spot in Sunday's final.
It has already been a successful return to Flushing Meadows for Nishikori who missed the U.S. Open last year with a wrist injury that saw his ranking plunge and put him on the comeback trail that included playing Challenger-level tournaments.
But after reaching the final in Monte Carlo, the French Open fourth round and the Wimbledon quarter-finals, Nishikori believes an elusive first grand slam is within reach.
"Yeah, always excited to play Novak because it's great challenge for me," said Nishikori about the possibility of facing Djokovic, should the sixth-seeded Serb beat Millman in the quarter-finals.
"Always exciting to play him. Especially after coming from injury, I think I'm enjoying this challenge."
Initially, it looked like the match might follow a similar storyline from 2014 when seventh seeded Cilic took the opening set from a sluggish Nishikori.
The Japanese sputtered along until earning his first break chance at 2-4 in the second set and was able to convert to get back on serve.
As Nishikori began to find his rhythm Cilic started to misfire and the Japanese 21st seed collecting a second consecutive break on a double fault to surge in front 5-4 before holding serve to level the match.
The tide continued to turn in the third as Nishikori chipped away at the faltering Cilic with a third successive break.
Cilic did level at 4-4 but his erratic play continued as Nishikori stole the set with the help of two double faults in the tiebreak.
The Croat rebounded to take the fourth and the rollercoaster ride continued into the fifth with Nishikori grabbing the advantage with a break at 3-1 and taking Cilic's serve again with a blistering return winner to close out victory.