Djokovic and Del Potro set for big clash of styles in U.S. Open final
By Amy Tennery
NEW YORK, Sept 8 (Reuters) – Novak Djokovic heads into his U.S. Open final clash with Juan Martin del Potro on Sunday knowing he faces a challenge – a very big challenge indeed.
"He's a big-time player. He's a big-match player. He's a Grand Slam winner. He's playing tennis of his life, without a doubt, in the last 15 months," Djokovic said on Friday of his "dear friend" Del Potro.
"He's playing some really powerful tennis."
Clearly Djokovic will have to neutralize the 6'6″ Argentine's blistering serve at the Arthur Ashe Stadium: Del Potro fired 68 aces during the tournament, winning 82 percent of his first serve points.
He came crashing into this year's tournament, winning his first 12 sets in a row and toppling his first two opponents in under two hours each.
There are other important statistics to consider, however, which clearly suggest that brain will play as significant a part as brawn on Sunday.
Djokovic has 13 Grand Slam titles; Del Potro has just one, a U.S. Open championship he wrested from then-defending champion Roger Federer in 2009.
The Serbian sixth seed is making his eighth U.S. Open final appearance, tying an professional era record, while Del Potro, seeded third, is playing in a Grand Slam final for just the second time.
Djokovic also leads Del Potro 14-4 in their head-to-head encounters.
If Del Potro relies heavily on power, Djokovic, fresh from winning the Wimbledon title two months ago, is a master tactician who never gives up on a point. He may be out-hit – but he is rarely out-thought.
The Serb has saved 72 percent of break points against him during the tournament, while getting 82 percent of his returns in, more than any other competitor at Flushing Meadows this year.
He struggled through broiling temperatures, surviving a first-round scare during which officials brought a trash can to a sweat-drenched Djokovic fearing he might vomit from heat-related illness.
But he bounced back to enter Sunday's match with a 13-set winning streak, leaving in his wake a series of stunned opponents.
One of those was Australia's John Millman, who caused a major shock by defeating Federer in the fourth round.
"Novak sometimes flies under the radar a little bit. But the guy's won a lot of Grand Slams, and he knows how to win them," Millman said after losing to Djokovic in the quarter-finals.
"He's probably one of the most in-form players."
Even Del Potro accepts that the odds are on Djokovic's side. But he refused to rule out a shock. Brawn, he suggested, may have its day on Sunday.
"He's playing so good. He will be the favorite to win on Sunday," Del Potro said. "But I don't know. When I played Roger (Federer) nine years ago, he was the favorite to win, as well.
"I will try to make the surprise again."
THE GAME IS SET TO START AT 11.00 Eastern European Time (EET)
---
6-Novak Djokovic
Age: 31
Height: 1.88 metres
Plays: Right handed
ATP ranking: 6
Grand Slam titles: 13 (Australian Open: 2008, 2011, 2012, 2013, 2015, 2016; French Open: 2016; Wimbledon: 2011, 2014, 2015, 2018; U.S. Open: 2011, 2015)
Twice champion Djokovic, who has appeared more impressive with each passing round, cruised past Japan's Kei Nishikori in the semi-finals.
The Serbian returned from a six-month injury layoff at the Australian Open this year and ended up requiring elbow surgery following his last-16 exit in Melbourne.
He roared back to top form winning the Wimbledon title and is a strong favourite to capture a 14th major crown at Flushing Meadows.
ROAD TO FINAL:
First round: beat Marton Fucsovics (Hungary) 6-3 3-6 6-4 6-0
Second round: beat Tennys Sandgren (U.S.) 6-1 6-3 6-7(2) 6-2
Third Round: beat 26-Richard Gasquet (France) 6-2 6-3 6-3
Fourth Round: beat Joao Sousa (Portugal) 6-3 6-4 6-3
Quarter-finals: beat John Millman (Australia) 6-3 6-4 6-4
Semi-finals: beat 21-Kei Nishikori (Japan) 6-3 6-4 6-2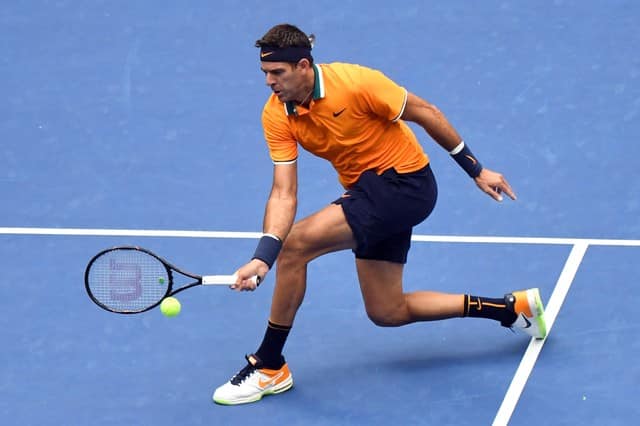 3-Juan Martin del Potro
Age: 29
Height: 1.98 metres
Plays: Right handed
ATP ranking: 3
Grand Slam titles: 1 (U.S. Open 2009)
Del Potro has returned to top form in New York, the scene of his lone Grand Slam victory in 2009, after overcoming wrist injuries that have dogged his career.
The big-serving Argentine cruised through the opening four rounds without dropping a set before overpowering home favourite John Isner in the quarter-finals.
He reached his second U.S. Open final after 2017 champion Rafael Nadal retired hurt, trailing 7-6(3) 6-2.
Del Potro has won just four out of 18 career meetings with Djokovic, and lost each of their last three encounters.
ROAD TO FINAL:
First round: beat Donald Young (U.S.) 6-0 6-3 6-4
Second round: beat Denis Kudla (U.S.) 6-3 6-1 7-6(4)
Third Round: beat 31-Fernando Verdasco (Spain) 7-5 7-6(6) 6-3
Fourth Round: beat 20-Borna Coric (Croatia) 6-4 6-3 6-1
Quarter-finals: beat 11-John Isner (U.S.) 6-7(5) 6-3 7-6(4) 6-2
Semi-final: beat 1-Rafael Nadal (Spain) 7-6(3) 6-2 retired