With conservative parents and pushy peer pressure, the number of weddings taking place in Cyprus shows no sign of slowing down. THEO PANAYIDES meets two wedding planners for whom the sky is the limit
Needless to say, this is high season. Lily Papadopoulou had not one but two weddings to co-ordinate on Saturday, one more on Sunday (in the picturesque village of Tochni) then a two-parter during the week, church service and a cocktail party on Thursday followed by the dinner on Friday. Now it's Saturday again and she's girding her loins for an upcoming monster in Ayia Napa, a beachside wedding that'll cost somewhere in the six figures – but first she and business partner Rena Ioannidou are sitting down in the Nicosia office of 'Events by Lily', talking about wedding planning and bracing themselves for the question I find most intriguing about their milieu: 'Are weddings necessary?'.
The office is small but designed to look bigger, with wall-length mirrors and a partition of potted ferns hiding the outside world behind their fronds. The company, launched in 2012, has organised everything from fashion shows to children's parties – but weddings are Lily and Rena's bread-and-butter, especially in summer; they plan around 30 nuptials a year, almost all of them between April and October. Lily's a suntanned, young-looking 49 with shrewd, lively eyes and a crooked smile, decked out in olive-green top and jeans; Rena is bubblier, and presumably a bit younger. I don't catch her age but she says she got married in May 2002, whereas Lily got married on December 26, 1993. By their weddings shall ye know them.
Both weddings were on the lavish side, at least for those days. Lily's included a belly dancer, strutting her stuff for the assembled guests; Rena's was another two-day affair, first a dinner in the garden of her parents' home then, the next evening, a glitzy party at then-trendy Zoo Club. Both marriages are still going strong, both are to what might be termed 'good catches': Rena's husband is a businessman, Lily's a celebrity footballer. "He was Andros Petrides –" she starts to say, then stops herself with a laugh: "He is! He's Andros Petrides!", Andros being the now-retired goalkeeper for Apoel Nicosia and the Cyprus national team.
Still, it goes without saying that neither wedding came with a planner, such a thing being entirely unknown at the time. (The closest we had in Nicosia was a florist named Angelina who also helped out with the venue, says Lily.) She and Rena were pioneers, and even now – when other wedding planners, or self-proclaimed wedding planners, have come out of the woodwork – their role is often misunderstood in Cyprus. "Some people just want us to arrange the place-cards on the table, or help with the party favours," she sighs, shaking her head. What they actually do is far more onerous, a case of top-down planning from flower arrangements and wedding invites – they work with an in-house florist and graphic designer – to running power cables and looking after overseas guests. All we ask of a client, says Lily, is that "they should trust us to do all the legwork".
There is, it should be noted, a certain something running through our conversation – not quite snobbery but perhaps professional pride, an implied recognition that we don't do those kinds of weddings. They don't take on many "classic" weddings, admits Lily, the familiar kind with a buffet dinner at the Hilton Park or the Four Seasons, let alone humbler venues; "Fortunately or unfortunately, we don't get the mass of weddings". Markets work by supply and demand – and the rise of wedding planners is partly in response to (some) couples becoming more ambitious, and demanding something more imaginative on their special day.
Lily's weddings are less likely to unfold in hotels, more likely to take place in open fields, private gardens, empty beaches. Probably the team's best-known wedding (it was in all the papers) was actually a 'pre-wedding' at Curium amphitheatre, where "a play was staged representing the couple". An Italian director married to a soprano in Limassol wrote a half-hour opera about the bride and groom (it's unclear what his relationship to the couple was) and the piece was staged at Curium with the wedding guests in attendance, all wearing white. Their most expensive wedding cost around €250,000, a dinner party for 300 guests on the beach at Ayia Napa which required a wooden deck to be constructed on the sand and a marquee to be erected at the last minute (the two planners went for 48 hours without sleep on that one). It still seems a rather steep price-tag, I venture – but apparently the deck alone cost around €12,000, and besides my question is naïve: weddings are expensive, more or less by definition. "When you can end up spending €30-40,000 just on the flowers…" shrugs Lily, leaving the sentence unfinished.
As far as she's concerned, the sky's the limit. The customer isn't always right, and she'll step in when she thinks a couple are "going too far" – mostly when, for instance, they want to show a 15-minute video of their lives together, which she knows will bore guests silly – but I doubt she'd ever slap them down for being too imaginative. "It's a challenge. Everything different, for us, is a challenge." (That's why she's also looking forward to gay weddings, to try something different.) Many of the nuptials she plans are 'destination weddings', where a couple live abroad and come to Cyprus specially to get married, having found 'Events by Lily' through their website – usually, though not always, there's some connection to the island, like one partner being from the diaspora – so requests are sometimes unusual, trying to make the day as memorable as possible.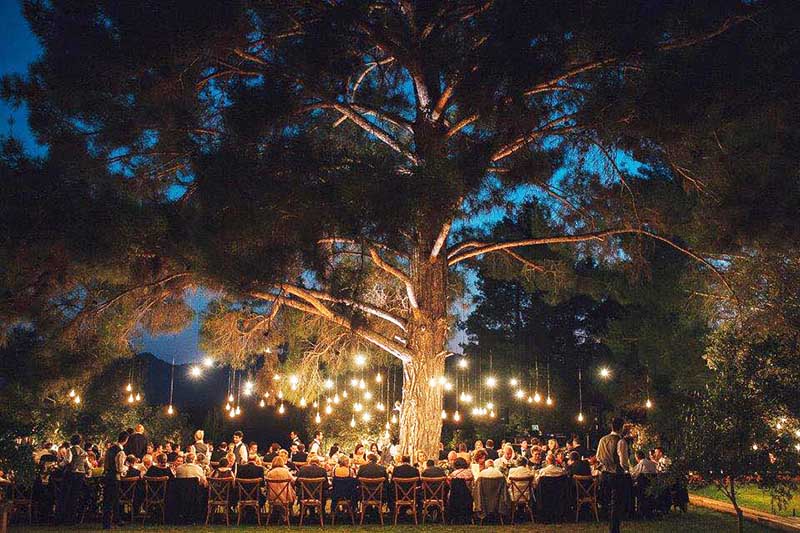 One couple wanted a donkey so she had one brought down from a donkey farm, garlanded with flowers for the big day. Another bride – staying with the equine theme – asked to ride to church on a horse, like an Amazon, to be met by her groom at the entrance and coaxed off her mount with a bouquet of flowers. Alas, the horse got skittish and refused to play along, necessitating a delay while Lily and Rena tried to find a replacement horse – which of course had its own problems, since the bride had taken riding lessons on that particular horse and felt a bit insecure on some random steed. (Being thrown off a horse on your wedding day would indeed be memorable.) Things go wrong occasionally; just last week, the groom fainted dead away in the middle of the ceremony (was it the heat? stress? who knows) and the priest had to resume with the couple sitting down. Then there was another groom who got cold feet, and wouldn't get in the car to go to church – though she also recalls the "cool brides", like the woman whose heel broke just as she was leaving the house. "She just tossed it, put on another pair of shoes, and we carried on."
What happened with the groom who had a panic attack? "We just gave him time to calm down," shrugs Lily – and it's significant that she and Rena also talked to him and tried to reassure him, along with his parents. Wedding planners tend to bond with their clients, especially the brides; on the day itself, they're almost like family. The couple confide in them, divulging family secrets "that you have to know in order to handle certain situations". And of course there are also those couples where you sense something not quite right in the dynamic. "We had a wedding where they got divorced a month later."
Did she and Rena see it coming?
"Yeah, we understood there was…" She shrugs: "I don't know, you feel a vibe, you pick up a vibe". Sometimes the commitment isn't there. Marriage, it turns out, isn't for everyone, despite the exorbitant cost of tying the knot.
There's a paradox here. Around one in three marriages in Cyprus currently end in divorce. The whole institution is tottering badly. It's not even clear that getting married helps – or has any effect on – the relationship, when a couple are already living together. "I ask them 'Has anything changed?'," admits Lily, speaking of the times when she sees 'her' couples again after the wedding (she's often hired to plan christenings too). "The answer I get from them is 'No'." Here, in other words, is a custom – the traditional wedding – that appears to confer few real benefits, and is available in much simpler form (a quick civil ceremony) if you only want the legal status of being married – yet thousands of people happily spend a small fortune on it every year, indeed the wedding day is "a very, very big deal, especially for brides". Which brings me to the question that's been at the back of my mind throughout our interview: Are weddings necessary?
"I think so," replies Lily cautiously. "At least, for Cyprus society… It's our mentality, the Cypriot mentality. The parents," she adds with finality, as if those two words were enough to explain everything.
"It's social pressure," puts in Rena.
"They start in on them: 'When are you getting married?'. 'They've been together all these years, why aren't they married?' Then, once they marry, it's 'When are you having a baby?'" goes on Lily, both laughing merrily.
But isn't the world changing? Surely it's a matter of time before weddings start to seem outdated?
"It may be a matter of time – but, like I said, the Cypriot mentality won't allow it. I assure you it's true. Because you'll often get couples telling you 'I won't do this, I won't do that', but then they end up doing all the usual clichés anyway – because they're being pressured by the family behind the scenes." It's not like bride and groom are having their arms twisted. Some couples genuinely believe in the sanctity of marriage. Even if they don't, most aren't averse to dressing up, being the centre of attention and having a party. But conservative peer pressure and pushy parents also have a lot to do with it.
Sounds about right. Cyprus society is, after all, quite conservative, and parents do wield disproportionate influence over the lives of their grown children. Lily Papadopoulou knows this first-hand, from her own life – which we don't really talk about much, partly because it seems so straightforward. Her dad owned a paper-importing business; after school she did a secretarial course at St Godric's in London – an old-fashioned girls' college that closed down in 1992, soon after she graduated – and came back to work in Dad's business (though "it didn't fulfil me"), then left to get married. She raised her son, who's now 22, and got into event planning some years ago. She has no hobbies to speak of, nor other passions. She seems sociable, personable, obviously very good at what she does, and perhaps a bit conventional. If anyone was going to mount an attack on weddings as being shallow and unnecessary, it probably wouldn't be her – even if she wasn't a wedding planner.
Yet that's not the whole story. Many a placid life has a stormy undercurrent below the surface – and Lily's undercurrent is her son, who was born premature, weighing only 650g at birth, and survived his first three months in an incubator. He suffers from dyspraxia, a developmental disorder where the brain "can't send the right messages to the body to execute actions properly", which explains why she devoted herself full-time to raising him – and it must've been a struggle but "thank God, he's okay now", still having difficulties but away at uni and doing remarkably well.
This, I suspect, is why Lily finds it hard to be cynical, even when she hears young couples vow undying love and knows they could well be at each other's throats in a couple of years. This is why she prefers to "live their happiness with them", knowing from her son that happiness is precious – and knowing that a wedding day, despite being fake and naively sentimental and a total waste of money, is also rather beautiful.
Weddings are for show, I suggest mischievously, and Lily agrees: "I think it is mostly just a show". Still, she and Rena are optimistic – mostly because they're having too much fun doing what they do, taking on challenges and juggling a multitude of issues, supporting couples on their Greatest Day Ever and trying to find a horse to replace the other horse. The divorce rate is going up all the time, I note glumly; maybe their work will start going down soon. "Or it'll go up," replies Rena breezily. "They divorce, then they marry again!". Can't argue with that.