Two historical properties, reminders of a bygone era and only a stone's throw from each other in Prodromos village Limassol, went under the hammer on Tuesday at the behest of the Bank of Cyprus but only one was sold, and it wasn't the abandoned Berengaria Hotel.
The house that was sold on Tuesday was owned in the past by well-known Princess Zena Kanther De Tyras, a woman who was born into poverty in a Paphos village, and rescued by an American millionaire after working as a cabaret dancer in Nicosia. Kanther, after whom a Nicosia street is named, died in July 2012 at the age of 90.
Described on the BoC property website Remu as being some 450 metres northwest of the Berengaria, the property consists of two adjacent fields and a two-storey house situated in Mazi in Prodromos village.
The house itself has two basement levels, according to Remu, and is around 50 years old, made of stone with an area of around about 825sqm – 650sqm interior and 175sqm covered verandas.
In addition, there is an auxiliary building, about 40 years old, which is made of stone and bricks and has an area of about 200sqm. There is also an old swimming pool.
The reserve price at auction was €490,800. The auctioneer confirmed to the Cyprus Mail that the property had been sold for "close to the asking price". It is not known how the property came into the BoC's hands.
Kanther, who later in her life became renowned for her charity work had a difficult start in life, with a womanising father who used to beat her mother. In her autobiography, Kanther said her father would strike her mother "with real mania", reaching the point where he would "rub her face into the ground just to deform her".
Saying she was born "around 1930" in Tala village, Kanther said her mother worked day and night to provide for her and that she was so poor, it wasn't until she was seven years old that she got her first pair of shoes.
She moved to Paphos with her mother and sister, and then to Limassol. She lived with a man for a few months, to whom she fell pregnant.
She said she had to leave her son, Socrates, with strangers while she worked. They eventually adopted him.
After a brief marriage to a man who died suddenly shortly after they wed, Kanther said she was in the depths of despair and debt when she got offered a job in a cabaret. "I was promised a life in paradise and got hell," said Kanther, who however became renowned across the island for her raunchy yet sophisticated shows.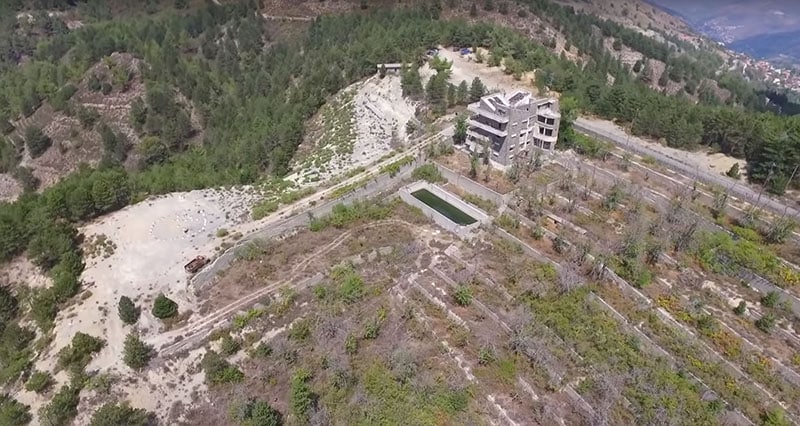 It was then that she met her final husband, American millionaire Christian Kanther who she married in 1952 at the age of 30. But she soon found out that he was tormented by alcoholism. She was also involved in the Greek Cypriot fight against colonial rule from 1955 to 1959 and was an acquaintance of Grivas.
In her autobiography, Kanther said she didn't realise exactly how rich her husband was until well into their marriage.
When she did, in addition to both of them living a bit of a jet-set lifestyle, Kanther donated millions to charity, good causes, churches, municipalities, people who would ask for help, and even football clubs, over the years, and she lived in Nicosia until her death.
Kanther acquired the moniker Princess de Tyras in 1967 from Prince Pavlos Palaiologos.
As far as the nearby Berengaria is concerned, no one offered to pay the reserve price of €2.36m, according to public broadcaster CyBC but there had been interest in the property. The abandoned hotel is due to be auctioned again in three months, possibly at a lower price.
The hotel was the creation of British architect Walter Henry Clarke, who designed it for the local Kokkalos family. Work was in progress from 1927 until 1931 and the inauguration took place on June 10, 1931. In the middle of the twentieth century it was at its peak and was dubbed a crown jewel of the Cyprus mountains.
The hotel was named after Berengaria of Navarre, the queen consort to King Richard I of England. Richard was to wed Berengaria but a ship taking her to the Holy Lands was shipwrecked off the Cyprus coast and she was taken prisoner by the island's ruler, Issac Komnenos. Richard did not take the insult lightly, taking a break from crusading to conquer Cyprus and taking Komnenos as a prisoner for good measure. Richard and Berengaria were wed at a chapel in Limassol.
They are said to have spent their honeymoon in Prodromos which is why Ioannis Kokkalos decided on the name for the hotel.
In 2015, Michalis Ioannides, who bought the place in 2007 announced plans to turn the hotel into a casino resort, with a restaurant and a modern large swimming pool.
But the plans came to nothing.
The government refused to give permission for the operation of a casino and the property ended up with the Bank of Cyprus instead when the owner failed to sell it.