By Evie Andreou
Religious leaders, representatives of the government and of 10 other countries, and members of the Jewish community came together in Larnaca this week for the official opening of the Jewish community centre and the ground-breaking for the new Jewish Museum of Cyprus.
After the grand opening of the Jewish community centre in Larnaca, the minister of commerce and energy, Georgios Lakkotrypis symbolically laid soil in what will become, the Jewish Museum of Cyprus.
According to the announcement from the Jewish community, the purpose of the Museum is to reach out and educate everyone about what the Cypriot people did to help many Holocaust refugees, facts about Israel and more information about the Jewish people.
"The museum will promote awareness, tolerance and show how the Jewish people and Israel are important contributors to culture, education, science and the arts and will encourage a better understanding of cultures so that in this environment there can be long lasting peace in the Middle East," the announcement said.
The museum will be constructed adjacent to the current Jewish centre in Larnaca and its first virtual reality exhibits are expected to be operational by May 14, 2020.
Guests had also the opportunity to see a Nissen hut, "an original and rare artefact", remnant of the British Internment camps in Dhekelia, after World War II. The hut, found by the Chief Rabbi of Cyprus, Rabbi Arie Zeev Raskin, along with his second eldest son, Shneor Zalman Raskin, had been professionally removed and rebuilt at the site, near the Jewish community centre.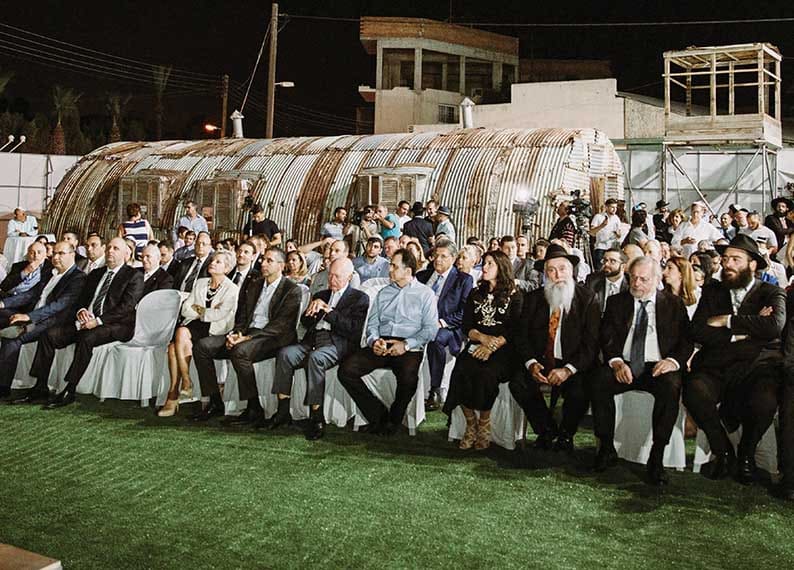 "The restoration and display of this Nissen hut was placed as a sign of gratitude from the Jewish Community of Cyprus to the noble of men and women who have extended their hands in kindness to the Jewish refugees, (which numbered over 53,000 ) rescued from the flames of the Holocaust and who stayed at the British DP Camps between 1946 – 1949 at their last stop on their journey to their homeland of Israel," the statement said.
It added that over 2,200 Jewish children were born on Cyprus soil during that period.
In recent years, the Jewish community of Cyprus started organising themselves around a small community centre in Larnaca. "Now, after only a few years we have community centres in Larnaca, Limassol, Paphos, Ayia Napa and Nicosia."
"We are now more than three thousand five hundred Jewish residents that have chosen Cyprus to be their home" said the Chairman of the Jewish Community Centre, Shahak Avni during his speech.
On behalf of the government the minister of defence, Savvas Angelides and the minister of transport , Vassiliki Anastassiadou, also attended the event.
The Mayor of Larnaca, Andreas Vyras, thanked the community for the wonderful cooperation over the years, and expressed his wishes for a long and happy friendship.