Five days ahead of a party-leaders briefing by President Nicos Anastasiades on his contacts in New York last week, the leaders of the two main parties, ruling Disy and opposition Akel, on Wednesday warned that the future of Cyprus negotiations was in jeopardy.
Akel's Andros Kyprianou said he feared there would soon be no Turkish Cypriots to negotiate with. He also described as "treacherous" anyone who might be discussing a two-state solution. He also slammed Anastasiades for going it alone in New York without any prior input from the parties.
Anastasiades was quick to strike back, calling on Akel to come up with proposals to break an impasse in reunification negotiations instead of criticising him.
"What should I have accepted so that the process could progress, knowing the other side's positions?" Anastasiades said. "Instead of criticising for the sake of criticising, at last, it would be good to make specific and structured recommendations. I hope I will have the chance to hear them on Monday."
But Kyprianou's general air of pessimism, though not his criticism of Anastasiades, has been reflected in equally grim comments from Disy leader, Averof Neophytou, whose interview with state broadcaster Cybc on Tuesday shortly after his own return from New York caused a stir when he said the international community was not convinced Cypriots on both sides wanted a solution.
He said that the UN peacekeeping force made the respective leaderships complacent about security, and that foreign officials had Cyprus fatigue and were laughing at the notion of two states. The window for a solution was closing fast and prospects even for a resumption of talks were not hopeful, he warned.
This prompted a side response from Foreign Minister Nicos Christodoulides on Wednesday when he told a private radio station he wondered who the laughing foreign officials were that Neophytou was referring to "since two states has not been proposed on our side".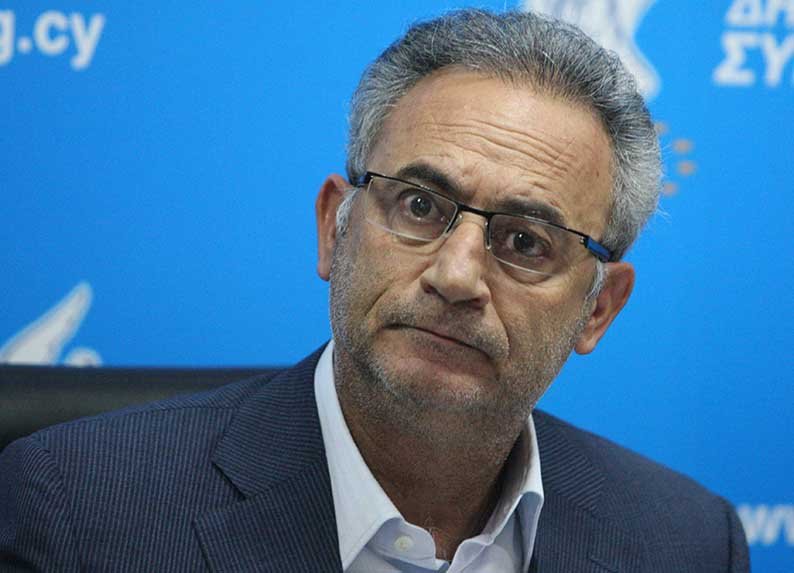 Disy leader Averof Neophytou said that foreign officials had Cyprus fatigue and were laughing at the notion of two states
But on Wednesday the Disy leader doubled down on his comments in an interview with Alpha TV where he said: "We only ever talk about the problems of reunification not the prospects of reunification."
Asked how he knew from his contacts that the process was in jeopardy, Neophytou added: "I heard some things, read some things and I read some of the body language of those with whom I had contacts."
He declined to name anyone specific but said these contacts were in Washington and New York. "I hope I am wrong, a thousand times wrong," he added.
He said the biggest problem now for the Greek Cypriots was what the next step would be because not reaching an agreement based on a bizonal, bicommunal federation (BBF) would be catastrophic for Cyprus.
"We [Greek Cypriots] must agree what the national interest is, what do we want in the end of the day and what are we going to do?" the Disy leader said, adding that if it comes to it, there should be a vote.
Asked about a plan B, he said: "Why should I think about a plan B. Is there a Cyprus B? What is a plan B?"
Neophytou also referred to the striking teachers who took to the streets in their thousands recently wondering why that many Cypriots were not out showing their passion for the reunification of the country.
He had told Cybc in his interview that there should be no compromise on a BBF or the next generation would be living with a partition that was no longer "de facto" but "de jure".
"All serious people laugh at the notion of two states. Will Europe accept Cyprus of one million people to have two presidents on the Council while the other huge countries have one? Will Europe inflict this on itself for the benefit of Cyprus? And what shall they say to the Catalans, the Northern Irish, the Scottish, the Flemish or the Bavarians? What clever people the Cypriots are?"
"Foreigners are not convinced that we want a solution, they are fatigued. The Cypriots [both sides] have become reconciled with today's 'security' and we are flirting with the idea of abandoning the BBF looking for something else that each side considers 'ideal'."
Neophytou also said the message from UN Secretary-General Antonio Guterres who is to decide soon whether to call new talks, was that he did not want to waste his time if prospects were not good.
Kyprianou blamed the government for the state of affairs. He said Anastasiades' tactics since the collapse of the talks in Crans-Montana had given some – Turkey and some quarters in Cyprus – the opportunity to bring up the two-state solution, which he described as "treacherous".
He also questioned why Monday's meeting was only party leaders and not the National Council, which differs in that the latter includes advisers and former presidents. "If we really want a solution, we have to look for it," he said.
"There is also certain climate around the president himself that is prompting some things, but I cannot confirm that," Kyprianou added.
"It is naive to think that partition will simply mean the continuation of our lives as is currently the case. Partition will be the starting point for new problems for Cyprus, since we will have a Turkish state, which at some stage will seek a living space to expand and that living space will not be the sea but will be the southern part of Cyprus."
The most important, however, he said was the changes taking place within the Turkish Cypriot community, which would mean that "in the short term there will be no Turkish Cypriots with whom to discuss the reunification of our common homeland."
As far as Monday's meeting is concerned, Kyprianou said Akel would listen to Anastasiades but would also have a lot to say.
Anastasiades is expected to inform the leaders of his meeting with Guterres and other contacts he had on the sidelines of the UN General Assembly.
Guterres is awaiting the report of his envoy Jane Holl Lute following her contacts with all the parties before deciding on his next move as regards Cyprus and before submitting his own report on his Good Offices Mission by mid-October to the Security Council.
Christodoulides said on Wednesday that Lute's contacts would be completed by the end of this week
He also revealed on Phileleftheros radio Active on Wednesday that Anastasiades had spoken to Turkish Cypriot leader Mustafa Akinci by phone while they were both in New York.
He said it had not gone unnoticed that while in New York, Turkish President Tayyip Erdogan and his Foreign Minister Mevlut Cavusoglu had chosen to meet Turkish Cypriot 'foreign minister' Kudret Ozersay rather than Akinci, who Christodoulides said appeared to be taking a different approach.
Akinci last Friday, when he met the UN chief said there could be no solution outside UN parameters.
"We see there is a different approach from Mr Akinci and a different approach from Mr Ozersay and Turkey," Christodoulides said.