IT IS BECOMING very difficult to believe anything Prez Nik says, especially with regard to the country's favourite problem. It is not that he is a liar but he is constantly changing his mind, re-inventing reality and occasionally being economical with l'actualité.
After two years of negotiations, two international conferences on Cyprus, a 15-month contemplation period that yielded no result, he decided last weekend that the type of settlement the two sides and an army of UN advisors were working on was the wrong one and that we should consider a confederation or a loose federation.
At least that was what he told the party leaders at last Monday's meeting. The confederation option was dropped when he realised that this was unacceptable to the super-patriotic brigade. After all, confederation was what the Denktator had always advocated and, worse still, to be legally achieved the pseudo state would have to be recognised first.
So after years of negotiations to achieve a tight federation in which the federal state would have big powers – comrade Tof started this and Nik built on it – the prez now wants it loose so it would be viable. Why he had never mentioned he wanted the federal trousers to be a loose fit in two years of talks or at Crans-Montana, only he can say, especially as he is convinced the tight fit will not work.
If the loose federation proposal was intended to kick-start negotiations, it succeeded. Diko, Akel and Edek all entered negotiations with the president about what fit of federation we would like to wear and these will continue next week.
AT LAST Monday's meeting the Prez also revealed that he had met Turkish foreign minister Mevlut Cavusoglu when he was in New York, although he gave no details about what they discussed. It would not have been the loose federation, because if he was sincerely interested in this he could have discussed it with Mustafa Akinci in Kyproulla.
The only reason he would have met the intransigent Cavusoglu was to discuss a tight two-state solution, which is what Nik really wants, but does not seem to have the guts to inform the public, sticking to his ideal of fooling some of the people all of the time. He has spoken of his secret desire to many in private, but seems to believe that Greek Cypriots are not quite ready to hear it so he has decided to break the news gently, via the loose federation invention.
The job of polishing the turd and giving it some bling was given to his silk-tongued foreign minister Nikos Christodoulides who was on radio shows last week talking about the many benefits of a loose federation and emphatically ruling out confederation. Nikos, who is such a smooth talker he could sell canoes to Bedouins almost convinced me of the prez's sincerity.
While the prez is a hardened politician that will lie, misinform and engage in theatre to achieve his objective I am very disappointed that the God-fearing, church-going, morally pure Christodoulides is so zealously assisting make the presidential deception more convincing.
THE PREZ mentioned his preference for partition at a meeting of close associates that included Averof Neophytou, Ioannis Kasoulides and Christodoulides, to a delegation of the Famagusta chamber of commerce (when this was reported in the press, members of the delegation were asked by the palace to deny the prez had said this) and to leaders of the hard-line parties in the week between the first and second round of the presidential elections.
He also brought it up at the April 2017 dinner he had with Akinci. At Crans-Montana, he had a one-to-one meeting with Cavusoglu, whom he also informed about his preference for the two state solution and that peace efforts should be focused on this. His proposal to Cavusoglu was reported, at a later stage, by Phil in an oblique way and openly by Kathimerini, which said its information had been confirmed by Nicosia.
It was the reason Cavusoglu spoke about a settlement outside the framework of the UN immediately after Crans-Montana and came to Kyproulla last April to confer with pseudo-party leaders about the possibility of a two state solution. Akinci said he would never submit such a proposal at the negotiating table, which is probably the reason he has been sidelined by Ankara and the unspeakably self-regarding, pseudo foreign minister Kudret Ozersay has taken centre stage.
THERE IS irony overload in all this. Akinci, the man our media refers to as Ankara's puppet and the occupation leader is refusing to follow the instructions of the Turkish foreign minister. Prez Nik is avoiding talking to Akinci because the latter refuses to negotiate a two-state solution, so is talking directly to Cavusoglu who is more than happy to discuss it. For decades, Greek Cypriot politicians went ballistic at the mere mention of 'partition', saying this was Turkey's ultimate objective and could never be accepted. Now, only the Turkish Cypriot leader objects to the two-state solution, while the Greek Cypriot leader engages in talks with the occupier on how Ankara could achieve its ultimate objective. In Kyproulla fact is often stranger than fiction.
Refugees should note that a Limassolian with the help of a Paphite are working on ensuring none of them return to their villages and properties as they have decided this is in the best interest of Greek Cypriots who do not need to be told yet, because for the next few months we are going for a loose federation. Partition has another big advantage – it would ensure property prices in Paphos and Limassol continue soaring.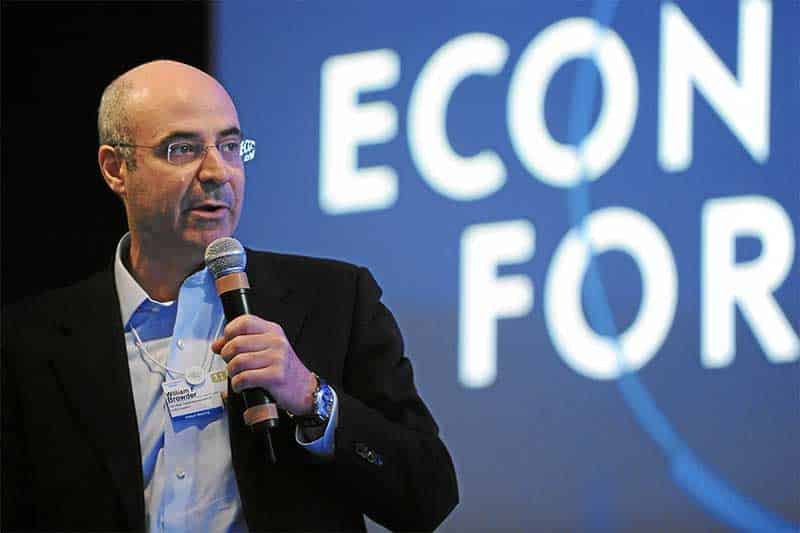 EVERYONE was taken by surprise on hearing that the government had decided to suspend co-operation with Moscow with regard to the investigation of British financier Bill Browder for alleged tax evasion. Justice minister Ionas Nicolaou had written to Browder's lawyer informing him the Russian prosecutor's request for legal assistance would not be granted until all cases related to the matter before the court were completed.
In other words, there would be no co-operation for the next three years. This, despite the fact that on August 3 Nicosia district court rejected an application filed by Browder's and his associate Ivan Cherkasov's lawyer seeking to prevent the government's cooperation with Moscow. The lawyer had argued that the investigation was politically motivated, which is the view of the Council of Europe, the European Parliament and Interpol.
On August 21, the justice ministry said its cooperation with Moscow would "proceed normally", but two days later it announced it was studying the matter. On Wednesday, it was revealed that the cooperation would proceed neither normally nor abnormally. This will have mightily pissed off our Russian masters who waited patiently for 10 months for the court to resolve the issue so that their investigators could get to work in Kyproulla.
Even more surprising was that ambassador Osadchiy has not given an interview to Tass News Agency or Phil to express his dismay at the unfriendly action of the government.
MANY will be wondering what caused the government to take this stand, bearing in mind the assurances it had given Mother Russia about the cooperation proceeding once the court issued its ruling. It now does not even have an excuse.
We can only speculate that the decision was taken by Prez Nik. In the last few weeks there had been two articles abroad about his law office's involvement in the golden visas and its links with Russian businesses. One was carried by no lesser public than The Economist, while EUobserver carried a thorough, in-depth article about the Anastasiades clan's links with Russian businesses and the government's close links with Moscow.
Nik could have taken these unflattering articles as a warning from Browder not to mess with him; Browder was extensively quoted in the EUobserver article. Nik will have weighed up the situation and decided that he would have nothing to gain from having Browder as his enemy. After all, someone who had the balls to take on Vladimir Putin successfully would rip our Nik to shreds.
The only danger for Nik now is that Moscow unleashes its own internet Rottweilers on our prez ordering them to write nasty stuff about him and his law office, as they had done when Russia feared he was sincere about a settlement.
OUR FOREIGN minister's brilliant plan to secure the extension of Unficyp's mandate by asking Israel's Prime Minister Benjamin Netanyahu to use his good relations with US permanent representative at the UN Nikki Haley to persuade her not to pursue the peacekeeping troops' withdrawal has hit problems.
Haley announced her resignation last week. She would be leaving her post at the end of the year, while the discussion at the Security Council of the renewal – or not – of Unficyp's mandate is scheduled for January. We do not know who her replacement will be and whether Bibi Netanyahu would be able to influence her or him. It's back to drawing board for poor old Nikos.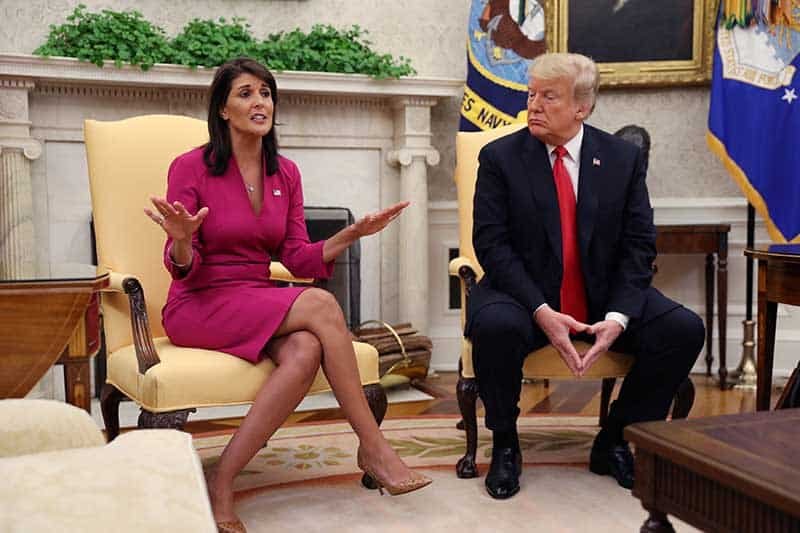 HALEY, according to reports in the US, resigned "a day after an ethics watchdog group requested the State Department's inspector general investigate her acceptance of free flights aboard private jets from three businessmen". She had listed the flights on her 2017 financial disclosure but the ethics group argued that the disclosure did not provide adequate information.
There are no such ethics watchdog groups in Kyproulla, which may explain why Prez Nik regularly travels on private jets provided by Saudi Arabian and Russian businessmen. The last time he did so was only last month, taking his family and entourage with him to New York as well. We are much more relaxed about these things in Kyproulla, which is why we want a loose federation.
GOING through the speech made by our Prez at an event organised in Dherynia by Famagustans last weekend I came across the following assertion: "I do not accept, and consider it an insult for some to think that the President of the Cyprus Republic is ready, supposedly, to accept a two-state solution." I do not have time to re-write the above section of today's coffeeshop, so please ignore it because it was not my intention to insult our prez. Long live the loose federation.