Both sides in Cyprus on Tuesday cherry-picked the parts of the UN chief's report that supported their respective positions on a resumption of talks and appeared to ignore the parts that did not, each saying they were satisfied with the evaluation.
Speaking on behalf of the government, spokesman Prodromos Prodromou pointed to conclusions by UN Secretary-General Antonio Guterres that any new talks would have to be well-prepared, that tensions over hydrocarbons exploration should be avoided, and also to President Nicos Anastasiades' willingness to move forward.
Prodromou did not however address Guterres' comments that the natural resources found in and around Cyprus should benefit both communities, or that the UN chief said that "continued support for a horizon of endless process without result lies behind us, not before us". The Greek Cypriot side has always pushed for a process without timetables.
"We are pleased with this report, because it is precisely what the President of the Republic and the Greek Cypriot side have been seeking, that is to continue the necessary preparations in order to restart the negotiation that was interrupted in July 2017," he said, according to CNA.
The report was an indirect response to the positions of Turkish side, namely that the UN process was exhausted "and that we should follow another reasoning for the solution of the Cyprus problem with two states", Prodromou said.
He added that Guterres appeared to share President Nicos Anastasiades' concern that here must be "good preparation". Guterres had however added as a caveat to the "preparation" reference saying it should be "with a sense of urgency and focus".
Timeframe was the main thrust of the comments that came from the north, which also focused on the aspects of Guterres' report that supported its stance.
Turkish Cypriot leader Mustafa Akinci said he was pleased to see the report reflected his opinion that if the negotiation process is to restart, it can only be successful if it is not open-ended and is results-oriented.
Referring to the talk of a 'loose federation' emanating from the Greek Cypriot side, Akinci, who has complained recently of being sidelined from the process when news emerged that Anastasiades was talking directly with Ankara, said he would be happy to hear from Anastasiades during a meeting hopefully soon if he had novel ideas about the future of the island.
Guterres, in his report, made a reference to the fact that "new ideas may additionally be needed in order for a fresh effort to bear fruit".
Akinci added it was important to remember that regardless of what the solution is called, if it is a federal partnership, then the sides' effective participation in common competencies is inevitable.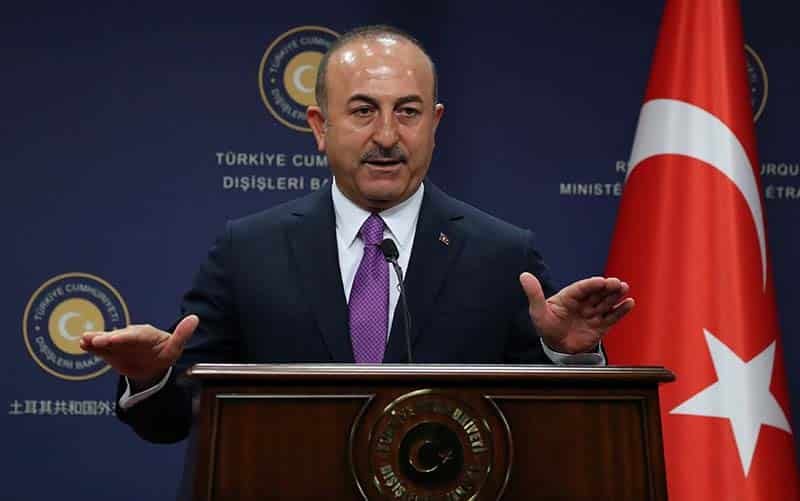 Turkish Foreign Minister Mevlut Cavusoglu also honed in on timeframes saying: "Sitting at the table again only for the sake of starting negotiations in Cyprus is not meaningful, it should be fruitful".
Neither Akinci, nor Cavusoglu addressed Guterres' comments indepth on possible escalation of tensions over hydrocarbons, which is widely seen as possibly becoming an issue due to Turkey's own plans to drill in the Eastern Mediterranean starting on October 29, and Ankara's vow to prevent any drilling by energy giants licensed by the Cyprus government.
In fact, Cavusoglu also said Turkey would continue its drillings around the island. "Our grievance is not to quarrel with anyone, but the fair sharing of the wealth," he was quoted as saying.
In the north on Tuesday, Turkish Cypriot 'prime minister' Tufan Erhurman pointed out that Guterres had reiterated that "the natural resources found in and around Cyprus should benefit both communities and should provide a strong incentive for all concerned parties to work in earnest towards a mutually acceptable and durable solution".
He added: "Tensions would make both sides lose. Succeeding in sharing will make both sides win."
Prodromou said Guterres' reference to avoiding escalation was directed at actions taken by Turkey "in violation of international legitimacy". Cyprus, being a UN member state, had sovereign rights that were recognised by all countries, he added.
"The sole actions that have created a crisis so far are not the activities of Total, Eni or Exxon," Prodromou said.
Turkish Cypriot 'foreign minister' Kudret Ozersay stated on his social media account, that Guterres had given "a realistic and a down-to earth-evaluation" and it was clear from the report that before full-edged negotiations could be resumed, the sides had to agree on the terms of reference that would constitute the consensus starting point for a possible negotiated conclusion.
Guterres' main conclusion was that prospects for a comprehensive settlement "remain alive."
He is to instruct his envoy Jane Holl Lute to carry out another fact-finding mission before formal negotiations on the willingness of the two sides to propose new ideas.
The Guterres report comes against the backdrop of Anastasiades' suggestion of a 'loose' federation as a solution to the Cyprus problem to the National Council last week.
Following strong reaction by opposition parties and talk the president was really flirting with the idea of a confederation, instead of a bizonal, bicommunal federation, the government has been reiterating since that it would not shift its policy on the Cyprus problem.