The taste for adventure and a world that was larger-than-life led one woman to lead a life in film. THEO PANAYIDES meets someone now giving emerging filmmakers the benefit of 25 years navigating one of the world's toughest, most duplicitous businesses
I imagine Kathleen McInnis rescuing strays, or swiftly intervening if a man berates a child in the street. I imagine her as one of those Broadway doyennes, smoking cigarillos in her dressing room and describing herself as a 'tough old broad' – and she did start out as a stage actress, though I don't think she smokes and I'm pretty sure she wouldn't use those words to describe herself. Round-faced, big-voiced, grey-haired, green-eyed, she sits in the lobby of the Centrum Hotel in Nicosia, here at the invitation of the Directors' Guild of Cyprus to deliver a two-day workshop on film/screenplay business development. She's been in movies for 25 years as a programmer, festival director, writer, producer, publicist, journalist, and now festival strategist and project development mentor. She also used to own a cheese-and-wine shop, called Brie and Bordeaux.
We don't talk much about cheese and wine – though the shop, weirdly enough, was her way back into showbiz after taking a few years off (she'd been acting, or studying acting, since the age of 10). "It's a funny story which I won't bore you with, unless you want it," she says, a tinge of self-deprecation being part of her patter ("Raise your hand if you're getting bored," she implores me later). It's important in her business to make people feel at ease.
The story she tells is of a skiing accident in the mountains around Seattle, after which she started leaving notes for customers – including the occasional movie review – in the window of her cheese-and-wine shop, and became inadvertently known as a film journalist. "I really like the power of this window," she recalls herself thinking. Years earlier, in her teens, she'd once told her mum that she wanted to be Robert Stigwood (the producer of Grease and Saturday Night Fever) "because he's the one who makes it happen, who controls it, who puts it all together". It's fair to say she's always been driven less by money, more by power and control and "having a bigger impact", as she puts it.
So what is her relationship with money?
Kathleen laughs uproariously, which she does quite often. With her big voice and shock of grey hair, she's one of those people who dominate a room, an obvious extrovert and very possibly a secret introvert (she has no problem being on her own). "First of all, I've never had very much," she replies. "So that's my first relationship – that we're not particularly intimate with each other. I've never been money-driven, I think I would've chosen otherwise if I had been. Perhaps unfortunately – I'm not sure yet! – I know how to live on very little. I live close to the ground.
"I think if I had – um, made other choices," she goes on carefully, "if I'd had a family or decided to do things differently, I wouldn't have had this luxury of living close to the ground. But I've always – other things have been more important than money, let's say".
A quick timeline of her years in the movie business, after having sold the cheese-and-wine place at 32 (she's currently a few months shy of 60): 12 years as publicist and programmer for the Seattle Film Festival, a year as festival director of Slamdance (the black-sheep little brother of Sundance, though the two are run by different people), 10 years at Palm Springs ShortFest, assorted stints as writer and producer – and now her present situation, still curating and programming at a few major festivals, doing masterclasses like the one she's doing in Cyprus, but also travelling some 150,000 miles every year on the lookout for emerging filmmakers all over the world, a select few of whom she then helps in their business/creative development. She's alternately hard-nosed consultant, publicist, cheerleader, social-media manager and den mother. You see what I mean about rescuing strays.
"If I'd had kids, and a family, I would not have been able to do what I did," she muses again. This is not some idle middle-aged daydream, nor a case of having allowed time to slip through her fingers; she's faced this dilemma, more than once, and made hard decisions. She lived with a man for four years, and settling down seemed a real possibility. Later, she went through a time "when I'm struggling to pay the rent, and I'm struggling to make my way forward in the business, and I'm like 'What am I doing?'"; a life as doting mum and domestic goddess seemed quite tempting, at least for a while. Later still, she was faced with a stark ultimatum – "the advancing march of age" now upon her, and doctors making clear that, if it came to having kids, it was now or never.
"These aren't cavalier questions you ask yourself, for sure. And, for whatever reasons, every time I said: 'I'll just keep going where I'm going. I think I'm better this way'. I hope I don't feel differently when it comes to the end of my life. But right now, I feel like all my filmmakers are my kids instead."
There's a story here, the story of an independent, "very opinionated" woman navigating one of the world's toughest, most duplicitous businesses – and determined to stay independent, even when it meant making sacrifices in her personal life. In a way, it goes back to her grandma – a woman who did manage to have it all, for what it's worth (which is not to say that Kathleen feels her life to be incomplete, or regrets her choices). Grandma was a showgirl in the rip-roaring, anything-goes Hollywood of the 1920s, married six times – producing one child, Kathleen's father – and generally "had a brilliant life, she lived it to its fullest", working as a dancer and 'Goldwyn Girl' before finally dropping out of showbiz and filling her devoted granddaughter's head with tales of youthful exploits. "She would never have called herself a feminist – but she was a feminist in the way that she lived her life according to what she wanted to do… No man [ever] stopped her from anything".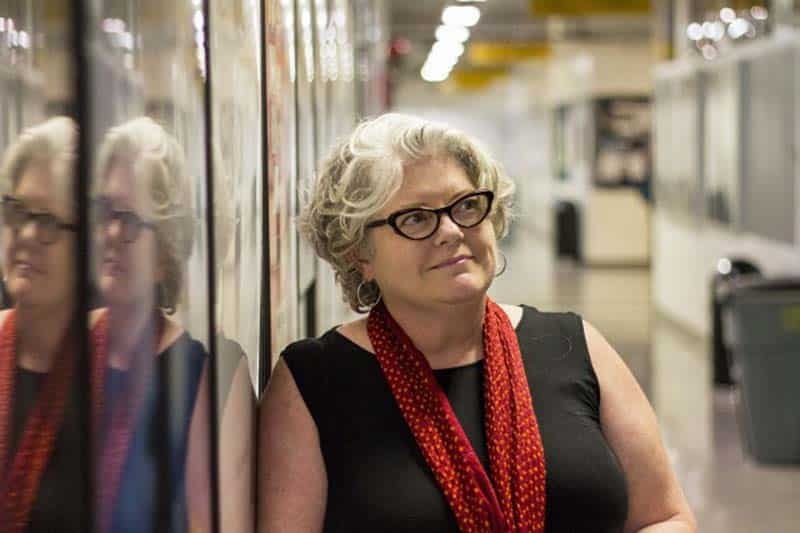 The taste for adventure and a world that was larger-than-life came from Grandma, or perhaps it was passed down genetically. (No-one had to push 10-year-old Kathleen into children's theatre; she pushed her parents.) The opinionated streak may have come from growing up in a household of strong-willed people. "My father loved to debate, he loved to make sure we could hold our own at the dinner table"; he'd pick any side, just to see how well Kathleen and her sister could argue the other side. Dad also used to joke that when she, her sister and their mum were all together, he had to leave the house because "without realising it, we would fight for dominance in how loud our voices would get"! Her expansive quality – the way she dominates a room – is a function of that, and can rub certain people the wrong way.
Really? But she seems so easy to talk to.
Kathleen laughs again. "You're very sweet," she says, in the general tone one might use to say 'You're very naive'. "There are some people who don't like me, sure. I'm not going to give you a list, mind you – but there are some people who don't like me". Just last year, at a well-known festival, "someone on the inside was angry with me, someone who doesn't like me, and I heard that they were screaming in the back room: 'What does some grey-haired old lady think she knows?'". Kathleen shakes her head: "I just started laughing, I'm like 'Are you fuckin' kidding me?'. First of all, I've been grey since I was 16" (she dyed her hair till her mid-30s, then stopped bothering), "you really want to use that as an excuse? And second of all" – she pauses, a definite gleam in her eye now – "you were wrong, by the way. And I was right!". Still, she adds soberly, that's what comes from being nearly 60: her first experience of ageism.
And what about sexism? Has she experienced that?
A longer pause. "This is a bigger question," she notes – and an obviously loaded one, especially in the age of MeToo. "Yes. I would say that I've been dismissed because I'm a woman, or a girl, my whole life," she replies flatly. "I mean, literally. I've been facing this since I was 10."
What makes her think so?
"Because it's blatant. Oh, it's just blatant! It's dismissal by men in general – literally turning away from you when you're giving an answer to something. It's them turning away or walking out of the room when you're about to present something, it's them being just – vilely inappropriate on any sexual level. I've had that since I was 13. It's literally every day of our lives, for most of the women I know." Some men also acted on the inappropriate remarks, or tried to – "and like many women I didn't report it at the time, because women have this innate feeling that we somehow did something wrong, and that's why it happened". The great cosmic joke, of course, is that, by the time you realise it was never your fault, "and you've learned who you are, and you're comfortable in your own skin" – well, let's just say you're not 19 anymore, and it doesn't tend to happen as much.
Were these men just obnoxious people in general, though?
Kathleen shakes her head sadly: "No, this is the thing. It's not that they're obnoxious men. There's a – fraternity of men who feel, who are taught to feel, entitled. Who are taught that aggression is how you move forward in the business. Who are taught to dismiss anything that wastes their time – and, by default, women waste their time."
It's something to bear in mind when considering what Kathleen McInnis does nowadays, operating in a niche which some people – people with outdated ideas, she believes – would indeed consider a waste of time. She's been working in movies since the early 90s; in that time, the Hollywood-blockbuster model has increasingly taken over, running roughshod over everything else. Kathleen's just come back from the Toronto International Film Festival, one of the biggest in the world, where she worked with six "fantastic films with amazing film teams": two Israeli, one Nigerian, one Tunisian, one Japanese, and one (a film called Summer Survivors) made by two Lithuanian women called Marija. "Everyone did really well," she reports proudly – but will any of these films come to Cyprus, for instance? Will any of them even play outside their respective countries, and perhaps a handful of big markets?
On the one hand, the surprising answer is 'Yes'. We live, she insists, in a new world, one that didn't exist even 10 years ago, a world equipped with two powerful new weapons for the indie filmmaker: one is online viewing platforms like Netflix and Amazon, allowing You the Viewer to see almost anything (assuming you know it exists), and the other is social media, allowing people like Kathleen to guide you to the films, and indeed the filmmakers. An important part of her strategy is that directors can now become brands, using social media to create a global audience (like "a new version of a fan club") that'll follow their careers and empower them to craft their own voices. "It seems so simple to me," she shrugs. "But to everybody else, it seems revolutionary".
Then again, it may also be true that it doesn't really matter. It doesn't matter if emerging filmmakers are indeed better-placed to succeed than they've ever been, it doesn't matter how tough Kathleen's job is. What matters is that it's her job, allowing this passionate woman to beat the drum for what she believes in. Everyone seems to want Hollywood films nowadays, I suggest. "And I want to change their minds!" she retorts, albeit happy to admit there's a time and place for Hollywood films ("I watch them on the plane all the time"). "Maybe that's why I haven't quit. I'm not done proselytising to the audience, to change their minds on how they look at film. My whole worldview is enhanced and informed, and empowered, by the work I see from all these different countries". The only filmmakers with whom she never – or seldom – works are her fellow Americans. "They already have whatever help they need. I like to help the other ones."
Is it all part of seeking control, and "a bigger impact"? (The more a person needs you, the more they're likely to be influenced by you.) Is it all part of rescuing strays? One thing's for sure, it's the outcome of a long, often turbulent journey. Kathleen seems so candid and confident now – but when she was younger, even beyond the incursions of sexist men, she went through "great bouts of massive depression, as I tried to figure out how to move forward". The one thing that helped was "to be physical, to get up and move," she recalls – and maybe that's a key to the woman, that she fights against over-thinking and derives her formidable energy from doing, from action. I imagine her hiking (one of her favourite pastimes) up a high jagged mountain, climbing over rocks and other obstacles, climbing all the way to the top – then just standing there and laughing at the sky, uproariously.
KATHLEEN McINNIS' 10 FAVOURITE FILMS
TO KILL A MOCKINGBIRD (1962)
12 ANGRY MEN (1957)
THE WIZARD OF OZ (1939)
THE BIG CHILL (1983)
ROMEO + JULIET (1996)
TIE ME UP! TIE ME DOWN! (1989) (but really anything by Pedro Almodovar)
ARIZONA DREAM (1993) (but really anything by Emir Kusturica)
THE DEVIL'S BACKBONE (2001) (but really anything by Guillermo del Toro)
Anything by Jane Campion, though SWEETIE (1989) and AN ANGEL AT MY TABLE (1990) were the ones that first made an impact.
Anything by Patti Jenkins, including WONDER WOMAN (2017)