A strike by construction workers is preventing the official opening of the new University of Cyprus library which was planned for November 22.
The employees of Ten Group Services, which offered support services to J&P Overseas, working at the construction site of the building have been on strike since Monday in a bid to show solidarity with unpaid workers at J&P Overseas which went into liquidation last month.
They joined around 200 other employees of Ten Group Services who went on an indefinite strike on October 31.
The delays have forced the university to cancel the inauguration which French President Emmanual Macron, a friend of French architect Jean Nouvel who designed the library, was going to attend. A new date has not been set as it is not sure when the building will be completed. Whether Macron is then going to be present is doubtful, the university press office said on Wednesday.
However the library will open to students on November 23 as planned, as the interior of the building is completed, and on November 19 a five-kilometre human chain will form from the old library to the new premises, whereby 600 books will be taken from one building to the other.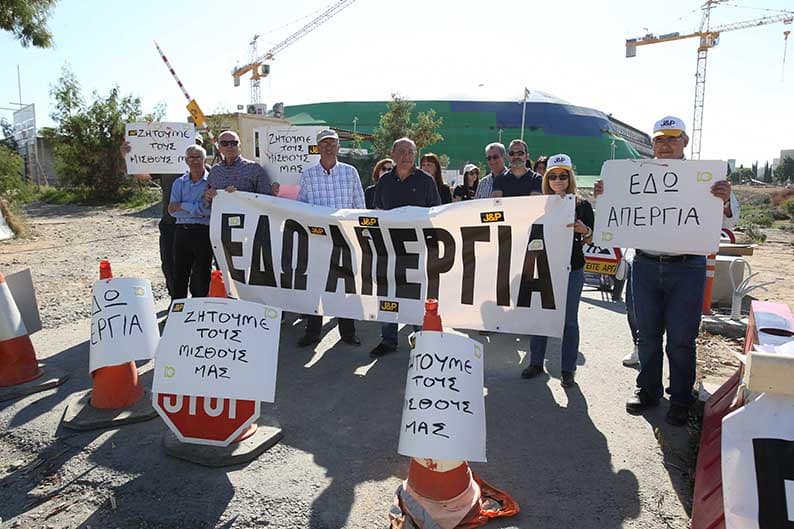 The first book, which has not yet been chosen, will leave the existing site on Kallipoleos road at 3pm and is expected to arrive at the Stelios Ioannou Learning Resource Centre at 5pm.
The university has asked members of its community and volunteers from all over Cyprus to form what has been dubbed the 'chain of knowledge'. The orchestras of the national guard and the police and the band of the Pancyprian gymnasium will also take part.
The new information centre became possible due to a donation of €8 million from Elli Ioannou in memory of her late husband Stelios Ioannou, the co-founder of J&P. It was at her request that the design was assigned to renowned French architect Nouvel.
The building will house one million printed volumes, over 30,000 electronic journal titles and 150 databases. All information will be accessible throughout the scientific community of Cyprus. It will also provide approximately 900 study seats equipped with modern technology.