WATCHING the video of the teenage fascists chanting their slogans of hate at the Ledra street checkpoint on Thursday, the day of protest against the declaration of the pseudo-state, was a bit scary. I say a bit scary because they were no way as intimidating and aggressive as the grown-up Elamites.
More terrifying was the thought that these kids could be the fascist thugs of tomorrow, beating up non-Greek looking people on the streets and performing the role of the patriot police. Some might fail to pass the Elam entrance exams when they come of age and start using their brain, but they will be a small minority.
At the demo there were Elamite minders, to direct the teenage mob of apprentice fascists in their black T-shirts, many with cropped hair, waving Greek flags. You half expected the single Cyprus flag in sight to tell its bearer 'we are at the wrong protest, let's get out of here before they rip me shreds.'
The protest by the mob of trainees (you can watch them on the Cyprus Mail video posted above) had a lot more guts than the lifeless, official demo organised by the students' union controlled by teenage Akelites that toed the party line. These kids held Kyproulla flags and held banner with a party-approved message – 'Cyprus belongs to its people'.
There was no such political correctness at the fascist gathering, which chanted like a football crowd, 'Turks, Mongols, murderers' and 'Turks you're going to die on Greek soil'. They also shouted abuse at our 'traitor politicians' before singing Grivas 'lives and guides us'. If you could take the trainee Mussolinis seriously, they would be really, really scary.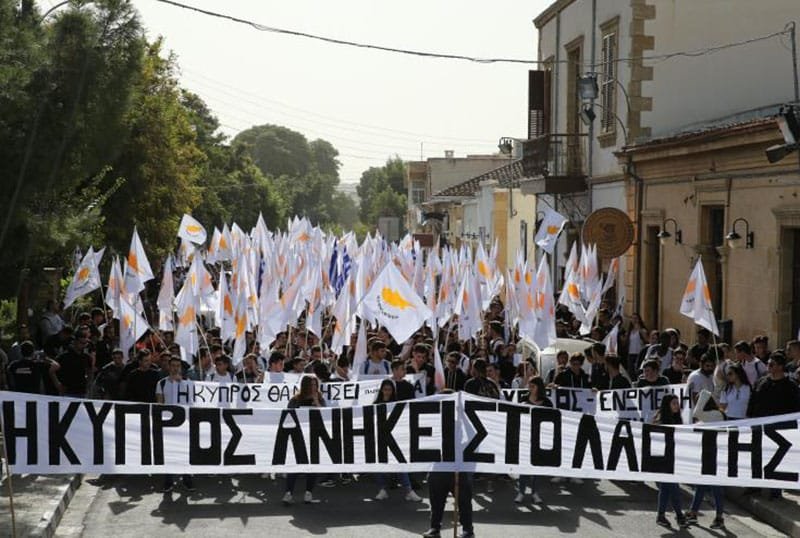 THE FASCIST demo received no coverage by the media. It was as if it did not happen, and it would be no surprise if Elam issued an announcement complaining because the state broadcaster CyBC completely ignored this show of pure patriotism and heroic Turk-bashing by fascist youth.
Instead, all the media carried footage and pictures of the Kyproulla flags protest march. Even Phil had a big picture of the officially approved protest with the Kyproulla flags, giving a few words to the Elam event in a report on the inside pages but without details or photo. Ironically the paper's editorial line on the Cyprob is very similar to Elam's.
The paper that reports the 'provocative and unacceptable' behaviour of the Turks on its front page on a daily basis could not possibly mention that Greek Cypriots were capable of displaying similar behaviour. To do so would lose us the moral high ground that we have occupied for decades because of our uncompromising adherence to high principles.
Self-censorship may have been the reason Elam's protest was not reported, none of the papers and TV stations wanting to publicise the protests of the fascists chanting 'Turks, Mongols, murderers'. It is not because they have a policy of denying a platform to fascists, as they regularly report Elam's bash-patriotic statements.
Three weeks ago, when a teacher made a racist, homophobic, fascist speech in a church, Phil's writers attacked her critics telling them they should respect her right to free speech. So why did they not report what the Elam mob was chanting when exercising its right to free speech last Thursday, if only to show readers that our youth will never be reconciled with the occupation?
GOVERNOR Crystal broke her vow of public silence – lasting four years – last Wednesday, when she appeared before the Co-op investigative committee and actually spoke. Even more surprising was that she said a lot of sensible things.
Crystal blamed government mistakes, the incompetence of directors and executives and the toxic influence of the parties for the collapse of the Cyprus Co-operative Bank (CCB). She said she had repeatedly warned the finance minister and Prez Nik (as far back as 2016) about the precarious situation at the bank, which should have been given more money to survive, but was ignored.
She had even told the government that certain directors appointed to the CCB board by the political parties knew little about banking and would not be able to help the bank in any way. But she did not take a stand, even though the governor of the Central Bank had the authority to veto appointments to a bank board if she considered a director unfit for the job. She could even have the CEO removed. Yet Crystal herself did not want to upset the parties that made the appointments, because she did not want them to attack her and demand her sacking.
As a dutiful, timid public employee, she chose the easy option, keeping quiet and avoiding confrontation with the politicians. After all, she was only the governor, who is paid more than the president, in order to ensure banks are soundly run by competent directors and executives. She failed to see the irony of her admission – that another reason for the CCB collapse was that an unfit person was governor of the Central Bank when it was in trouble.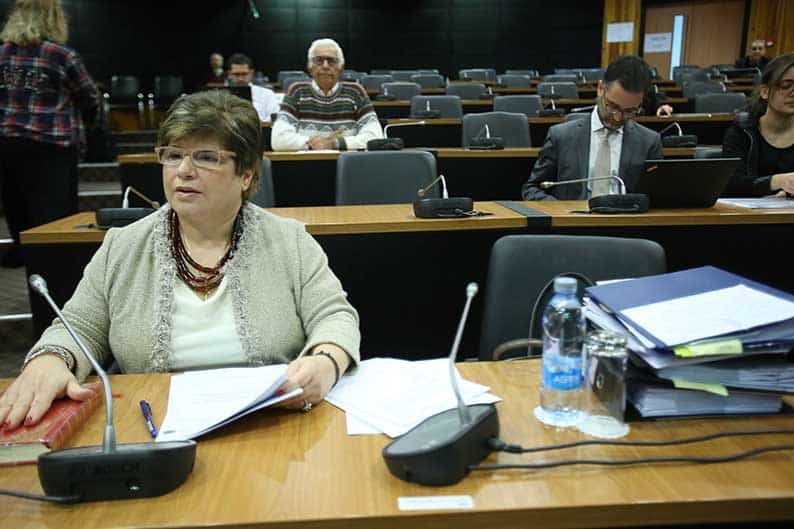 CRYSTAL also lambasted the scandalous Estia scheme by which the taxpayer will subsidise the loan repayments on primary residences worth up to €350,000. "If I bought a house worth €300,000 and owe €250,000 then this house was never mine," she quite rightly pointed out. Yet she never said a word about the scheme that rewards strategic defaulters and will help the Bank of Cyprus reduce its NPLs with government assistance, when it was proposed by the government last June. Only now that it is set to be introduced did she decide to speak out against its unfairness. She could have stopped the scheme, but when it was being discussed, she followed her policy of silence.
Meanwhile BoC employees are receiving abusive calls from bank customers, shouting because they had been encouraged to restructure their NPLs. These customers feel betrayed by the bankers, who failed to advise them not to repay their loans so that could reap the rewards granted to defaulters. If they refused to restructure their loans, they could have applied to join the Estia Scheme and have their repayments subsidised by the taxpayer, as well as getting a discount on the loan from the bank.
Dishonesty is always much better rewarded than honesty in the normal state known as Kyproulla.
DESPITE everything that has happened the government remains committed to its policy of appointing unfit persons proposed by the parties as bank directors. Last month, the former CEO of Hellenic Bank, Makis Keravnos, a Diko stalwart with delusions of adequacy, was appointed a non-executive director of the Central Bank.
Keravnos, who had zero banking experience when he was put in charge of Hellenic by the church (as finance minister he approved a big discount on the church's tax debts) proved a spectacular failure as CEO. In Greece, the bank was on the brink long before the bailout, and in Cyprus it had to be recapitalised to survive. And while he was in charge, Hellenic also had to pay a hefty fine for money laundering.
The government could not have appointed a person with better credentials than Keravnos to sit on the board of the Central Bank.
OUR UNOFFICIAL governor and ambassador of Mother Russia, Stanislav Osadchiy, seems to identify a threat to relations between Kyproulla and her loving mummy, every couple of weeks.
A fortnight ago he said that support for the Ecumenical Patriarch Bartholomeos' backing for the autonomy of the Ukrainian Orthodox Church by the Cyprus Church could affect relations "psychologically". He even claimed that Archbishop Chrysostomos had promised him he would back the Church of Russia in its dispute with Bartholomeos.
On Friday, speaking at a Cyprus-Russia Investment forum in Limassol, he bemoaned the fact that EU sanctions and the Central Bank crackdown on shell companies had led to the closure of tens of thousands of bank accounts belonging to Russians and added that large Russian companies had left while others were planning on doing so.
He expressed the hope that these "obstacles" to relations would be overcome. Surely he should be pleased that tens of thousands of Russian bank accounts were closed, because it means President Putin's policy to encourage the repatriation of Russian capital was yielding results. He should be thanking Kyproulla for helping the implementation of his president's policy instead of seeing the closure of bank accounts as an obstacle to the mother and child relationship.
WORKSHY teachers did not carry out their threat not to honour the archbishop's name-day. They very happily observed the school holiday on Tuesday and stayed at home. They also showed that their industrial action was not about money by continuing their efforts to have the money docked from their September pay for the two-day strike returned to them.
With their argument that it was the government's fault they went on strike not holding water, they have now come up with a new proposal to have their money returned. They have offered to work on two days that are holidays so they can be reimbursed and I have a sneaking suspicion the spineless government will agree.
The students, however, would be entitled to ask for overtime pay to go to school on those days designated as holidays. The kids should threaten not to go if they are not paid.
ON HIS name-day Archbishop Chrysostomos came up with new Cyprob theory. He said he was not worried about the two-state solution. Turkey would not agree to it because it wanted the whole island.
When Turkey wanted a two-state solution we were beating our breasts claiming we would never agree to partition. Thirty years later, with the Turkish Cypriots wanting a federation our prez wants a two-state solution, even though he denies it in public.
After another 30 years, when the Turks decide they want a two-state solution again, our president at the time might demand that they take the whole island, because this would ensure a functional state, without veto powers for the Turkish Cypriots.
PREZ NIK meanwhile, continues his rhetoric about wanting a settlement but not 'any settlement.' Speaking on Friday night at a dinner in Limassol, he once again underlined his commitment to a solution but also had reservations.
"Our aim should be to secure a workable solution but it is not only by giving that you will find a settlement." Not giving will certainly increase the prospects for a workable solution.
During the speech, he made the following assertion, delivered, as I was informed by the trademark piercing stare and raised eyebrow: "On no account do I accept the doubting of the sincerity of my efforts for a resumption of the talks that could lead us to a viable settlement."
Are there really people who doubt the sincerity of our president? If there is one thing that makes our Nik stand out as a politician, it is that he never lies, so how could anyone doubt his sincerity?