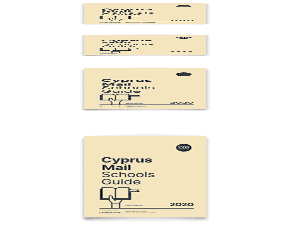 By Sarah Coyne
Prolific Paphos-based artist Keith Walker is well known for his large scale multi-media artworks that reflect his love of the water, through both sailing and diving.
Walker loves living in Cyprus – above all for the outdoor lifestyle he is able to enjoy here. A keen sailor with his own boat at Latchi, he also enjoys walking in the hills around the small village of Lasa where he lives in a home with attached studio where he welcomes visitors who come from near and far to see his work. Being outdoors for Walker is a passion and he enjoys bringing the natural landscape up close through his photographic work. He is also very much inspired by geological structures which can clearly be seen in some of his artworks and in an art show he did entitled Pebbles and Puddles.
On a sailing trip with his wife in the early 70s, he took an underwater photo of her with an early water-resistant camera and saw the "magic" and potential. "The nude form underwater is another landscape… the humanscape," he says. Since coming to Cyprus, with its clear waters, he has been able to paint nudes underwater which fascinate him, due to the reflective lighting.
Underwater the human form shows "ever changing patterns and light". The Underwater Series has made up part of many of Walker's exhibitions including two solo exhibitions held last year at Technopolis and The Chakra Gallery in Paphos.
The outdoors can also be seen in some of his work with the most notable being the abstract series called Scorched Earth, exhibited at Techni Art School, which was based on his drawings and photos of burnt stubble when the fields are burnt. This series of paintings was executed using mixed media, including building materials and a blow torch and was designed so that the pictures could be rotated and hung at any angle.
Politics also form part of Walker's iconography. The last political exhibition he held was called The Thin Veneer, about the human condition and environmental changes. A member of the Green Party and Akamas Clean Up Team, he passionately cares for the environment – on his daily walks he often collects rubbish others have thrown away!
One of the most fascinating features of Walker's Art is that he gives his painting a title before he starts. The words are his inspiration for his finished piece. Future paintings include The Rolex Minute or Moment, which is to do with excessive wealth, Howling at the Moon, which would relate to mental health issues as a consequence of the way we have to adapt to a rapidly changing world and The Daily Morning News, which would be do with propaganda, fake news and how it influences public opinion.
Currently, he is even working on the unique idea for 2019, of having an exhibition and displaying a selection of 10 titles. They would be scattered around the gallery and accompanied by the artist's own notes and rough sketches, inviting visitors to add their own comments, sketches and reactions to the title of the proposed work. Then Walker would take 12 months to complete all the works in the series, hosting another exhibition with the finished works. His aim is to do this project for charity so that the community can support others going through difficult times. A truly passionate artist with a real social conscience.
It was at an early age that Walker realised he wasn't very academic at school and now suspects he probably suffered from dyslexia. It was academia's loss and he is now a leading artist in his genre of the naked human form both male and female – rather than struggling with words and numbers, he transferred all his efforts into the world of art. Upon leaving school, he went to art college, then trained at Southampton University to become a teacher, which was eventually brought him to Cyprus. But before that he lived in Cornwall, where he discovered his great love of sailing and diving.
Walker's artistic career has been both exciting and fulfilling, seeing him work in the world famous Newlyn and St Ives Studios in Cornwall with such established artists as Roy Walker and Ken Symonds. He also established a successful pottery at his home during this period.
But it was while he was in art school life classes that his talent for painting the nude human form came to light. This is a theme he has continued since and for which he is probably most well known.