The unicorn. The saltire. And the haggis. Highlands and lochs and thistles. Yes, in honour of St Andrew's Day, November 30, this week we're celebrating all things Scottish by speaking to our island's most definitive Scotsman… one John McDonald.
What makes him so representative? After all, plenty of people in Cyprus hail from what is frequently voted the most beautiful country in the world: the nation which gave the world the steam engine, Andy Murray, and the world's first international football match (England played the home nation in Partick in 1872. The result was a goalless draw).
Well, the answer (as defined by our entirely arbitrary criteria!) is simple: pipes and kilts! Because this Peyia resident is better known not only as the island's bagpiper-for-hire, but also for his extensive range of Grey Thistles, Spirit of Alvas, and Lion Hearts… all types of tartan, which he rents out to customers far and wide.
"Aye, I'm Scottish," laughs John in a broad accent, "and I reckon maybe I bring a lot of Scottish tradition to the island. But as I left when I was 16 to join the army, plus I'm not ginger, I don't think I'm actually qualified to be the most Scottish man in Cyprus! There's people from the Highlands who'd think a bloke from just outside Edinburgh was practically English," he jokes. "I think," he adds, "once you leave Scotland, that's when you realise you're Scottish. Suddenly Burns Night and St Andrew's are a big thing; you come out of the woodwork for a Scotland game on the telly, and sing even louder when you're getting beat; and you all get together and reminisce about your granny's New Year parties. I bet it would help if I had a little whiskey distillery round the back!" he chuckles.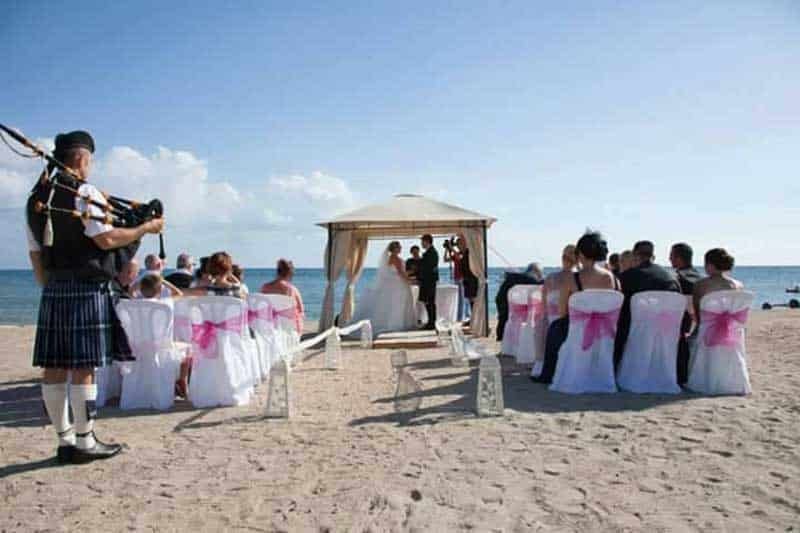 Despite his humorous humility, John's contribution to Scottish culture abroad is nevertheless considerable. As one of the island's only two bagpipers for hire, he's the musician of choice at many a Scottish function, from weddings, to Caledonian Society dinners, Remembrance Sunday services, and St Andrew's Day events all over the island. "The one time of the year I don't wannae play is New Year!" he says. "It's a big night for the Scots, and I wannae go out and have a wee drink rather than be compos mentis on the bagpipes at midnight. Though I did play in the 2017 New Year at a bar in Paphos. I was down there with friends and the owner said 'oh it doesn't matter if you're drunk on the bagpipes – nobody will notice!"
While John learnt the rudiments on the chanter (a flute-like instrument which precedes the bagpipes: "the neighbours get a little twitchy if you try tunes on the pipes straight away!") from his father, a Black Watch piper, it wasn't until he was "in the Falklands in 1990 with no internet and no telly" that he actually got stuck in. "I was in a room with a boy who played the bagpipes. We finished work at 4pm and the bar didn't open till 7pm, and those three hours were when I learnt. By the time I'd done six months in the Falklands, come back home, and learnt a bit more from my Dad – who then bought me my first set – I was away."
Though not in a Scottish regiment, John's 24 years in the army saw him join many a local pipe band, including the Ballydonagh Pipe Band and the Bristol City Pipes and Drums. "I did play at various army functions, parades and dinners, which is very different from playing out here in 40-degree heat on a beach! The humidity and temperature definitely affect the tonal quality," he explains. "And the sweat is pouring before you've even begun playing! I reckon the best thing about playing the bagpipes," he adds, "is when you're piping the bride down the aisle to, say, Highland Cathedral, and you can see the guests getting all emotional. It feels so good to know you're adding to their special day. Afterwards, sometimes they tell me they cried all the way through, and I usually say 'Och, I'm sorry. I didn't know I was that bad!'"
Speaking of weddings, John's kilts often play a big role in the ceremony. And they're also part of the reason he and his family are in Cyprus. Having served at RAF Akrotiri and developed a love for "the weather, the people, and the lifestyle," he'd always thought of settling down on the island. That, coupled with the idea of starting a kilt-hire business, sealed the deal, especially when John's sister later held her wedding in Paphos and had to hire her groom's attire in Scotland. "By the time I'd left the army, I'd done my research with the hotels and wedding coordinators, and I was in business with a company in Hamilton belonging to an ex-Pipe Major who makes trademarked kilts. At first, the idea was all a bit tongue in cheek, and my wife thought I was mental!" he laughs, "but she went along with it…"
Today, five years to the day from the family's arrival on the island, McDonald's Kilts of Cyprus does a roaring trade in wedding parties and black tie events. Located next to the Kings' Avenue Mall, the shop boasts many a sporran, quaich, and sgian dubh, along with sock flashes, belt buckles and more than 150 kilts in five different tartans – "all generic, so they can be worn by anyone. I've had many an Englishman in my kilts; even a party from Israel once.
Generally, if the bride is Scottish, he's told to come and rent a kilt; I've turned up at the wedding before now and had to tell the groom's party the pleats should be at the back, and they all stand round saying 'I told you it was wrong!"
Of course, what everyone really wants to know is what a true Scotsman wears underneath! And there is, according to John, a simple answer. "If you wear anything, it's no longer a kilt: it's a skirt. Someone did once ask me what I was wearing under my kilt." (Brave soul!) "And I said 'nothing. It's all in perfect working order thank you!" As to other Scottish stereotypes, well, John has an excellent answer for everything…
"I reckon I'm parsimonious. Until I have that second beer. And though I don't own a castle, I have played at one – in Paphos!" he laughs. "The Loch Ness monster? It's kept well-fed so I think it's happy. And whiskey? Well, I'm afraid this is a bit shameful: I don't like the stuff at all… It's terrible, because when I've finished bagpiping, people tend to buy you a glass of whiskey. And then I don't want to be rude and refuse, so there's many a night my wife's had to drive me home!
"In some ways," he concludes, "I've made a career of being Scottish, what with the kilts and the pipes. And, after 24 years in the army all round the world, I don't feel I've lost any of my Scottishness. It goes back to what I was saying before," he adds. "When you leave Scotland, you suddenly appreciate everything you took for granted: the traditions, the accents, and the people who are no longer on your doorstep. Though, with these bagpipes here and 150 kilts just down the road, I reckon it's still all right on the doorstep for me, isn't it?!"
For more information visit https://bagpiperincyprus.com/ or http://www.mcdonaldskiltsofcyprus.com/