By Evie Andreou
President Nicos Anastasiades on Tuesday posthumously awarded a Medal for Exceptional Services to the Republic of Cyprus to Dr George Kyriakides, the first transplant expert in Cyprus, who died last year at the age of 74.
Anastasiades presented the medal to Kyriakides' wife Maro, during a ceremony at the presidential palace.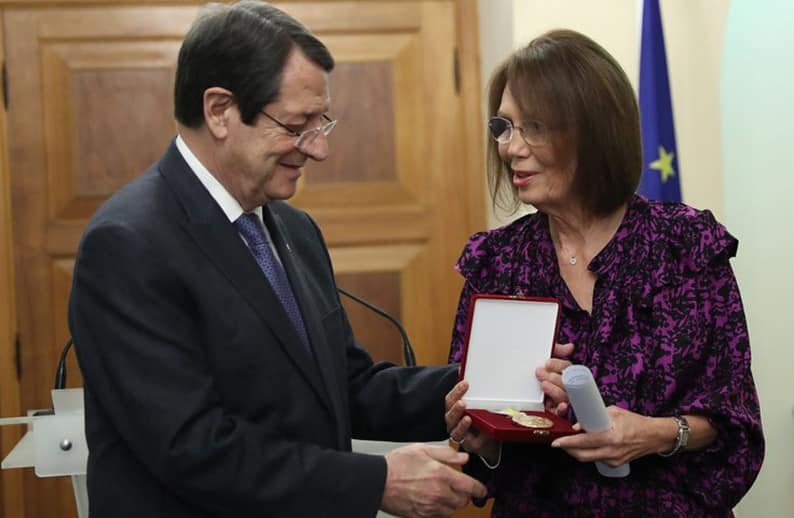 Anastasiades said the medal was "a minimum token of recognition and appreciation of the valuable humanitarian, social but especially scientific contribution" of Kyriakides in the field of transplants.
"George Kyriakides gave a second chance at life to many of our fellow human beings," Anastasiades said.
But the most important legacy he left, Anastasiades said, "both for his colleagues and for each of us, but also the best reference to his memory, is the adoption and dissemination of the idea of organ and tissue donation as an act primarily based on altruism, humanity and love for the suffering fellow human being."
The president said that the posthumous honour, expressed the due respect of the state and the gratitude of the Cypriot people to him for his service to the medical and social activities of the country.
Kyriakides, who died in October 2017, had been the head of the Paraskevaidion Transplant Centre, and the first doctor to perform a kidney transplant in Cyprus in 1986.
During his service at the Paraskevaideion, Kyriakides saw Cyprus become a global leader in transplants.
Paraskevaideion, which opened in 1986, closed down in 2010 when a state operated transplant clinic opened at the Nicosia General Hospital. During its 24 years of operation, almost 900 transplants were performed at the Paraskevaidion with over a 90 per cent success rate.