By Sybille de La Hamaide and Sudip Kar-Gupta
French riot police clashed with "yellow vest" protesters in central Paris on Saturday during the latest wave of demonstrations against high living costs which have shaken President Emmanuel Macron's authority.
Protesters played a cat-and-mouse game with riot police, moving from the heavily guarded Champs Elysees area to other parts of the city, setting cars, garbage bins and wooden shutters on fire. More than 30 people were injured.
Authorities said some 8,000 people were demonstrating in Paris, where 600 people had been searched and briefly arrested. More than 500 of them remained in custody after police found they carried potential weapons such as hammers, baseball bats and metal balls used in the French lawn game petanque.
Some 31,000 people were demonstrating across France.
---
Nicosia advises Cyprus citizens on "Yellow Vests" demonstrations in France
The Cyprus Embassy in France advises Cyprus citizens who are in France to be extra vigilant because of the demonstrations organized by the "Yellow Vests" movement in Paris and other French cities.
In an announcement posted on its website, the Cyprus Embassy points out that because of the demonstrations, some roads, metro and railway stations will be affected or might be closed.
Cyprus visitors who are in the country are asked to avoid places where demonstrations will be taking place and to follow the instructions of the authorities. They are also advised to take into consideration the fact that they might face delays in their transports especially to the airports and railway stations.
---
Police fired tear gas, used water cannon and horses to charge at protesters, but there was less violence than last week, when rioters torched 112 cars and looted shops in the worst rioting in Paris since May 1968.
"We were on our knees and they shot tear gas at us. I am telling you, things are going to blow up tonight," said Yanis Areg, 21, from Paris suburb Montfermeil.
A police source told Reuters he feared that things would get out of hand after nightfall.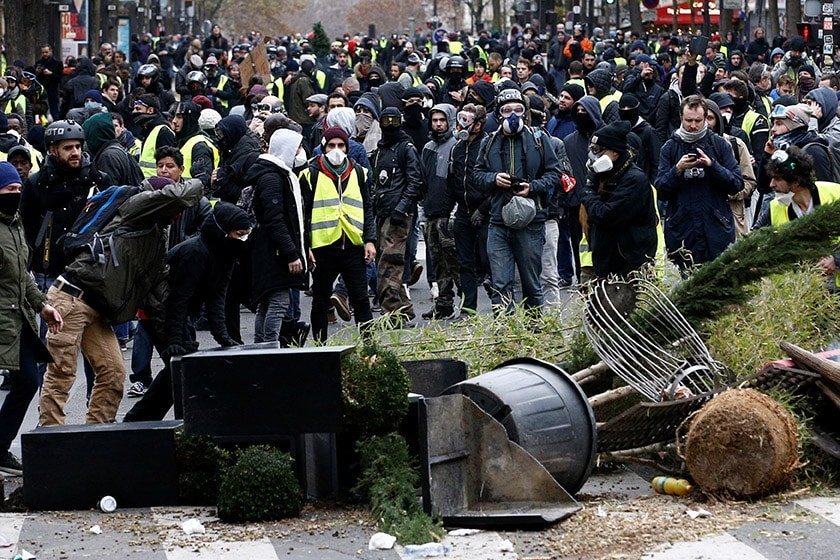 Protesters wearing yellow vests install a barricade during clashes with police in Paris
Large groups of people were heading to eastern Paris, where a march against climate change was under way. Armed police vehicles were seen breaking up makeshift barricades in the upmarket shopping district around Boulevard Haussmann, where supermarkets were looted and several cars were set on fire.
Prime Minister Edouard Philippe appealed for restraint.
"We will do all we can so that today can be a day without violence, so that the dialogue that we started this week can continue in the best possible circumstances," he said on French television.
On Tuesday, Philippe announced the government would suspend planned fuel tax increases for at least six months to help defuse weeks of protests, marking the first U-turn by Macron's government since he came to power 18 months ago.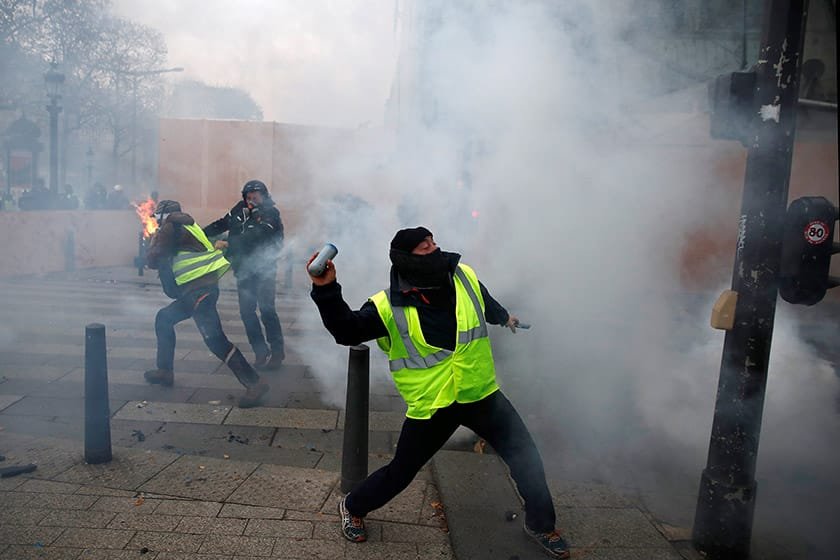 Protesters wearing yellow vests face off with police forces during clashes on the Champs-Elysees AvenueAbout 89,000 police were deployed across France on Saturday, some 8,000 of them in Paris.
"We have prepared a robust response," Interior Minister Christophe Castaner told online news site Brut. He called on peaceful protesters not to get mixed up with "hooligans".
"The troublemakers can only be effective when they disguise themselves as yellow vests. Violence is never a good way to get what you want. Now is the time for discussion," he said.
"We have come here for a peaceful march, not to smash things. We want equality, we want to live, not survive," said Guillaume Le Grac, 28, who works in a slaughterhouse in the town of Guingamp in Britanny.
Protesters, using social media, have billed the weekend as "Act IV" in a dramatic challenge to Macron and his policies.
Small groups of riot police moved quickly among protesters and clamped down on anyone trying to damage shops or public amenities.
Much of Paris looked like a ghost town, with museums, department stores closed on what should have been a festive pre-Christmas shopping day.
Many shops were boarded up to avoid looting and street furniture and construction site materials have been removed to prevent them from being used as projectiles.
Tourists were scarce and residents were advised to stay at home if possible. Dozens of streets were closed to traffic, while the Eiffel Tower and museums such as the Louvre, Musee d'Orsay and the Centre Pompidou were shut.
"Tourists are a bit disoriented – no subway, no shopping, no museums… but they seem to take it in their stride," said hotel receptionist Pascal, who declined to give his surname.
The protests, named after the high-visibility safety vests French motorists are required to keep in their cars, erupted in November over the squeeze on household budgets caused by fuel taxes.
Demonstrations have since swelled into a broad, sometimes violent rebellion against Macron, a challenge made more difficult to handle since the movement has no formal leader.
Authorities say the protests have been hijacked by far-right and anarchist elements bent on violence and stirring up social unrest.
Despite the government's climbdown over the fuel tax, the 'yellow vests' continue to demand more concessions, including lower taxes, a higher minimum wage, lower energy costs, better retirement benefits and even Macron's resignation.