By Agnieszka Rakoczy
With weather conditions worsening amid recent downpours, local NGOs are concerned about the increasingly dismal plight of asylum seekers.
The growth in numbers plus delays in processing asylum applications have seriously eroded their living conditions, to the point where more are without a roof over their heads and forced to end up in the streets.
In a pre-Christmas appeal for donations, Caritas describes a deteriorating situation it suggests many in Cyprus might find "unthinkable".
The charity organisation puts it starkly: "A person sleeping in the street, on a bench, in an abandoned house is common knowledge to us in Caritas. Nights are already cold and will get colder as winter sets in. We invite you to 'Share A Winterfull of Warmth' for five euros." Caritas is also appealing for "clean" blankets and sleeping bags.
A drive around Nicosia late at night offers glimpses of the shadowy predicament of those forced to live parallel lives.  Pause and look more closely and in public spaces such as parks, for example, you may notice small groups of African men standing about or walking aimlessly.
Daniel, a 27-year-old from Nigeria, arrived in Cyprus in the middle of September by cargo boat from Egypt. He is homeless. Nights he sleeps rough, though often opting, weather permitting, to walk as he feels more secure when he is on the move.
"I spend many nights walking," says Daniel. "During the day time I come to Caritas where I get a cup of tea or coffee and sometimes something to eat as well. Then I have a small nap at a table. There are a couple of other places in Nicosia that also offer food for free so I visit them as well. Nigeria was dangerous for me. I came from the north of the country and bad things are happening there. Here in Cyprus I am safe but freezing. Really freezing."
Daniel applied for asylum immediately upon arrival. He possesses a confirmation letter from the immigration office, an essential document ensuring that police will not arrest him should they encounter meet him wandering the streets late at night. However, its usefulness is limited. This document is insufficient for him to qualify for cheques from the social welfare services. Nor does it allow him to work. This means he has to rely on the kindness of strangers in order to get by.
"With the letter I have nothing. I sleep outside, I don't have even blanket. This small bag contains everything I have. Some people give me some euros. I keep looking for help."
Daniel is not alone in his predicament.
Twenty-year-old Barre and 22-year-old Adam, both from Somalia, came to Cyprus via Turkey about two months ago. The traffickers lied to them telling them they were taking them to Greece. Instead they brought them to the north and from there directed them to the crossing telling them 'here, this is Greek side'.
Barre and Adam also applied for asylum in the RoC and are now waiting for the immigration office to issue them with alien books. In the meantime, while they await their "books", they receive no support from the government.
At the time of the interview, they were sleeping in the Omeriye mosque where about 50 other homeless asylum seekers had also found a shelter.
Bruno and Terrence arrived in Cyprus, entering via the north, in early October. According to Caritas Nicosia Branch Coordinator Gosia Chrysanthou, they are part of a rapidly growing group of asylum seekers from Cameroon.
Having been smuggled to the south, the two went to the immigration office to apply for asylum. They were given a date to come back. Meanwhile they have nowhere to go. Bruno sleeps under a staircase in a small block of flats somewhere in the old town. One of the building's residents knows he is there and gives him food and occasionally some money. Terrence sleeps with some other Africans in a church. He doesn't want to say which one because he is afraid the authorities might evict them and he would be back on the street.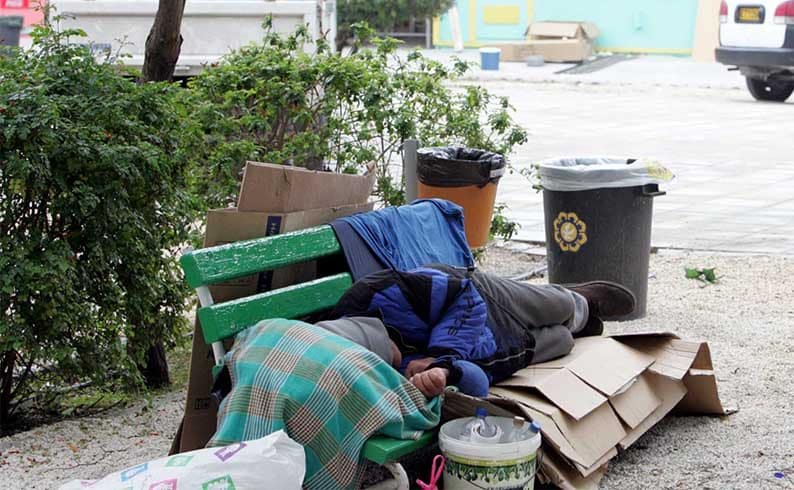 "We define a person as homeless if he or she sleeps in a street, shelter, mosque or a church, or constantly moves around, staying in different houses and places for a couple of days at a time," Caritas coordinator Gosia Chrysanthou tells the Sunday Mail.
While she doesn't have precise figures, she estimates that just in Nicosia alone the number of homeless asylum seekers has reached at least 100.
What is especially galling, she notes, is that, according to Cypriot law, none of these persons should be homeless. The law decrees that "the moment somebody expresses the need for asylum and states they have no means to support themselves, they should have access to immediate support, free accommodation, free food, medical care and psychological support."
In an ideal situation, if the system worked properly, an asylum applicant should be able to go to the immigration office in Engomi in the early morning, apply and after four or five hours then receive a letter confirming their status.
"The person should also inform the office that he or she has no means of support and should then be directed either to a reception shelter for asylum seekers or, should the centre be full, to the social welfare office where they would apply for reception support basics, ie so called 'Material Reception Conditions', such as housing, food, medical care etc. Thus, in the same day they should be able to apply for asylum and get everything else they need: a place to spend a night, money to be able to secure it, food coupons for the rest of the month, etc."
Unfortunately, the statistical reality presents a significantly different picture. In just one month, the number of asylum seekers tripled — up from 400 in September to 1,200 in October. The immigration office is not just seriously overloaded, it is overwhelmed as it struggles to cope with this exponential growth in demand for its services.
A concerned Chrysanthou spells out some of the problems both the system and asylum seekers are facing.
"The immigration office can process 20 applications daily. Currently, about a hundred people arrive every day looking for help. In the circumstances, asylum seekers are given an appointment and asked to come back in six-to-eight weeks. In the interim, they must either stay with friends or live in the streets. This is a huge issue since, until their applications are processed, they basically have no rights. Nobody knows they even exist. Yet, according to the law, the moment they say they want asylum they should be granted protection."
Chrysanthou says that Caritas is aware of 25 people trapped in this invidious position, stuck in a bureaucratic no man's land, awaiting appointments with officialdom. "I suspect there are 400 people like this hanging around in Cyprus at present," she adds.
Once an asylum seeker has successfully completed the application process and is in receipt of their confirmation letter, they rush immediately to the social welfare services in Lakatamia in order to request emergency money and food coupons. What they don't know and haven't been informed about is that the relevant services are so inundated with requests that available funds don't match demand and so most likely they will find themselves on yet another waiting list, told to come back next month.
This vicious and dispiriting cycle can go on ad nauseam, Chrysanthou remarks. "People are going back and forth between us and the social welfare services just to be told 'come back again next week'."
And even as they struggle to cope with this paper-shuffling shuttle the asylum seeker faces yet another challenging obstacle on the path to a semblance of security and stability. They must go about acquiring an x-ray and blood test at the hospital. prerequisites for applying for the vital must-have alien book, the key to all legal employment possibilities. This too is another Limbo-like test of patience and forbearance, with a waiting time of three months.
"Without the alien book, asylum seekers cannot apply for their medical card. They cannot get any social welfare cheques. They cannot register in the labour office to look for work. And to add to the agony, even though they are allowed to work in certain jobs a month after applying for asylum, without the alien documentation, they cannot legally be employed because their potential employers cannot register them as their workers," says Chrysanthou.
Even with the alien book, life is not guaranteed to get easier. For one thing, there are not enough work openings in the permitted job categories that documented asylum seekers can apply for (e.g. agriculture, fishery, husbandry, car washes, advertising material distribution, garbage collection, or outdoor cleaning).
Landlords don't want to rent out apartments to them because the allowance paid by the state is a rent subsidy and not a full rent and landlords often have to wait up to five months to receive that amount. Compounding all this and adding to the precariousness of day-today living, social welfare cheques cannot be cashed in the absence of a bank account and the Catch 22 here is that until asylum seekers acquire official status they are not entitled to open a bank account. As for food coupons, they are modest and can be used only at several small markets in Nicosia which, coincidentally, seem to have doubled and tripled their prices over the last few years.
A weary Chrysanthou sums it all up by identifying what she calls the "four stages of homelessness" faced by asylum seekers.
"'Homelessness with no papers and no access to your rights; homelessness with papers but no money; homelessness with money but no home because you cannot afford the rent; and homelessness after you have lost your home' because the social welfare system didn't pay your landlord regularly so he evicted you and you have nowhere to go."
Social Welfare department defends system
The Social Welfare Service, asked by the Sunday Mail for comment on the problems faced by asylum seekers described in this article, stated the following:
"The number of refugees, including unaccompanied children, arriving in Cyprus has been on the rise in recent years.  For example, in September 2015, the Social Welfare Services provided material reception conditions to 86 households of applicants for international protection, while in September 2018, the Social Welfare Services provided material reception conditions to 1,500 households of applicants for international protection.  (…)
"The Government through the Social Welfare Services streamlined the process for providing material reception conditions and despite the increasing number of asylum seekers there are no significant reported delays for asylum seekers already on the benefits system, in receiving monthly coupons and rent allowance. Newly arrived asylum seekers might experience a delay to access monthly benefits but received emergency financial assistance, without a valid address, from day one to cover their basic needs and accommodation. A valid address and a rent agreement are needed, for correspondence and to send out the rent allowance.
"Material Reception Conditions provided to asylum seekers by the Republic of Cyprus are not perceived as insufficient. They are positively compared to the material reception conditions provided in other Member States of the European Commission that have similar characteristics to those of the Republic of Cyprus."