UK CYPRIOT Averof Panteli (and I thought there was only one Cypriot with such a Christian name) was arrested and charged for throwing a banana skin on to a football pitch at the Arsenal-Spurs football match last Sunday.
The banana skin was thrown at Arsenal striker Pierre Emerick Aubameyang who taunted the Spurs fans after scoring the opening goal. Throwing a banana or a banana skin at a black player, not unusual in the past, is racist and there is zero tolerance in UK football grounds for such actions.
Reports after the match that the banana skin was thrown was greeted with universal outrage, both clubs condemning the action and the police carrying out an investigation to find the perpetrator.
After his arrest, Averof II, (I bet he is only Spurs fan in the world called Averof) spoke to The Sun. He apologised profusely, saying "it was a mad thing I did, and I never meant to offend anyone in any way." He picked up the banana skin after a child threw it away without thinking of any racial implications, he said.
He then offered the paper emphatic proof that he was not a racist. "I am not racist whatsoever. I am actually a Greek Cypriot." Did The Sun not know that being racist and Greek Cypriot are mutually exclusive.
A REGULAR of our establishment recounted a similar tale. She was listening to a phone-in on London radio station LBC on the subject of meat eating. A man came on air and said something about eating meat and the presenter condescendingly asked him, "are you a vegan?" The caller silenced the presenter by telling him: "I am no vegan, I am a Greek Cypriot."
Not only are veganism and being Greek Cypriot mutually exclusive, a Greek Cypriot would quite rightly take offence at being called a vegan as it would constitute a betrayal of his ethnic origin, his traditions and culture.
HOUSE president Demetris Syllouris decided to pretend he would clamp down on the rusfetological activities of deputies by tabling a joke bill in the House, allegedly aimed at stopping deputies and party leaders from hiring relatives and retired civil servants as parliamentary assistants.
Needless to say that this idiot bill will come into effect after the 2021 parliamentary elections and will only apply to new deputies employing parliamentary assistants for the first time. Re-elected deputies would be allowed to carry on employing their blood relatives or retired civil servants as parliamentary assistants for as long as they like.
So Giorgos Perdikis' niece will carry on being her uncle's parliamentary assistant and the job of Eleni Theocharous' daughter is also safe. To be fair, the latter is not working for a blood relative as her mum is an MEP, but she is the assistant of a deputy of her mum's party. With the mother taking three pensions, a MEP's salary and expenses and her daughter working as a parliamentary assistant, the Theocharous family should put some money aside to build a statue in honour of the Cypriot taxpayer as a small show of gratitude.
Returning to the farcical law thought up by Syllouris, I am hoping one of the newly elected deputies will appeal against it because it blatantly discriminates against them by denying them the right to hire a relative as an assistant.
Meanwhile, the Syllouris clampdown gives another two and a half years for existing deputies to hire their mothers, daughters, sons, nieces and nephews as assistants.
SPEAKING of new laws, a government bill that will change the antiquated system of licensing and categorising hotels is to be tabled at the plenum for voting. The law will do away with the bureaucratic procedures for licensing a hotel as well as many of the absurd criteria that determine the number of stars.
Some of the criteria have nothing to do with the comfort of the guests or the service provided, having been thought up by bureaucrats who probably never stayed in a hotel. For example, a four-star hotel needs a parking space for every three bedrooms, but if it wants to become five-star it needs a parking space for every two bedrooms.
What sort of brain came up with this criterion? The same brain that decided that a five-star hotel needed to have a shop selling folk art as well as operating a hairdressing salon. You can just hear a satisfied guest exclaiming, "I love staying at that five-star hotel because it has so much parking space, not to mention the charming folk art shop."
The bed may have been uncomfortable and the service poor but the five-star parking space is guaranteed to keep guests coming back.
STAYING on the subject of our insanity, I feel I have an obligation to publish the announcement of the campaign undertaken by the Friends of Police Association of Kyproulla, that was spotted by Politis columnist Costas Constantinou.
The Friends of Police Association is one of these quasi-union organisations that used to defend cops who beat up suspects and organised events to improve relations with the public. With beatings of suspects all but at an end, the association found another cause to champion, as its announcement said:
"The Association is undertaking a campaign so that Ayia Irini, the guardian (saint) of the Cypriot police, becomes established as the guardian, first of the Greek Police and subsequently of European Christian police forces."
It is another small victory over the Turkish Cypriots – their pseudo police cannot belong to the European Christian police forces association nor have Ayia Irini as their guardian, who ensures much better results in combating crime.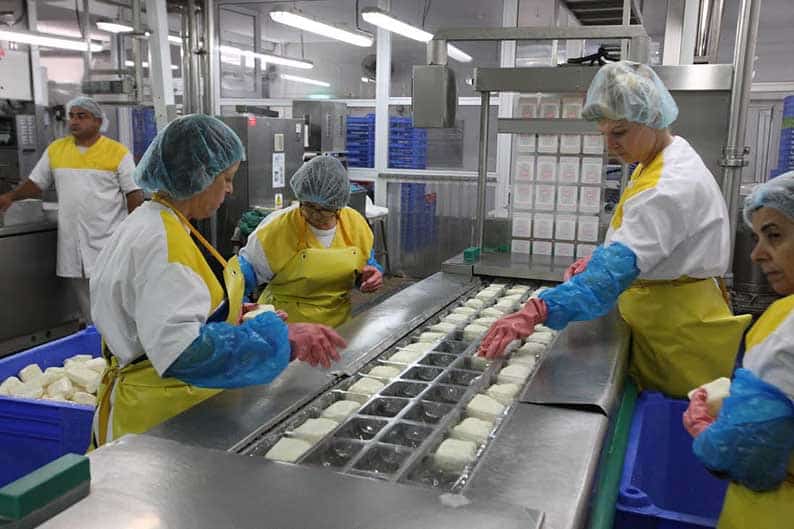 IF ONLY we had Ayia Irini as the guardian saint of our halloumi as well, we would not have suffered the indignity of losing the halloumi trademark in a UK court case. I will not bore you with the details of the case, which I have to admit I do not know, but the reactions of our parties baying for the blood of those to blame were suitably dramatic and worth repeating.
Solidarity said the loss of the trademark was "another black page in the history of Cypriot halloumi", while the Greens demanded that the guilty parties must pay "for this big crime against the interests of Cyprus".
Akel said the "decision of the British court to 'give' the trademark to a private company in England, rejecting the recourse of the Cyprus Republic, shapes dangerous conditions and places the prospects of halloumi under a new ordeal."
The papers carried grieving reports. Phil told us "This is how we lost halloumi" on its front page; inside it had "the history of the gaffe with the halloumi."
The ordeal of our halloumi continues, which is why our establishment proposes that when investigators find all the halloumi traitors at the ministry of commerce, they are charged. Syllouris could then draft an ineffective law making halloumi treason a criminal offence after 2024.
KEVE (Cyprus Chamber of Commerce and Industry) held its annual business leaders awards dinner at the Four Seasons Hotel in Limassol on Thursday night. It was the fifth year the event was held.
Bank of Cyprus John Hourican won the award in the category 'Finance and Professional Services', which was rather strange considering the bank he runs recorded losses of €37 million in the first nine months of this year. Admittedly, it was a big improvement on the same period last year when losses were in excess of half a billion euros.
Our establishment also made losses this year and in 2017, but nobody from Keve considered Patroclos for a business leader award in the 'Metrios and Skettos Services' category. Was it because the Coffeeshop's losses were not in the millions that I did not qualify for an award?
A letter seeking explanations for this injustice is on its way to the Keve chairman.
MOTHER Russia showed us she is capable of the toughest love when Kyproulla behaves badly and is disobedient. Wednesday's threats by the Russian foreign ministry spokeswoman about "dangerous and destabilising consequences for Cyprus", in the event of a US military build-up on the island came as a shock to our politicians as did the promise that if these plans were implemented, Russia "will be forced to take counter-measures".
Our naughty government's response was spinelessly apologetic, assuring Mummy that a military build-up was not in its plans and that it allowed countless countries to use our port and airport facilities for humanitarian reasons. We did not hear any of our brave politicians accusing Moscow of interfering in our sovereign right to decide our foreign policy and military alliances.
If the Yanks or the Brits had made such threats, the politicians would be calling for demarches, official protests, a recourse to the UN Security Council. But because Mother Russia has a principled stand on the Cyprob, a friendly country and our law and auditing firms make millions from it, we could not possibly play the bash-patriotic card.
IN FACT, Russia's cheerleaders like Akel, Theocharous and Perdikis criticised the government for incurring the wrath of Moscow by flirting with the US. Akel, in a throwback to the days of the Soviet Union, censured the government for upsetting Moscow.
Party spokesman, Stefanos Stefanou, while acknowledging that "it is our sovereign right to define our foreign policy," advised against doing so, "because upsetting relations with the Russian Federation is not in the interest of our country".
Needless to say that party mouthpiece Haravghi repeated the false claims about military build-up made by Moscow as fact and accused the government of "involving Cyprus in a field of clashes". You expected the commies to see Moscow's threats as nothing more than friendly advice.
MOTHER Russia's most zealous supporter Yiorkos Lillikas, who had in the past supported the granting of military facilities to Russia, avoided taking a stand on the threats less he offended Moscow. Instead his Citizens' Alliance party issued a written statement stating that "an independent country has the right to decide and forge alliance based on its national interests."
Lillikas, the announcement said, believed public debate harms our national cause, as an explanation for his failure to take a public stand. He would instead seek a meeting with Prez Nik to give him his views about this "very serious, sensitive and complex matter".
I would not be surprised if Yiorkos takes a sensitive anti-Russia stance in the private meeting with Nik, especially now he is hoping for an appointment to a public post.
He is not an opportunist, he is a Paphite.