The bicommunal Technical Committee on Cultural Heritage (TCCH) on Wednesday celebrated 10 years of working with the European Commission and the UNDP to preserve the island's heritage.
The successes of the committee are documented in a new brochure '2008-2018: 10 years working together for our common heritage' which was presented at the Chateau Status opposite the Ledra Palace hotel in Nicosia.
The event highlighted just how much the committee has achieved over the years in terms of renovating and restoring important historical sites on both sides of the buffer zone.
"The first issue of the publication that we are presenting today was published in 2015, and it had only 20 pages. The 2018 edition has 80 pages," said UNDP programme manager Tiziana Zennero at the launch.
"Since 2008, €20 million approximately were invested in this effort, €14.7 million of European Union funding, €2.5 million from the Church of Cyprus, €2.5 million from the Efkav administration, and €150,000 from other donors."
The committee has been involved in 100 initiatives island wide, large, medium size and small.
This has brought the people from all over Cyprus who work together on the projects closer together, the speakers said.
"The conservation of a church or a mosque was often a reason for many to return to their villages for the first time in more than fifty years. To see places of which they often had only memories or were told stories about. Religious places in which they were baptised or got married, courtyards in which they used to play as children, aqueducts in which they first learnt to swim," Zennaro said.
However, it has not always been easy.
Takis Hadjidemetriou, speaking on behalf of the TCCH, pointed out that in order to fulfill its mission, the committee has had to tackle two heavy obstacles: one related to the climate of conflict which often led to the destruction of the cultural heritage sites and the other connected to the poor condition of the monuments.
"In the early days of the project, there were voices suggesting that it was a lost cause, that the two communities would never agree on working together to restore churches, mosques and other civil buildings. These voices were wrong." said Kjartan Bjornsson from the European Commission.
The book includes photos and stories from 31 heritage sites, including Orthodox, Maronite and Armenian churches, mosques and minarets, fortifications, hamams, aqueducts and watermills that were conserved, structurally supported, physically protected or restored.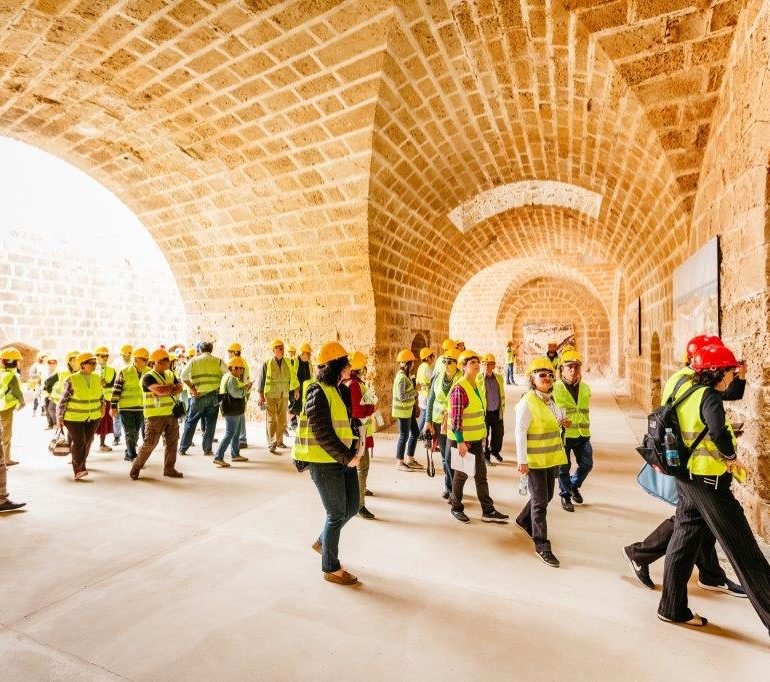 Large projects, focusing on monuments of great historical and social value, have included the Apostolos Andreas monastery, the Othello tower, the Famagusta walls complex, and the Ayios Panteleimonas monastery.
Many more sites are in need of restoration, but though the climate of cooperation between the TCCH, the EU and the UNDP is not a problem, resources are.
"At present, we are working on over 50 monuments, but have secured financing for only 10," Hadjidemetriou said.