The Met Office on Wednesday issued a yellow warning as storms accompanied by hail are expected during the day, as a road in the north partially collapsed from the heavy rain.
Rainfall is expected to exceed 35mm per hour the Met Office said, issuing a warning that will remain in place until 10pm.
Roads from Karvounas to Troodos and Platres to Troodos were closed because of heavy snowfall, police said, while others in the area where only open to vehicles with snow chains or four-wheel drive.
Police urged people to avoid travelling to Troodos as heavy traffic in a relatively small area had created additional problems.
Landslides have made the Gerasa to Kalo Chorio road dangerous and roads from Kakopetria to Karvouna and Pedhoulas to Prodromos are reported to be slippery.
Police said there are 25 centimetres of snow on the top of Mount Olympus and 15cm on Troodos square.
Drivers are urged to be careful and check new announcements regarding the state of the road network.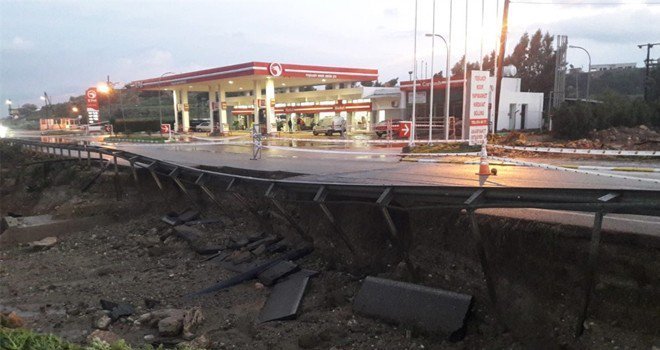 In the north, the road linking Trikomo and Karpasia partially collapsed, disrupting traffic in the area. In Lithrangomi, a landslide blocked the road that links Vathilakas with other villages in the area.
Average rainfall in December reached 169 per cent of normal for the season, or 178.4mm, according to preliminary data issued by the Met Office.
Average rainfall in the past 24 hours reached 20.2mm.
The heaviest rainfall was recorded at Paphos airport with 294mm, or 300 per cent, followed by Platania, 267.9mm, or 144 per cent of the normal for the season.