January and February are not my favourite months in the garden but there are jobs that must be done. We may be lucky and have some 'Halcyon Days' when the sun shines down from cloudless skies and we can get out there in the fresh air and do those jobs on the inevitable list! I always seem to have a list of things to do and never quite get to the end of it before others are added to the bottom.
However, there are some joys to look forward to! Soon dainty, semi-double blooms of Jasminum mesnyi will be peeping out from among the green foliage and tiny, bell-like yellow flowers of Bulbinella hookerii, a New Zealand beauty now adapted to growing in Cypriot gardens, will be showing off in any shaded borders. Fiery orange flowers of pyrostegia, which can cover the side of a house given half a chance, will be sending out long tendrils full of heavy, orange blooms. This southern hemisphere plant can brighten up our winter gardens and we are so lucky that our almost mild winters, especially around the coast, can be kind to early flowerers. Some gardens are able to have bougainvillaeas in flower all year round, but not at higher elevations like mine.
There are still masses of weeds coming through and countless seedlings too, which may or may not survive through February, usually a cold and wet month. There are also fallen leaves to deal with, which can be used as mulches, but too thick a layer can harbour slugs and snails. These leaves are better added to the compost heap, along with any wood ash from log fires. In the flower beds, all sorts of bulb shoots will be pushing through the earth by now. Little blue muscari are among the first to flower. They can seed themselves all over the place if you don't take off the seed heads when they have finished flowering. Depending on the winter weather and where you live, you could be enjoying early narcissus and Paperwhites already.
Bitter oranges should be ready for picking now. Try this old Cypriot recipe for chunky marmalade: juice as many sliced oranges as will fit comfortably into your preserving pan. Put the juice into a big bowl. Cut the peel into little chunky slices taking off any membrane and add to the juice. Add enough water to cover both the peel and the juice, and cover over the bowl with a cloth overnight. Next day, measure the fruit and juice by cupful and for every cupful of fruit add one cupful of sugar. Boil until you get a set and put into sealed jars. You can also use this recipe for lemons and limes.
WHAT TO DO IN THE GARDEN THIS MONTH
Did you receive any potted plants for Christmas? They make such attractive presents for those who do not have the luxury of a garden or who like to bring the garden indoors. There are many different orchids on sale nowadays days but how do you look after these exotic plants now that Christmas is over? Their native habitat would have been on a tree trunk or branch in a tropical jungle, so you need to create a humid environment for them to survive in a house. They do not like to be cold and need temperatures of at least 15C to survive. The bathroom or kitchen, where there is some humidity, might be the ideal place. Re-pot them when the plant gets crowded using an orchid compost and feed occasionally with a liquid fertiliser. This clip by Sarah Raven, the noted UK plant grower, may help you and I do advise orchid lovers to watch it.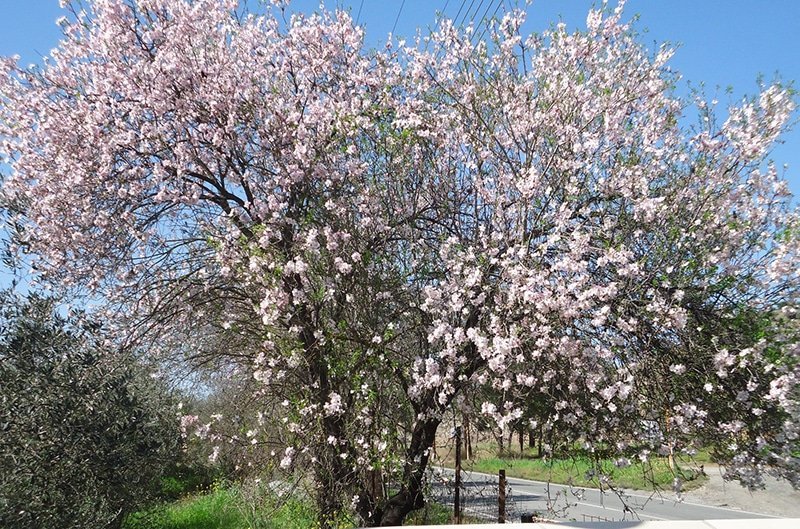 Planters may need some attention now and garden centres are still full of pansies and petunias which can withstand the worst of the winter weather. Sometimes heather is available which is very hardy and looks attractive at this time of year or ornamental cabbages, in white and purples, that can look handsome in pots, as well in garden borders. Pelargoniums tend to have shorter flower and leaf stems during the winter and if very low temperatures occur their otherwise green leaves may turn a very pretty shade of pink. Try to keep them out of heavy rain or even hail as they really do not like to be too wet. Once the weather warms up and after a feed of slow-release fertiliser or a change of soil, they will soar away again.
Almond trees are the first to flower. Their buds begin to swell almost as soon as the leaves drop, so you have to make their care top of your list. Almonds can put on a metre of growth in a season. If you leave that on, another metre will be added the next season, making the tree almost impossible to crop, so you may have to prune back into the previous year's growth. We usually do this in late summer. Remove any dead, diseased or crossing branches to maintain a good shape. Late pruning may remove some of the fruit buds, but those that are left will grow better and give you bigger almonds. Treat the rest of the prunus trees in the same way. Have a look at any fig trees which will have dropped all their leaves by now and see if they need a little trim. They usually don't need much. Pomegranates, which have an untidy growth habit anyway, may need a tidy up as well. You will see olives being hacked to death in groves all around the island at this time of year, but they seem to survive it all.
Citrus trees laden with ripe fruits will be the target of Mediterranean Fruit Flies. They find it difficult to penetrate unripe fruit but once the peel has turned colour they can pierce it and lay their eggs inside. Lemons and limes usually escape this fate but other citrus fall victim and before long the eggs will turn into grubs, eventually leaving the fruit through the exit holes and falling to the earth beneath the tree and pupating there. The whole process takes only 20 days from start to finish. When we first came here almost everyone sprayed the trees at this time of year, but nowadays gardeners don't like spraying chemicals over their fruit and are hanging those yellow sticky cards between the trees to catch the Med flies. It may be necessary to change them quite often.
In some gardens, Jasminum officinalis will still be in flower, but if you want to enjoy the highly scented flowers in the summer, then now is the time to prune the current stems right back to the wood. As a general rule, bushes and climbers that flower early on in the season are pruned after flowering. A reader asked me recently how to tell the difference between young and old wood when pruning. The young growth will still be greenish and supple, whereas older stem growth will be rigid and probably a grey or brown colour.
Plant of the Month Viburnum tinus
Viburnum tinus belongs to the Adoxaceae family. Not so long ago, this plant belonged to the same family as lonicera (honeysuckle) but botanists have through plant DNA moved it into the Adoxaceae family and I fear that many more plants may be moved into new plant families and acquire new names as work continues along this new scientific avenue. Viburnum is a native of the Mediterranean area, including North Africa, and here is known as Vivournos, and by many other 'local' names throughout Europe, but not to be confused with Viburnum opulus, the 'Mediterranean Snowball', with its snowball-like flower heads, which can be grown at higher elevations here.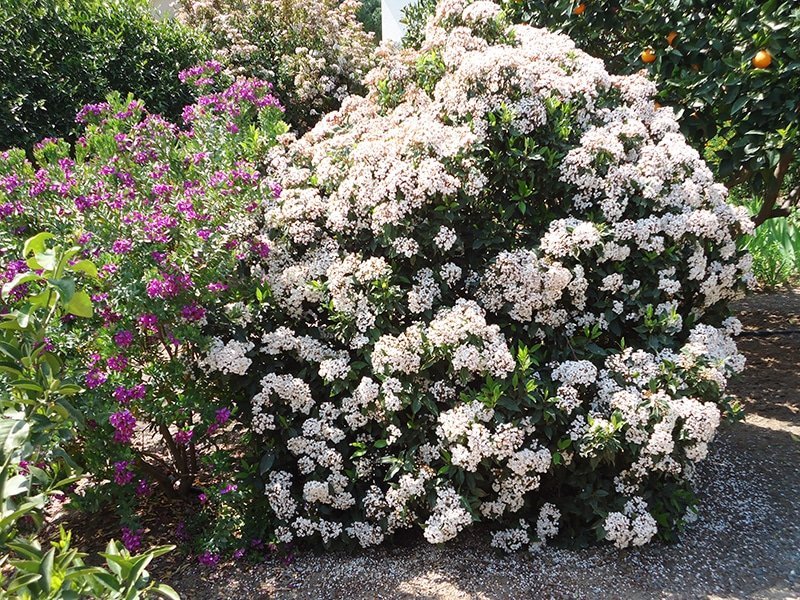 Viburnum tinus is certainly a much-valued, fast-growing evergreen in any garden and suitable for hedging as it will grow to perhaps a maximum of 3 metres. There are quite a few varieties, perhaps the best known is 'Eve Price', a wonderful winter flowering shrub. You certainly wouldn't grow it for its scented flowers, as some say that they smell of wet dog, but the deep pink flower buds and subsequent pretty flower heads are charming and will last into springtime. The blue-black berries that ensue are poisonous but are edible by birds looking for late winter sustenance. Growing in full sun or part shade and even able to withstand winds and salt spray in coastal areas, Viburnum tinus requires little attention apart from some watering out of the rainy season. The shrub is often grown as a standard, making an attractive ball shape. Viburnum tinus 'Compactum' however is smaller growing as its name suggests and does have white to light pink fragrant flowers. Sometimes the shrubs can be affected by Viburnum whitefly that can be found on the underside of the leaves in midsummer, but I have not found any instances of this in my garden.