HAPPY NEW year to all our customers, who, like all of us, will be praying that 2019 will be the year when our country will be re-united, free of occupation troops and third country guarantees and intervention rights, in a sovereign and truly independent loosely federal state, with not too much political equality.
A state in which Greek Cypriots, Turkish Cypriots, Armenians, Maronites, Latins, Russians, Brits, political refugees, asylum seekers and investment passport-holders will all live in peace and harmony enjoying all the benefits and riches our beautiful country has to offer, from the sunshine to the natural gas and the blue seas to Gesy.
I thought we should start the new year on a positive note even though it lacked any originality and it ran the risk of being viewed as ironic. How can you not feel optimistic about a year that started with all our dams and reservoirs overflowing, water flowing in our normally dry rivers and Troodos mountains covered in snow? Even the Electricity Authority has announced a 1% reduction in electricity rates.
This could be the year everyone on the sunshine isle will overdose on happiness and joy and I have not even factored in the possibility that Exxon Mobil's exploratory drilling will find trillions of cubic metres of natural gas in our EEZ. It is questionable if would we be able to handle so much happiness.
WALKING on the pedestrian path along the Pedieos river on Saturday listening to the soothing sound of the flowing water despite my good feeling about the new year, it occurred to me that all this water was going to the occupied north.
Had it never occurred to our authorities, especially the foreign ministry, which traditionally protects our national interests, that our water was being used to irrigate fields and farms that belonged to Greek Cypriots? Perhaps the ministry mandarins had never thought about this because the Pedieos had no water most of the year but now it is flowing surely something must be done.
Have we considered building a dam just south of the Nicosia buffer zone so that all the Pedieos water is diverted there and is not used to water crops and vegetables grown on Greek Cypriot-owned land? I am rather disappointed that our patriotic foreign ministry did not think of this after coming up with the idea of barring entry to non-EU tourists that had holidays booked at hotels in the north, built on Greek Cypriot-owned land.
On New Year's Eve some 30 Israeli tourists were reportedly stopped from entering by immigration cops at Larnaca airport when it transpired they would be staying at pseudo-hotels, and they were sent back to Israel. I bet the Israelis raised hell at the airport.
Water, in contrast, would not protest if it was stopped from crossing north for national reasons.
THE INCIDENT at the airport sparked a reaction from the insufferably, self-righteous Kudret Ozersay, the north's pseudo-minister of foreign affairs, who is an incessant Cyprob moaner, always harping on about injustice and staking claim to Turkish Cypriot victimhood.
Has nobody told him that moaning about injustices is the prerogative of the Greek Cypriots and that we have the monopoly on victimhood as we were defeated in 1974? Since when do the winners of a war pose as its victims?
Anyway, Ozersay's ministry, according to Halkin Sesi newspaper, issued a statement bemoaning the fact that the Greek Cypriot mentality had not changed and this behaviour was incompatible with international law and the principles of the EU.
If the Greek Cypriot stance did not change "we will take steps and would not remain observers to what is happening," Ozersay warned. He did not elaborate, probably because there are no steps he can take and he is condemned to remain an observer.
He should not despair because 2019 is the year our country will be re-united, international law restored and EU principles imposed throughout the loosely federated Kyproulla. I am sure he will find something new to moan about in the new functional state. He could unite with Greek Cypriot moaners so they could moan with one voice.
CREDIT to Phil, which published a heart-warming story to appease Kyproulla's new best friend Israel after the incident at Larnaca airport.
Under the witty headline 'Aerial hospitality for Netanyahu family', it reported that "the wife and son of the Israeli prime minister were in the Nicosia FIR (Flight Information Region) on Wednesday for some time, as the El Al plane on which they were flying from Madrid had to travel round in circles south of Cyprus, awaiting for an improvement of weather conditions at Ben Gurion airport."
In Kyproulla "preparations had been made to welcome the aircraft, but weather conditions improved allowing the flight to continue to Tel Aviv." We even provide aerial hospitality to our Israeli friends as long as they have no holidays booked in pseudo-hotels.
PHOTOGENIC, velvet-tongued, foreign minister Nicos Christodoulides declared in an interview with Kyproulla's Tass that 2019 would be a "landmark year for the Cyprob." Not very original considering we have been hearing this every January for the last 45 years.
"2019, undoubtedly, and without any dose of exaggeration constitutes a landmark year for the Cyprus problem and the efforts for its solution," he said although he admitted that the "first big challenge is the effort to compile the terms of reference that would allow the substantive, targeted and with prospects of results negotiations."
In the event we fail to come to an agreement on the terms of reference, that seems more likely every time we hear Prez Nik utter his ever-changing positions on the Cyprob, would it still be a landmark year? Is the Paphite minister being disingenuous, hinting that his boss would unveil his plans for a two state-solution, which would still justify the landmark forecast?
His assertion to Tass, that "today's unacceptable status quo cannot constitute a solution of the problem" does not rule out negotiated partition, which is boss' preference.
LISTENING to the Prez's latest Cyprob pronouncements it has become very clear that his objective is to demonise a federal settlement, and turn even the pro-solution Greek Cypriots against reunification. He has engaged in Project Demonisation for some time now but in the last few months he has stepped up the negative rhetoric.
Every time he speaks he focuses on something that would go wrong in the event there was a settlement based on what he had agreed to in the negotiations. First, he was going on about the guarantees and right of intervention and wanted a "normal state."
Aware the Turks were prepared to give up these, he started expressing fears the "normal state" would be a "dysfunctional state" because of the one positive vote from a Turkish Cypriot needed for cabinet decisions. This would stop us from pursuing our energy policy and building the East Med pipeline, he repeatedly said.
Now he has turned his fire on political equality, which all our presidents agreed to and is considered a fundamental for any settlement. Political equality would allow the minority Turkish Cypriots to impose its diktats on the majority Greek Cypriots, he said in his latest anti-settlement outburst.
Why had he agreed to it in the negotiations? For the same reason he agreed to increasing the authorities of the federal state in the talks and subsequently complaining, as part of Project Demonisation, that it had too many authorities and that a loose federation would be preferable.
It suffices to say that Diko's parliamentary spokesperson Christiana Erotokritou a few days ago congratulated Prez Nik for his stance on the Cyprob. Need we say more?
IN HIS New Year message, Nik repeated his usual myths about working for the resumption of the talks, stressing his "strict adherence to the basic components of a normal, functional federal state legally compatible with European mores."
And failing to achieve this he could follow the example of Donald Trump and promise to build a big wall across the dividing line and force the Turks to pay for it.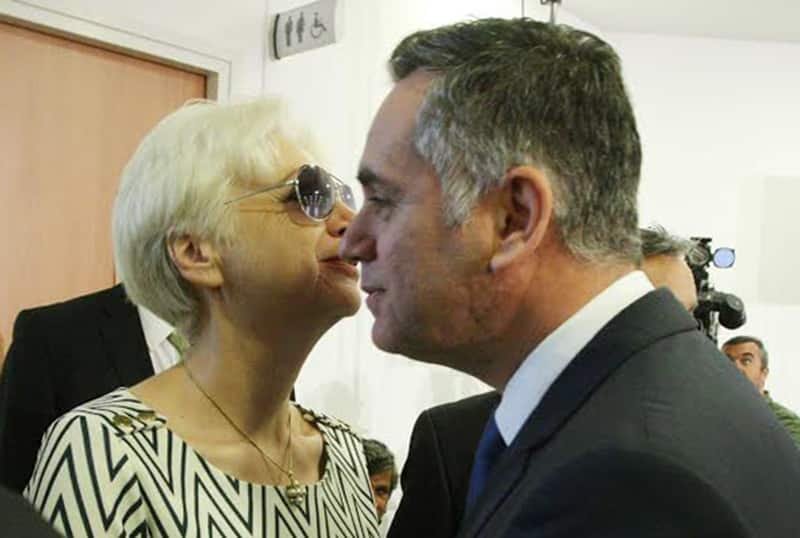 WE WERE overjoyed to hear that MEP Dr Eleni Theocharous will be on Diko ticket in the European Parliament elections scheduled for May. Dr Eleni could not possibly sacrifice the €100,000 salary plus expenses paid to MEPs so she has returned to Diko, to which she belonged before joining Disy.
It is her only chance of being re-elected to the European Parliament. Standing as a candidate of her personal party, Solidarity, she would have zero chance of election and thus continuing the brave battles she wages in Strasbourg for Kyproulla. Why has Junior included her in the Diko ballot given that she could take the only seat the party could claim and deprive it of a loyal Dikhead?
I suspect this was her reward for backing Junior in last year's presidential elections. I will be delighted if Dikheads snub Dr Eleni, who is turning out to be a bigger political opportunist than Yiorkos Lillikas, and elect one of their own.