Work is due to begin in on January 25, on phase two of Nicosia's 'commercial triangle', the conjunction of Makarios Avenue, Evagoras and Stasikratous, which also encompasses several sidestreets, the municipality announced on Monday.
From January 25 vehicles will not be allowed on the following streets: Mnasiadou from its intersection with Makarios Avenue as far as the junction with Stasikratous, Princess de Tyras, Theofanous Theodotos, and Stasikratous from its junction with Themistocles Dervis until the junction with Mnasiadou Street.
Drivers, residents and shopkeepers will have to comply with new traffic arrangements, the municipality said advising motorists to follow the diversion signs
The one-way segment of Stasikratous to its junction with Spyros Kyprianou Avenue to its intersection with the Mnasiadou will be reversed to allow movement towards Spyros Kyprianou Avenue.
In addition, all parking on Preveza and Prometheus will be prohibited and the two streets will be designated two-way instead of one-way.
"The aim of this regulation is to facilitate entry and exit of vehicles from private parking spaces flats and houses," the municipality said.
Vehicles leaving the private car park at the corner of Makarios Avenue and Theofanous Theodotos Street will only be able to turn left.
In private parking spaces where access will not be permitted the municipality will give out pass cards for temporary parking in municipal lots or other car parks.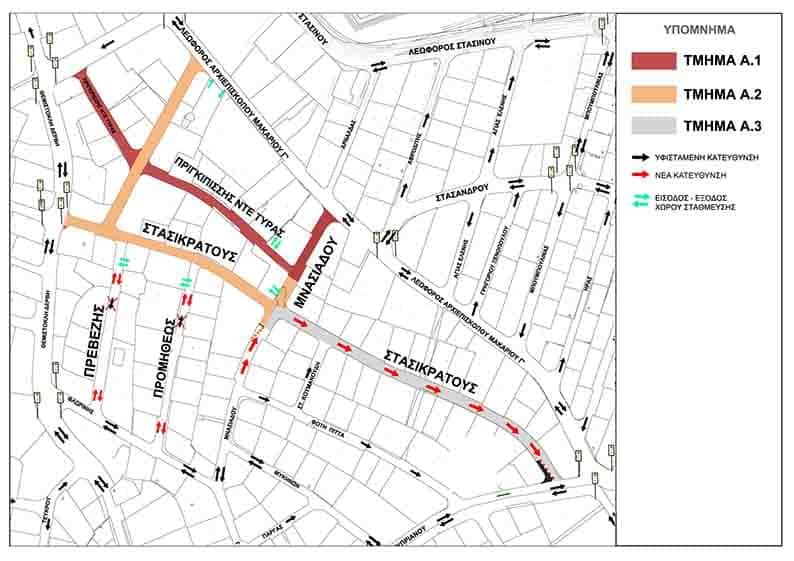 Phase one of the project began in September 2018.
"This project was high on the priorities of the development strategy of the Municipality of Nicosia that seeks to make the urban commercial centre of the capital competitive and attractive, and friendly to humans and the environment," the municipality said.
The work includes upgrading functionality and aesthetics with urban furniture and lighting. It is being designed to facilitate the accessibility of all, pedestrians and people with disabilities, and increase foot traffic by creating uniform large pavements. Small squares with water features will also be created with the possibility of outdoor activities while shade will be increased with more trees.
The idea, the municipality said was "to create an outdoor mall".
The project is being financed by the EU Cohesion Fund, the state budget and the Municipality of Nicosia within the programming period 2014-2020.
The contract for the project was awarded to Cybarco-Panayides. It will cost an estimated €8m and is expected to take around 16 months.
With the success over the past ten years of Ledra Street, not only due to its pedestrianisation, and the opening of the crossing point to the north in 2008, and coupled with the 2013 financial crisis, Makarios Avenue once the main shopping thoroughfare, has fallen out of favour. The advent of malls has also affected the downtown commercial area in terms of shopping rather than taking a stroll, which has been part of the success Ledra Street has enjoyed. The old commercial area is now full of empty shops.