The criminal court trying the double murder of Giorgos Hadjigeorgiou, 60, and his wife Dina Sergiou, 59, last April visited the scene of the crime in Strovolos on Wednesday.
The crime scene walk-through was conducted in the presence of two of the four defendants – the main suspect of the case Loizos Tzionis, 33, and his 22-year-old friend Marios Hadjixenophontos – who were accompanied by a heavy police force.
The remaining two defendants, 21-year-old Sarah Shams and Tzionis' 23-year-old half-brother, Lefteris Solomou, were also taken to the scene but remained in police vehicles.
The procedure, which was conducted in the presence of the defendants' lawyers, was led by one of the case investigators, police sergeant Savvas Sammoutis, who walked the court through scenes in the home of the murdered couple and in two adjacent apartment buildings.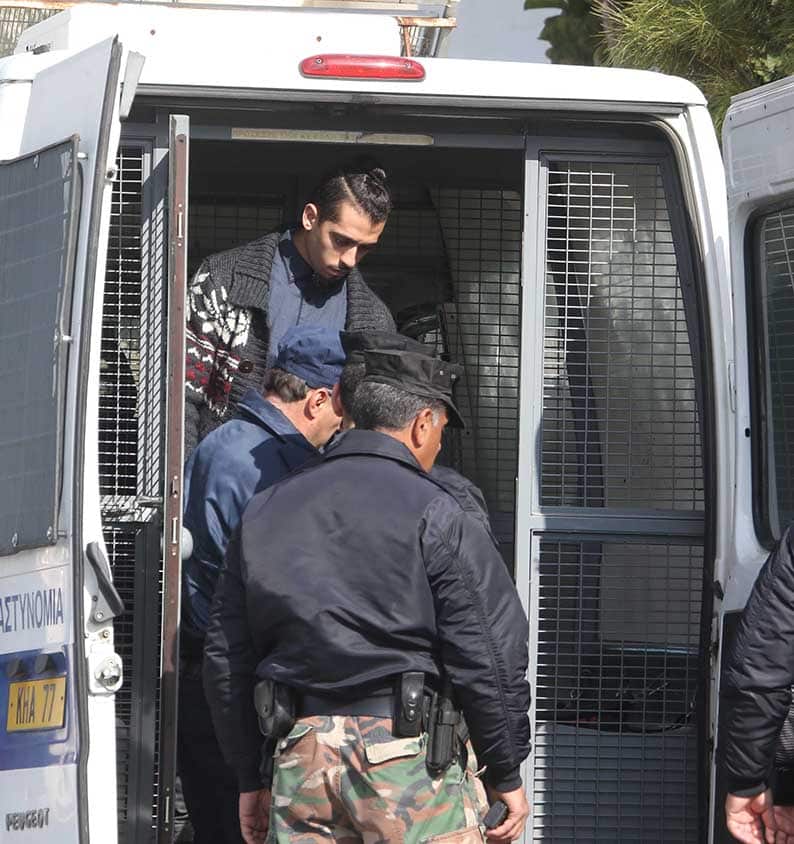 The court on Wednesday accepted the request on behalf of a representative of the prosecution to carry out a walk-through of the crime scene. The same request had already been made by Tzionis' lawyer, while the lawyers of the remaining defendants did not object.
The prosecution lawyer had told the court that it was in the court's interest to obtain a better understanding of the details of the case, noting that the presence of Tzionis and Hadjixenophontos would be essential to the walk-through procedure.
The lawyers of Shams and Solomou requested that their clients should not partake in the procedure, citing psychological and emotional distress.
The lawyer of Hadjixenophontos also attempted to keep the defendant from taking part in the walk-through, claiming that the 22-year-old was at the scene only because of threats of violence made by Tzionis, which had traumatised him.
The court finally decided that the particular details of the case justified the need for a walk-through and ordered that all four defendants be present even though Shams and Solomou were allowed to remain in police vehicles during the walk-through.
The trial is set to continue on 30 January, at 9am.
The suspects are accused of killing Giorgos Hadjigeorgiou, 60, and his wife Dina Sergiou, 59, in what appeared to be a botched robbery on the night of April 18-19.
The couple were found in their bedroom stabbed multiple times.
All four have pled not guilty to the seven charges against them.
Tzionis initially admitted all charges except that of burglary but later changed his plea.
The couple's son, 15, was inside the house at the time but the perpetrators didn't hurt him. Their target appeared to be a safe the 33-year-old had spotted in 2012 while doing some work at the house on Zalongou Street in the suburb of Strovolos.
The perpetrators got away with nothing as the safe Tzionis had anticipated finding had been removed.