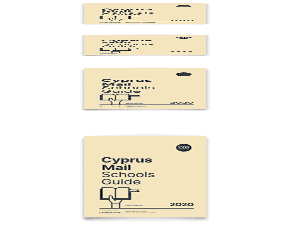 Going out to dinner in Limassol can be a bit hit and miss but every now and again you strike gold. Located at the far end of St Andrew's Street is The Noodle House, and any closer to gold it would shimmer. It is casual, yet elegant. Large tables, wide chairs, simple settings. An open kitchen gently lures us inside with a plethora of unusual scents. Fires dance on stoves and pans clatter gently amid the dull murmur of conversation. The place is busy!
Menus are in the form of a fancy clipboard, with a list of dishes and pencils attached, allowing customers to tick the items they want. We guess this is to move things along, however without accompanying descriptions of dishes, we find ourselves snickering about possibilities and needing to ask the waiter more questions… though perhaps that is the idea. In any case, staff are very helpful.
After much deliberation – delayed by a lengthy discussion as to how hot a dish with a chilli icon on it on the menu is (not so much) – we finally settle on a selection of starters which includes Salt and Pepper Calamari, Vegetable Spring Rolls and a Prawn Cracker mix. For drinks, we opt for local Shiraz Vlassides for €25.
The calamari is faultless! A generous portion for an entrée, it is succulent and juicy inside, lightly crisped on the outside, and the accompanying chilli lime sauce still makes my mouth water! The prawn cracker mix, tasty and light, is scoffed down pretty quickly along with the spring rolls which are super-crispy and come with a lime coriander sauce (much like a spiced soy sauce), with a garnish of pickled vegetables. Though I would have preferred the sweet chilli sauce that usually accompanies spring rolls, it makes for a nice change.
We throw caution to the wind and order a banquet of dishes which includes Shanghai Beef Noodles, Half Roasted Duck, Sweet and Sour Prawns, BBQ Beef Ribs with Firewalker Rice (we are intrigued), Thai Green Chicken Curry, Stir-Fried Vegetables in Oyster Sauce, Steamed Jasmine Rice and Egg Fried Rice.
What arrives in front of us is nothing short of spectacular! Steaming hot, huge portions, we wonder whether our above-average appetites will cope (spoiler alert: they do and we act as though we have not eaten in weeks). What I love about the dishes is the variety of textures: tender meats, luscious prawns, crunchy vegetables, al dente noodles, fluffy rice, mouth-watering sauces, and the colours! Traditionally I find Asian food lacks colour. It is cooked out, spoiled by thickened sauces, washed away with soy, oil or something else. But not here! The colours are vibrant and delectable! The pleasure of the meal is as much with your eyes as it is with your palate!
It is difficult choosing a favourite dish: the duck is so moist, but with a lovely (dare I say "crisp" again?!) skin, flavoursome; the lightly-spiced chicken curry (sporting two chilli icons on the menu) has lost no flavour among its warmth; the juicy sweet and sour prawns are only enhanced by the delicious combination sauce; the BBQ ribs are literally falling apart on the plate; the Firewalker rice not quite as spicy as the two chilli icons belie but lavished with flavour; and the beef noodles – a myriad of tastes… delectable!
I'm gushing, I know. It's impossible to not to, for afterwards, where traditionally an Asian meal will leave you full, bloated and with a sense of over-eating, there is none of that. An iron kettle of Jasmine Tea tops the night off perfectly.
It is also open for lunch, with a selection of pick and mix offers from just €8, but for now we leave pleasantly full and already looking at our calendars for when we can go back again! If that is not gold, then I don't know what is!
VITAL STATISTICS
SPECIALTY Chinese
WHERE The Noodle House, St. Andrew's Street, Limassol
WHEN Lunch and dinner plus takeaway
HOW MUCH Entrée plus main: €20-25, lunch offers: from €8 (incl appetiser, main, side order and drink)
CONTACT 25 820282 Reservations on weekends recommended.