By Patricia Jordan
The weather we had in January will probably continue into February, hopefully bringing more rain to swell the reservoirs, with not quite such devastating effects as last month! There may even be more snow in Troodos. This may delight the skiers but not those who have to live there. When the snow eventually melts away it will augment the water in the reservoirs lower down. Just because the gardens are very damp now it doesn't mean that we should forget that it rarely rains in the summer months here, so how can we maintain our wonderful flower-filled gardens with the minimum use of water? Plants, like humans, need water and light to survive. A little heat is good as well – too much though and over they go. So we need to learn from countries that have similar weather patterns to ours. South Africa, for instance, has very hot temperatures and yet is a gardener's paradise and many plants from there do well here too. Look in any garden centre and you will see scores of plants on the benches originally from that part of the world. Polygala, in flower now; gazanias, with their bright fiery colours; strelitzias, some of which have flowered already, with others in higher elevations to follow and chasmanthe, found in older gardens and about to throw up towering flower stems giving height to borders. These will be followed later on by agapanthus, tulbaghia and nerines, those lovely summer flowering bulbs, not to mention the ubiquitous pelargoniums growing to enormous heights given half a chance and adorning verandas and courtyards in every village garden.
What if we didn't have these exotic plants to call on? What would we be growing? At ground level the little yellow flowers of oxalis have been appearing since the end of the year and I am always being asked how to get rid of them. The answer is to dig them up, but you have to get down to the roots and get out the little bulblets. If you don't then they will regenerate next spring. If they appear in paths or among gravel you could try using 'Roundup' with great care. It is still available here and not yet banned by the EU. As they die off, then come lavenders, rosemary, sages, thymes, artemsias and rock roses and what do they all have in common? An ability to survive in drought conditions and grow in the meanest of soils! I am not saying we shouldn't grow any other plants, but if we use some of these natives that can look after themselves in the very difficult growing conditions here, then we could perhaps indulge in a few exotics which need more care.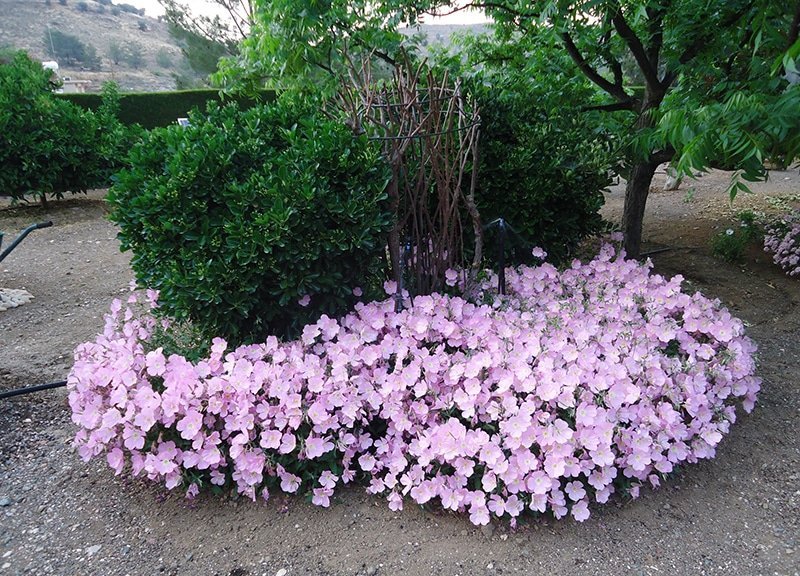 THINGS TO DO IN THE GARDEN THIS MONTH
There is still a lot more to do in the garden, feeding fruit and nut trees with 20.10.10 being one of them. Three mugsful for large trees strewn under the trees and one mug for young trees is just the right amount. If you grow fruit trees like lemon or kumquat in pots then use a soluble fertiliser such as Phostrogen.
If you haven't pruned your grapevine yet then do so before the sap starts to rise when any pruning will cause the branches to 'bleed'. Leafless grapevines look gaunt at this time of year but it gives you the opportunity to have a look at the basic structure and do some pruning. Check over the support as well and see if there is need for any repairs or strengthening, as vines when fully in leaf and fruit are very heavy creatures! Cut back the fruiting stems to one or two buds and pinch out all but the strongest new shoots. Sometimes they need some summer pruning as well.
Plumbago, which some people grow against walls or fence lines, puts on enormous growth each year, someti
mes flowering three times in a season and would benefit from some drastic surgery now. You can safely reduce the stems to around 15cm. Damascena roses as well as Banksias also benefit from taking out any old wood and feeding with a rose fertiliser. Bougainvilleas are pruned now as their leaves have fallen and you can see where to cut. Wear sleeves, gloves and safety glasses for this job, as the thorns, which help the plant to climb through trees in tropical jungles, can be vicious. The fluffy buds are starting to swell already on wisterias so take off any dead stems and soon you will be able to enjoy an early spring display of their highly scented flowers. Despite what the experts say, you are in danger of removing flowering buds if you are too drastic.
Lavender, along with rosemary bushes and hedges, will benefit from being trimmed this month. If rosemary bushes become too big then they tend to separate out into sections and this rather spoils their beauty. Prostrate rosemary bushes are in flower already tumbling over walls, along with some of the wild lavenders and are much sought after by the early bees as they search out pollen from among the first flowers.
Take some time to check around your flower beds and see what has grown too big for its spot. Tulbaghias are delightful plants in any summer garden but the clumps can quickly grow quite large, so fork them up and separate them into smaller clumps, replanting in other places or sharing with friends. A ground cover plant called Oenothera speciosa, a member of the evening primrose family, has pretty little pink flowers that stay open all day unlike some others in this family. However, it can rampage across your garden unless you keep it under control! As the season progresses and growth is fast, tall plants will need to be tied in. Herbaceous plant supports are now available here in garden-centre shops but you could use some of the prunings from your trees just as easily.
It's possible to take cuttings of some shrubs this month if it is warm enough, as cuttings do not like cold soil. If you can give your pots some bottom heat then they should flourish. You could leave this job until next month when there will be more cutting material available in the garden, but do it soon. Don't sow any annual seeds directly into the garden yet as the soil is far too cold for that and the seeds will just rot off. Some seedlings that appeared in early winter are acclimatised and should see the winter through unless there are any frosts.
Give your roses a final prune this month because as soon as the weather starts to warm up they will be sending out new growth. I know there are lots of roses still flowering in village gardens but they do need a resting period and some professional growers advocate taking off all the leaves as well, which will really rest the plant. Cut down the main stems to about 6 or 7cm and take off any weak or inward growing stems. Feed them with Phostrogen or a Rose Fertiliser, or you can chop up banana skins and spread them around the bases of rose bushes. The potassium in the bananas promotes healthy flowers. Having said all that, I noticed rose bushes in several garden centres recently, so obviously they had had their resting period somewhere else!
 Aloe ferox, a native of South Africa and a member of the asphodel family, starts to send up its amazing flower stems this month. Usually with bright red or deep orange flowers resembling kniphofias, it is a striking specimen plant in the February garden. It has several common names such as Cape Aloe, Bitter Aloe, Red Aloe or Tap Aloe. Its fleshy leaves have the same properties as the more commonly known Aloe Vera, making it a useful plant to have in the garden for the medicinal properties contained in the fleshy leaves.
This plant needs space to grow as it can reach up to 2 metres in height with 'leaves' reaching up to a metre in length. The natural habit is for them to curve slightly inwards. They have very sharp pointed ends to the leaves and several spines along the edges that can puncture skin very easily, so take care. The flowers atop the tall stem appear in rosettes and sometimes are branched, resulting in them being known as Candelabra aloes in some places.
Aloe ferox can be propagated by seed, but this can take quite a few years before they reach maturity. If your plant produces seeds, then sow them in a sandy soil in shallow trays. It is important to avoid overwatering them at this stage. Move them on into their own pots when they reach 4cm. However, when mature they are best grown in the sun in a free draining soil.