Fishing and the movement of boats have been prohibited in the Natura 2000 protected area of the Peyia sea caves, the agriculture ministry announced on Wednesday.
The decree issued by the ministry has been in effect since February 1, according to which a 'core protection zone' (marked in red on map) has been established, where fishing, as well as the movement and anchoring of ships, is strictly prohibited.
The same applies for a designated 'neutral zone' (marked in green on map) although an exception is made in this area for small boats with a professional fishing licence.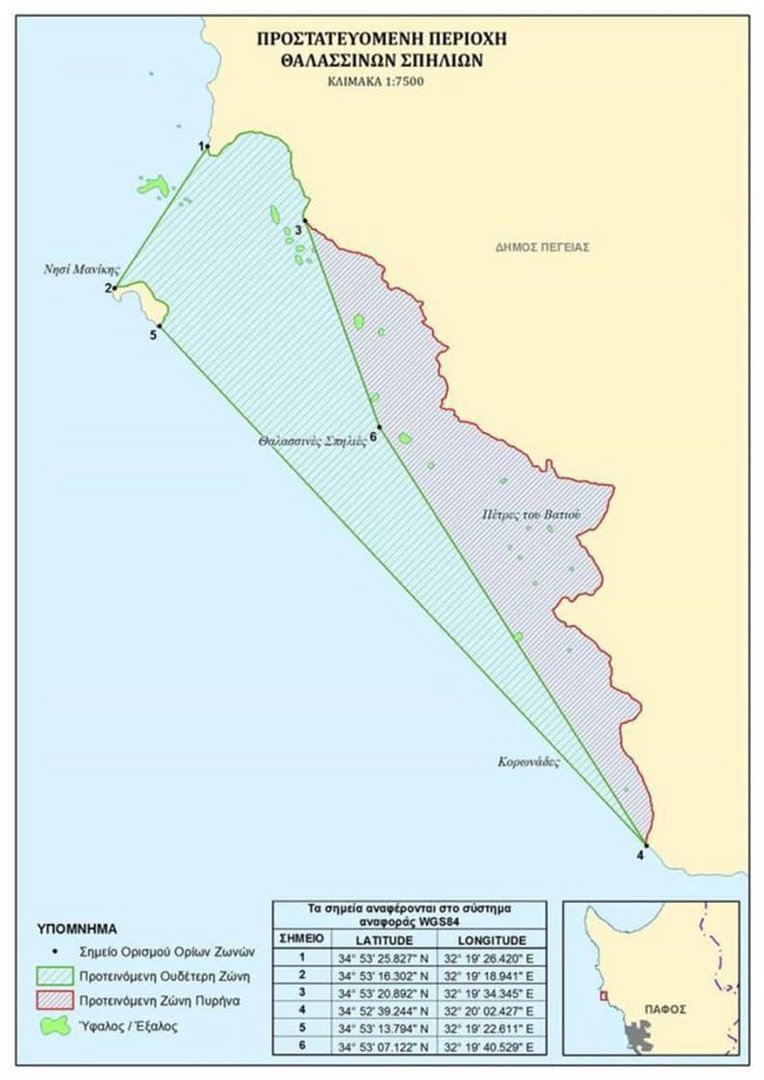 According to the agriculture ministry, the implemented measures are in full compliance with propositions made by the expert scientist on issues regarding the preservation of the Mediterranean monk seal, Dr Panayiotis Dendrinos, and aim towards an effective management of the area's biodiversity.
The Peyia sea caves, and the Akamas region in general, is systematically monitored by the department of fisheries and marine research for the protection of the Mediterranean monk seal, the rarest out of the 33 species of seals that exist in the world.
Three specialised research surveys conducted between 1997 and 2012 to identify potential terrestrial habitats of the Mediterranean monk seal found that the sea caves located in the Akamas and Cape Greco areas were likely to be suitable habitats.
On Monday, the agriculture ministry announced that a two-month-old female Mediterranean monk seal named Aphrodite was found in the Akamas bay area, with Agriculture Minister Kostas Kadis announcing that her birth raised the monk seals population in Cyprus to 14.
Last year another monk seal, Kinyras, was born in the area, while only around 600 are estimated to be alive.
Regarding the Peyia sea caves decree, Kadis said that it was necessary "on the one hand by the fact that it has been confirmed that the Mediterranean monk seal does use the area's sea caves and on the other from the need to protect the area from various marine anthropogenic activities".
The area of the 'sea caves' in Peyia covers the entire area from Aspros River in the north and Keratidi Bay in the south and is not only a Marine Protected Area (MPA) but also includes a terrestrial area along the coastline of Peyia municipality.
The entire sea cave area is included in the Natura 2000 network, both as a Site of Community Interest and Special Protection Area Akamas Peninsula.
Last year, demonstrations were held for weeks in the area to protest six villas being built right by the sea caves area and the authorisation for the construction of a five-star, eight-storey hotel and 44 villas at nearby Kafizis beach.