SPOTTY teenagers defied headteachers, parents, the education ministry and the rain on Thursday morning to go on a protest march to the ministry to express their opposition to twice-yearly exams.
Of 15,000 students registered at secondary schools all over Kyproulla, some 6,556 left their schools on Thursday morning, but most of them did not show up at the march in Nicosia which was also attended by university students with their own list of ridiculous demands such as lower rents and more state cash. Some 2,000 kids, in all, took part.
Although opposition to the education ministry's plan to introduce twice-yearly exams from the next school year was the main cause, the kids also object to the reduction in the number of absences allowed and allegedly harsh punishments for their appearance, like not wearing uniform.
The teenagers have also organised themselves into a union known as Psem. Some kids might leave school without the basic reading and writing skills, but they will all get 'A' in militant unionism and self-centredness because they have expert teachers in these matters who set very good examples for them.
The self-important 17-year-old president of Psem, Panayiotis Georgiou, heroically stated: "Neither the absences nor the intimidation will stop our struggle for a human and democratic school." This sentiment bears the stamp of Akel as the party has great expertise in idiotically vacuous slogans. The co-ops were also human and democratic, and look what happened to them.
WHAT would constitute a democratic school? Is it one at which the school-kids decide when they sit exams, how much homework they get, how they dress, what lessons are taught and when they have to go to school? Students are after all the majority in every school and according to democratic principles they should take the decisions.
A democratic school would be one where there was no homework, no exams, optional class attendance, where everyone gets 'A' grades, the head teacher is elected by the students and class teachers are punished if they have not prepared their lesson properly. This ideal has not been achieved yet but it cannot be ruled out given how pathetic the authorities are.
That we have clueless 14-,15-,16- and 17-year-olds under the illusion they have valid views about education that must be taken into account is not their fault. It is entirely the fault of Education Minister Costas Hambiaouris and his associates who engage in dialogue with the teenagers over educational reform and allow them to think they should have a say.
Last month Hambiarouris invited Psem's underaged reps to his office to hear their opinions about education and boasted afterwards that of the six points raised by the children "we saw eye to eye on 5.75." Where did this pathetic pandering to 16-year-olds get him? Psem issued an announcement after the meeting accusing him of "consciously lying", and "lapsing into contradictions", which was exactly what he deserved for engaging in serious dialogue with children.
IT IS NOT only the minister that is to blame for ludicrous situation. All the political parties tacitly support the engagement of these spotty kids in shaping educational policy because they would not dare say anything bad about a union, even if it is made of kids playing grown-ups.
Worse still are the TV and radio stations that get the kids to appear on their shows to utter the cliched union-type rhetoric they have learnt from their teachers. On Thursday on Trito, the Psem leader accused school heads of intimidating and blackmailing kids in order to stop them attending the demo. Urging kids to obey school rules or face punishment now constitutes intimidation and blackmail for these underage militants.
On the same show, a member of the 'children's parliament' (yes, we have such thing as well) also spoke, expressing disapproval of leaving classes for the demo. He was the well-behaved kid that had not fallen under the toxic influence of Akel.
Giving kids a say on how school education should be organised is not democratic, it is democracy gone mad. Fifteen and 16-year-olds are not trusted by the constitution to vote because they are immature and easily misled – no different from the majority of the electorate, to be fair – so why are they given a say on education policy about which they know nothing?
Democratic schools, run by teenage union hacks in coalition with teaching unions would end in Playstation becoming part of the curriculum and exams banned.
HAVING sorted out the civil service, compulsive do-gooder Odysseas has decided to shake the National Guard into shape. On Wednesday he released his report about the shambolic system for calling up reservists, revealing that about 11,000 men obliged to serve as National Guard reservists escaped call-up either by claiming they were studying abroad or by using mesa.
The report said only 46 per cent of those that did their national service between 1990 and 2010 went on to show up for reservist service, sacrificing their time to perpetuate the myth that the hundreds of millions of euros of taxpayer funds being spent on the National Guard every year was not a complete waste of money. The truth is we did not feel any less safe because the guard's strength was deprived of 11,000 men.
Let's face it the National Guard is just another employment agency, like municipalities and government commission, made up of public employees in fatigues instead of in badly fitting suits and who are even less productive and capable than their civilian counterparts. All they care about is their promotions, which is why we have way more generals, brigadiers and colonels than our micky-mouse army could justify.
Such is the incompetence of these high-ranking officers, they could not even organise a call-up system that would ensure more than half the reservists showed up for duty. And this is an army that is supposed to depend on reservists because the number of conscripts serving is too small. Not that it would make much difference if 100 per cent of reservists showed up for training because the training is a joke. At least it was back in the days when I was stupid enough to show up.
THERE was a large number of reservists in the 30-47 age group still in the computer system with the designation 'external student', said Odysseas' report. Others that never did reserve duty were the political party hangers-on such as members of SGO boards, media workers, presidential palace employees and of course politicians.
A Disy deputy, Demetris Demetriou felt obliged to say publicly that he was one of the guys that never did reserve duty because he never got around to registering with the army authorities. He obviously had not realised that when you don't register you are not called up. You couldn't really expect him to say, "I knowingly did not register because reservist duty is a colossal waste of time that I was not willing to partake in because life is too short."
On Friday, appearing on a radio show the holier than thou Odysseas was asked if he was serving as a reservist and he said 'no', explaining that the auditor-general was exempt. He came up with suitably lame official excuse for this. If he served as a reservist at a specific camp, he would not be able to go there in his official capacity and carry out an audit, he said.
Surely someone else from his office could have gone to this camp to carry out the audit and there would be no conflict of interest. You have to admire the audacity, not to mention the rank hypocrisy, of Odysseas, lambasting the no-show reservists.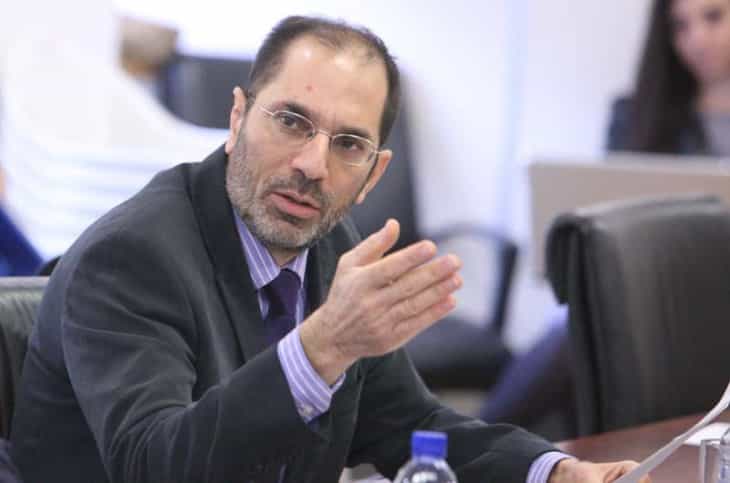 OUR ESTABLISHMENT would like to know who made the rule that the auditor-general should be exempted from reservist duty? It was certainly not the previous auditor-general Crystal as she was not eligible for reserve duty. Was the exemption, by any chance, arranged by Odysseas?
Even if he did not, if he cared so much about the National Guard, why did he not waive the exemption his office granted him to serve as a reservist. A man of his patriotism, courage, fearlessness and warrior qualities would, as our foreign minister would say, have added value to the National Guard.
He has singlehandedly taken on the civil servants and defeated them, why not the Turks as well? Is it because he may have to audit the battlefield and there would be a conflict of interest?
PREZ NIK has offered to step down if an investigation revealed he had any involvement in the passports for citizenship scheme. He made the statement that some considered rather bold, considering everything, in an interview on Antenna TV after being asked about his law office's issuing of passports for foreign investors seeking citizenship.
If the Prez said he had no involvement it must be the truth, because as we know he never lies. And he would never have put his presidency, which he loves more than life itself, on the line if there was the slightest chance that someone would prove any involvement. What his daughters do at the family law firm has nothing to do with him.
Of the 4,800 citizenships granted in the last five years, "my former law office submitted 39 applications," (it was actually 41). It was not possible that state policy would be influenced by 39 submissions out of 4,800, he said and called for an end to efforts to paint a picture of a corrupt administration, "because my children had to be unemployed".
Is he kidding us? Would his children be unemployed if they did not process applications for citizenship? Would his daughters receive unemployment benefit every month if they did not provide golden passport services? His law office counts some very wealthy Russians and Saudis among its clients, and his daughters would still be fully employed and making shitloads of money if they did not deal with passports