But serious concerns over whether payouts will cover costs of landslip destruction
Evicted Pissouri homeowners this week won their long battle for government compensation over properties ruined by a destructive, prolonged and ongoing landslip, but are concerned it will be too little and too late.
Since 2012, property owners in the Limnes area of Pissouri have seen gaping cracks appear in interior and exterior walls, making their homes uninhabitable, swimming pools destroyed and roads buckle and split apart.
Pavements, footpaths, retaining walls, drains, water pipes and other infrastructure works have all been badly damaged.
Dozens of homes have been affected and five families have had to be evicted, one of them just this Thursday. Another family left on their own accord this week after a live electricity authority (EAC) cable snapped and fell right outside their home. The land is estimated to be slipping by 30 centimetres a month.
The head of the House interior committee, Andreas Kyprianou, announced on Monday that the government is to compensate owners of homes affected by the land slippage. The amount each receives will be determined at a later stage, he said.
For British retiree Peter Field, 80, who was forced to leave his home with his wife, Kayt, after being evicted more than three years ago, all that matters is that they are compensated based on the value of the house before the landslide.
"We feel the (government) decision is absolutely right. We bought our houses in good faith, insurance refused to pay, we want full compensation," Field told the Sunday Mail.
But Elina Zoi, the lawyer of the Pissouri Housing Initiative Group (PHIG) – set up to fight for the rights of the homeowners – is concerned that any compensation will come out of the overall €23 million the government had said in the past it would give to fix the problem – all aspects of it.
"The amount they are willing to pay is too small," Zoi told the Sunday Mail. She said that that sum would most certainly not only go on paying compensation to the homeowners but also on a full-scale technical study on the problem plus whatever extensive and pricey structural and infrastructure works will be needed.
Kyprianou would not confirm the amount.
"We are waiting for the cabinet decision," Kyprianou told the Sunday Mail.
The political decision to compensate these people has been made, he said, but it is up to the cabinet to announce the amount to be given.
On whether this will concern only the five evicted families, he said: "Our intention is to help those who no longer can stay in their homes because they are too dangerous."
The cabinet decision will also include an amount for temporary maintenance works until a final study is completed on the source of the problem and ways to tackle it.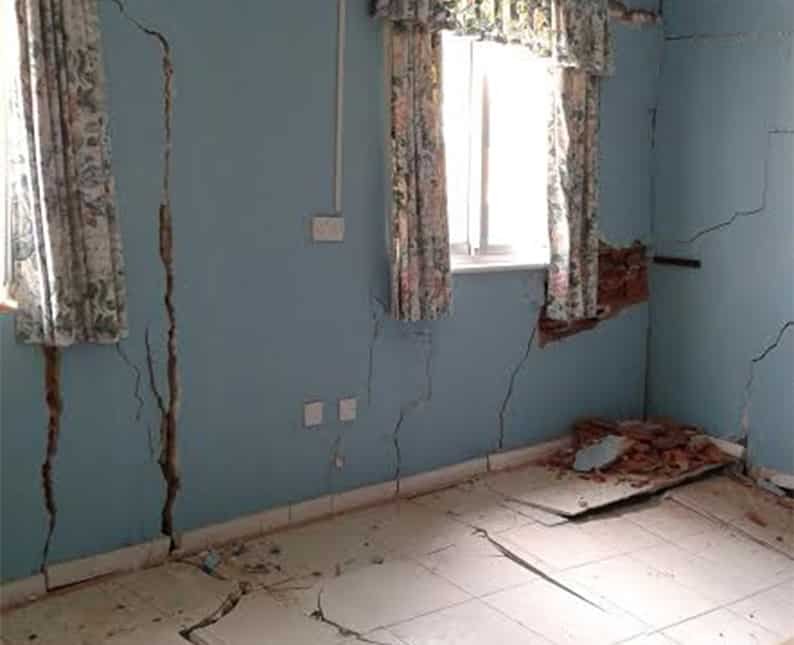 A tender competition will be announced within the next three months for the study. A year after the contract is signed, the study must be completed.
The undisclosed amount to be given to the affected families is immediate compensation until the study is completed, he said.
"This is phase one," Kyprianou said.
Based on the study findings another decision will be taken on how to solve the problem in its entirety, he said. "Whether this will mean restoring property or infrastructure or finding other solutions, there is no way of knowing before the study findings."
Zoi is worried, based on information she has received, that the government will pay homeowners an amount which is not enough to buy or build a new home and instead ask them to go after the developers that sold them the houses and engineers who had given the green light.
"The houses in that area were not constructed by developers, but by small construction contractors," Zoi said, adding there are no large companies with millions in the banks from whom owners can claim compensation.
"My concern is that the money they will be given will not be enough to cover the purchase of another home, forcing them to stay renting until they die," Zoi said.
Kyprianou said that there are no such thoughts.
"We will not let these people fend for themselves. But the government cannot take any further decisions without the results of the study," he said. In the meantime, he said, this does not stop owners from taking their own actions to claim money from insurance companies or from elsewhere.
But insurance companies have emphatically refused to pay out, which homeowners say leaves the state as the insurer of last resort.
Field said that they would like the value of their homes to be assessed independently.
The Fields bought their four-bedroom villa in 1993, and spent a considerable sum on the property before deciding to retire to Cyprus in 2003. Their house was built in 1987 and had no problems before 2011.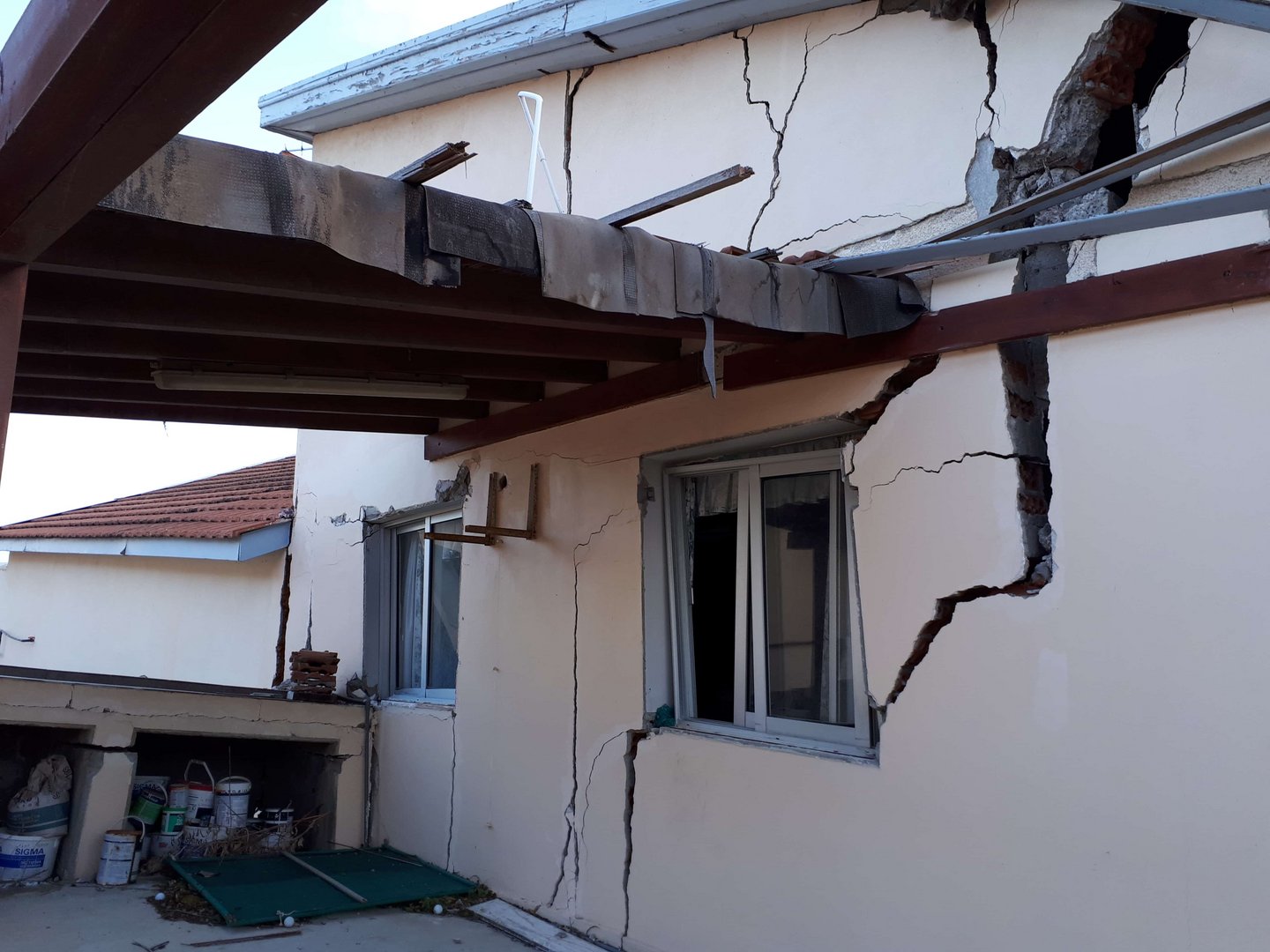 After being evicted, the couple now live in rented
accommodation nearby.
"We have nothing. We had a very nice house in the UK, we sold it and we bought this one," he said.
Field, based on previous experience, expressed fears of getting in a long wrangle with the government until they are able to get their money.
"It's been 3.5 years living in this nightmare. When we were evicted, we were not given any help or advice. We've been let down by the government, many broken promises, lies," he said.
If their house cannot be repaired, he said, they would like a house roughly the same size as the one they lost.
The devastating land slippage was aggravated by a number of factors, Kyprianou said.
"Lack of a sewerage system, heavy rainfall."
He warned that unless measures are taken, the slippage will worsen.
"The problem is much bigger than was initially estimated. It affects the entire southwest of Pissouri," Kyprianou said.
According to Zoi, the slippage moves around 30 centimetres per month.
She described the dangers with just the electricity alone. EAC cables are snapping due to rapid contraction and expansion from the movement of the poles they are attached to.
"Last week, two cables snapped and fell on the ground, one of them was active," she said.
It fell outside a house whose owners have a three-year-old child.
Luckily, she said, the owner of the house had realised it was active and knew what to do.
This week another family went home and also found a snapped cable outside their house, and decided to move to a safer place, she said.
"Houses are being left without electricity and water," Zoi said.