The Committee on Missing Persons (CMP) refuses to give up, despite the fact that identifying remains of missing persons will not increase as time passes by and witnesses pass away, member Paul-Henri Arni has said.
"We are optimistic and we work systematically to carry out our mission," Arni said in an interview with the Cyprus News Agency (CNA).
To tackle the problem of lack of information, CMP is planning to launch a major communication campaign with companies in Nicosia and Kyrenia that are offering their expertise for free.
"We are putting a big campaign… something big, strong and systematic," he said.
This will be phase one.
The second phase will follow with initiatives at local level. "We want to localise this communication, to go to villages where we know that there are still unsolved cases, talk to the mukhtars and the villagers.
This is aimed more specifically at obtaining new information on hidden burial sites," he said.
"The leaders made an appeal in 2014, the religious leaders in 2015. Now we are trying to convince these old Cypriots who are reluctant to talk that if they die with the information then it is over," he said.
Arni said that 45 years after the 1974 invasion and 55 years after the events of 1963-1964, the pain of the families of the missing has in fact increased. "The more I work on this issue, the more I realise that it is the deepest war wound of all, the only one that increases with time."
The CMP has recently benefited from the services of a senior psychology specialist from the International Committee of the Red Cross (ICRC) who is contacting Greek Cypriot and Turkish Cypriot families of missing persons who have not yet received remains of their loved ones, and is preparing a report to show the resilience and the depth of their suffering.
The expert interviewed more than 250 families over the last four months, which is about 25 per cent of all the concerned families.
"We will give the report to the authorities to show them that… there are still needs… mostly psychological ones," Arni said.
"It is a pain that they try to cover with dignity, but as soon as you scratch, as soon as you ask them to tell the story, they start opening up, going into tears," he said.
Among these cases is that of an 80-year-old man whose mother passed away a few years after the war.
Her husband, the old man's father, went missing but she continued to buy clothes for him, new suits, to carry on her life with him being gone, but present.
The man had taken his mother to a doctor thinking she was crazy and she was overprescribed drugs. The woman died a few years later.
He burst into tears after the psychologist told him that his mother was not crazy as he had thought but that her behaviour was a coping mechanism to defend herself.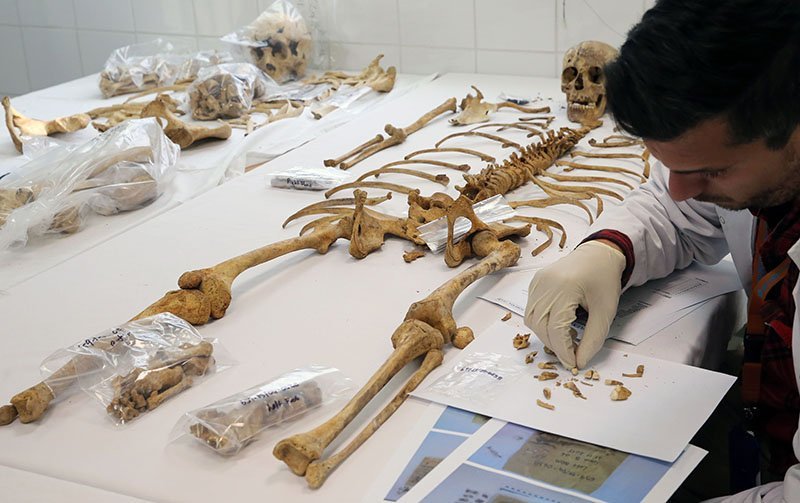 The CMP has identified and returned the remains of 927 persons, out of 2,002, within a 13-year period.
"This is 46 per cent, almost half, it is a good result if you compare to other countries, Argentina with less than 20 per cent over 35 years, Lebanon, where no systematic effort has started in the last 25 years," Arni said.
The results are good, but came too little too late, he added, since during the first 25 years of its existence – from 1981 to 2006 – the political will was not strong enough to allow the change of the mandate of the CMP into an operation, like it is today, and be able to locate, exhume, identify and return the remains.
Another obstacle to the committee's efforts is construction. On one occasion, he said, CMP teams returned to a previous excavation site where they discovered new partial remains as a hotel on the site was extended and the remains were found on the soil which was thrown into a neighbouring field.
Arni told the CNA that the main problem however is diminishing recoveries and accuracy of information.
"The main problem is the fact that our accuracy is going down because of lack of precise information."
As a result, he said, 10 years ago, in 50 per cent of the sites opened, "we were finding remains, now it is only 20 per cent."
In 2018 the remains of 13 people were found, the year before that 47 and before that 107.
"We are finding less people as we go and this is a natural trend… But we are doing our best to make this trend last longer, so we can find the maximum of people missing."
The CMP is focusing on training its investigators and buying new technology in order to allow the superposition of old maps with new images and data about previous excavations. He added that these maps along with new maps from Google and the CMP's information, are now being put on a single map with the goal to have results whenever they dig, so they do not waste time and money.
"People might come to us with information such as 'I remember three olive trees and a crossroad' but we go there and there are no olive trees and no crossroad", he said.
"We excavated 1,245 sites up to January 31, 2019 so over the last 13 years we excavated about 100 per year. Last year we excavated only 50 sites, we need to be careful so that this doesn't translate into less excavations but better ones, which deliver results," he added. The aim for this year is 75 sites/excavations mostly in the north. Eight teams work in the occupied areas and one in Strovolos.
Αs regards the missing of Assia, remains of whom were allegedly relocated to a landfill in Dikomo, Arni said that a Portuguese expert was in Cyprus in November for an assessment and completed a report with maps and charts of the landfill which was rehabilitated and transformed into a hill with trees on top.
Arni explained that in the meantime, witnesses told the CMP that the bodies were dumped at the end of a dirt road crossing the landfill.
He said that hopefully, the committee might be in a position to take a decision as to when to request the authorities to do the excavation. This will depend on whether they are able to find that dirt road.
During the exhumations in two wells in Assia, the CMP found the remains of seven full bodies and 64 incomplete ones. In December 2017 the Turkish Cypriot office of the CMP received fresh information from three witnesses who had allegedly relocated remains from those wells and transferred them to the landfill in Dikomo.