It's billed as "the largest future casting festival between Southern Europe and the Middle East", an event at which "the history of the future is being shared." Which, we suspect, is millennial speak for a cross between Star Trek tech and the networking opportunities of Davos!
Spread over two days (May 9 and 10), and taking place at The Carob Mill in Limassol, this is the second iteration of a festival that started small at the St Raphael last year with roughly 350 guests and has now burgeoned into a massive celebration of all that is the future. This year, flying cars and electric bikes, pioneers and futurists, and even a visit from the first human Android citizen (Sophia, Hanson Robotics' most advanced human-like robot, who has appeared on the Tonight Show and Good Morning Britain, and has addressed members of the UN, ITU, and NATO!) ensure Reflect will be a standout event – which is why we're telling you about it so far in advance!
Organised by The Heart Group and 0100 Ventures, and sponsored by Neocleous LLC, the European University of Cyprus, Hellenic Bank and KPMG, the Festival is aimed at "everyone who is interested in the future," explains co-organiser Andria Lambrou. "From business people to the big organisations, this is a fantastic opportunity to network and learn more about developments in tech. Trendsetters, decision-makers, and pioneers of our time will be challenging the status quo of our current age and presenting the future of AI, health and wellbeing, philosophy and mindset, cities, travel️, art and design, money and impact."
Along with a host of panels and speakers (including the Founder & CEO of Jungle Creations, a media company whose video content is distributed to over 85 million followers; the Head of AI Innovation and Strategy at Adobe, best known for spear-heading Adobe's Creative Cloud strategic development partnerships; the co-founder & CEO of Virtual Everything, and a member of this year's Forbes 30 under 30; and the CEO and co-founder of AeroMobil – the advanced engineering company which is currently commercialising the flying car!) the festival will also host a Venture Capital forum, which sees top investors from all over the world heading to the island.
"As this is only the second festival, and most of our speakers have never before visited Cyprus, it's been a challenge to persuade key global figures to get on board," explains Andria. "But, as the line-up proves, we've more than succeeded! We intend," she adds, "to make Cyprus the place where the future is shared, putting the island firmly on the map as regards innovation and technology.
"Perhaps," Andria suggests, "Cyprus has been a bit lacking in this area thus far, but all that is about to change. At last year's conference, we not only saw the myriad of beneficial networking opportunities make a huge impact on the local business community, but also a great deal of investment in new technology. And this year," she adds, "we're expecting that to increase that tenfold.
"Our aim is to attract 1,300 people" – an achievement that seems eminently manageable given the festival attractions! – "and, over the years, to grow into the future," she concludes. "We're already seeing speakers and visitors from all over the world, and Reflect is only going to grow over time: a futuristic, mind-blowing event which forever changes the status quo."
If you're interested, until March 15, the Early Bird tickets come at a cost of €230. Between March 16 and March 31, they're €290. And from May 1 onward, you'll be paying €450 for the privilege of seeing Sophia the Android and co….
That said, if you're a tech entrepreneur, start-up, or business wizard, the Reflect Festival is an event you just can't afford to miss. You'll certainly see the latest in truly innovative tech, the opportunities for building invaluable connections are rife, and the whole thing is bound to be chock-full of 'grammable moments. Plus, of course, there's those flying cars. And who wouldn't want to have an intimate little tête-à-tête with Sophia?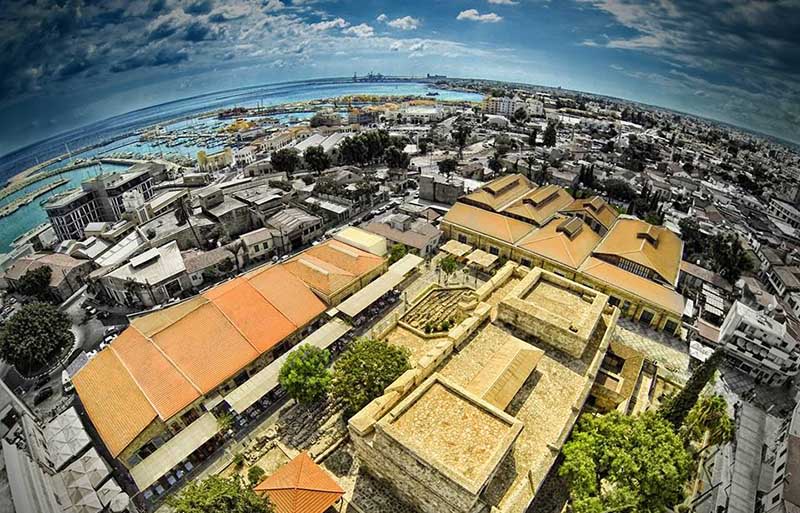 The Reflect Festival takes place on May 9 and 10 at the Carob Mill in Limassol. For information and bookings, visit https://www.reflectfest.com/
WHAT'S HAPPENING
MAY 9
STAGE 1
AI: What's ahead for machine learning: will robots ever surpass the complex intelligence of their creators? What about human vs. AI communication? And how can AI help solve the world's biggest challenges?
HEALTH TECH: How do medical devices become smart, and how can that help both doctors and us? Can an app save your life?
MOBILITY: Will driving become completely obsolete? Will we need to keep buying vehicles, or will we simply share them? And what will public transportation look like?
STAGE 2
SUSTAINABILITY: How do we keep our home safe? How do we fight global warming non-believers or unapologetic polluters? And how do we gently use what our planet offers instead of exploiting it?
WORK AND ENTREPRENEURSHIP: How do we hack the workplace? How do we become empowered, independent, future-proof employees and leaders? And how do we recognise the talent fit for the future?
COMMUNICATION AND MARKETING: How do we avoid digital burnout? How do brands find a way into our cluttered minds?
STAGE 3
THE PLAYROOM: Exciting, intimate, interactive sessions for those who would rather do than listen. Workshops, discussions, and masterclasses!
MAY 10
STAGE 1
ENTERTAINMENT: What's next for music, books and movies? How realistic and immersive can games become? What happens if we enjoy the virtual world more than the real one?
EDTECH: What can we learn from Nordic countries which pioneer original education methods? How do we constantly learn, unlearn and relearn in a fast-paced job market? Will schools as we know them disappear?
MONEY: Money as we know it is being disrupted every day by new players entering the arena. How are the most forward-thinking banks transforming to retain their competitive edge? Who are the new kids on the (financial) block? And what's with all the buzz around digital money?
STAGE 2
ALTRUISM: How do we tackle inequality? How do we help each other, in big ways and small? What can companies do to make the world at least a slightly better place?
RELATIONSHIPS: Where are we headed when it comes to intimacy and love? Does tech bring humans closer together or has it ruined our relationships? Can we fall in love with a robot?
HEALTH & LIFESTYLE: How do we treat our bodies and minds as our temples? What ingenious ideas will shape the way we live in the future? Which inventions will bring us more comfort, fun, or time?
STAGE 3
THE PLAYROOM: Exciting, intimate, interactive sessions. Workshops, discussions, and masterclasses!