This winter's extraordinarily high rainfall has brought relief to drought-ridden Cyprus but, ironically, it also means we should prepare for a particularly devastating fire season this summer, experts have warned.
As counterintuitive as it may sound, heavy rain in winter increases rather than decreases the risk of wildfires in summer. The worst fire years tend to appear amid seasonal extremes, when a particularly wet season is followed by an extremely dry one.
Our landscapes, now brimming with stunning carpets of greenery because of heavy rainfall, will be turned into dry shrubs and grasses once summer starts, leaving swathes of land covered with fuel for fires.
"This is the big concern for this summer," Charalambos Theopemptou, a Green party MP, told the Sunday Mail. "Increased rainfall has led to increased amount of dense wild growth, even in places where for years there was no growth at all."
This, "combined with the increasingly longer summers we are experiencing, whereby fire seasons are extended and the rainy season doesn't start until November", could spell disaster.
The consequences of seasonal extremes can be found in the wildfires that raged last summer as an unusual drought and an intense heatwave swept across northern Europe. Sweden saw its most serious case of wildfires in its modern history, while fires also blazed in Finland, Norway and Latvia, as dense masses of vegetation that had dried out after their wet winters left large fuel loads which fed the wildfire flames.
Cyprus is currently traversing its second heaviest rainy season since 1901, with Met Office statistics showing that between October 2018 and February this year, the cumulative average precipitation was almost 620.8mm, or 165 per cent of normal levels. This year is second only to the rainfall levels of 1968-69, when the island saw 627.7mm in the corresponding five-month period. Reservoirs overall are 83 per cent full.
The sight of rivers flowing and reservoirs overflowing for the first time in years have become a major attraction but the rain has also been the bearers of mostly bad news: flooding, road closures, collapsing homes and heritage sites, power cuts and the ironic water cuts, and now, a potentially calamitous fire season.
Come summer, "when this wild growth of such a density dries out, it will be extremely prone to fire, and should a fire break, it will allow the flames to travel long distances and spread," Theopemptou warned.
The biggest concern is the wild outgrowth that borders forest areas, he said, and these should be the target of any uprooting that must take place in preparation for the summer months.
Increased concerns stem from an announcement issued last week by the forestry department, which warned that current staffing levels of the department are worse than in 2016, when the fires of Soleas and Argakas destroyed huge forest areas.
"The existing staff is working hard and, as we have seen again last summer, has reached its limits. The department needs to return to conditions of acceptable staffing to carry out its work safely and effectively," the announcement said.
In a statement to the Sunday Mail this week a forestry department spokesperson said the department had already begun taking precautionary measures.
"The danger of fires in Cyprus during the summer is extremely high, regardless of whether they follow winters of heavy rainfall or drought, and regardless of the quantity of fuel that accumulates due to rainfall," the forestry department said.
In view of reducing the risk of fire outbreak and the rate of fire spreading from the pervasive growth of vegetation, the department will be pruning and thinning trees, and removing ground vegetation along roads and in hazardous areas.
According to Theopemptou, there are methods that could be applied for the removal of excessive undergrowth which do not require harsh intervention in natural spaces through the use of machinery.
One in particular has been very successful abroad, he said. "It involves the renting out of a herd of animals from a livestock farmer, and allowing them to graze in areas where the uprooting of wild growth is necessary, creating a firebreak."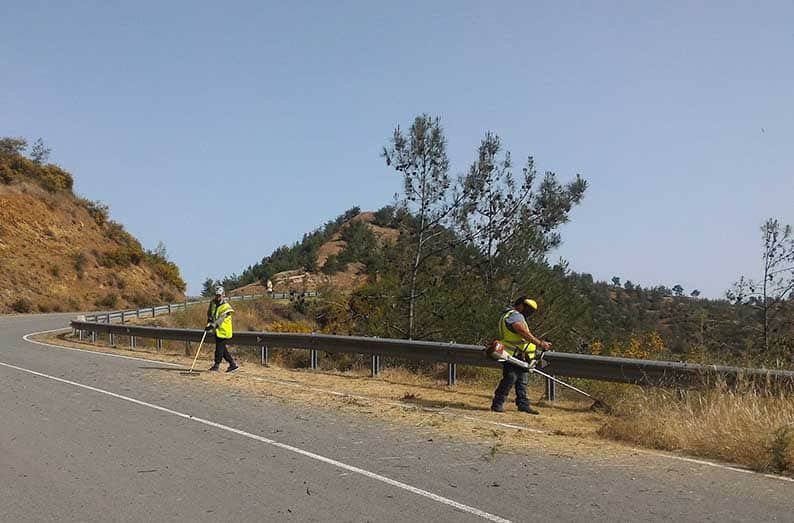 Another method which requires looking ahead as it must be done prior to the onset of the winter season involves the use of compost to reduce the growth of weeds.
Even so, in view of the current condition of under staffing at the forestry department, it is questionable whether the island will be prepared to meet this increased hazard.
A more hopeful picture was painted by the fire service, which said that it is "increasingly worried this year", but "always ready."
The fire service, its spokesperson explained, has ramped up human and technological resources in preparation for the upcoming fire season.
Fire service staff have been boosted by 169 additional employees, who have already undergone training, he said, while the 19 rural fire stations are staffed on a 24-hour basis.
In terms of technological upgrades, the spokesman said, the two police helicopters that are reserved for fire outbreaks will be fitted with two cameras providing real-time imagery for firefighters, while GPS systems have been installed in all fire trucks in view of improved coordination.
The fire service has also been fortified with ten all-terrain fire trucks, allowing fire fighters to intervene in the harshest of conditions. Ten more are expected to arrive by summer while another ten have been ordered for next year.
Beyond the fire service's provisional measures, "penalties have also become stricter, as both monetary and jail-time penalties have been doubled" for those who start fires, the fire service spokesman said.
Beyond Cyprus, California, which last summer saw the deadliest wildfires in state history, is indicating mirroring conditions of climatic extremes which could be foreshadowing an even more deadly fire season this year.
On March 15, California was declared totally drought free for the first time in more than seven years, following unusually abundant winter rains and snowfall state-wide. Just like Cyprus, visitors have flocked to visit the beautiful results of all this water, in southern California's case to witness its springtime superbloom of poppies in a desert canyon.
But like Cyprus, come summer, California's superbloom will very likely bring superfires.
Human activity is the main cause of local forest fires, as exemplified in 2018 when out of the 57 fires that the Paphos forest endured – burning a total area of 227 hectares – 43 or 75 per cent were set intentionally, according to forestry department statistics. But the climate remains the most important ingredient, as it influences the flammability, type and availability of combustible material.
Climate change, whereby dry regions become even dryer, coupled with negligent forest management, are causing fires of higher intensity and faster speed, in the face of which first responders can do little, even when adequately staffed.