Airport passenger numbers in January and February increased by 7.6 per cent compared to the same period last year, while a record number of almost 11 million passengers were handled by the island's two airports last year.
According to a new report by anna.aero (Airline Network News and Analysis) aviation experts, Cyprus' aviation industry is showing strong signs of growth despite the adverse market conditions, such as the recent collapse of a number of airlines, including Cobalt, Germania Airlines, and Air Berlin.
Compared to 2017, Larnaca and Paphos airports handled 10.94 million passengers last year, a 6.7 per cent increase. When compared to the number of passengers processed in 2013, Larnaca airport saw an increase of 66 per cent, and Paphos of 32 per cent.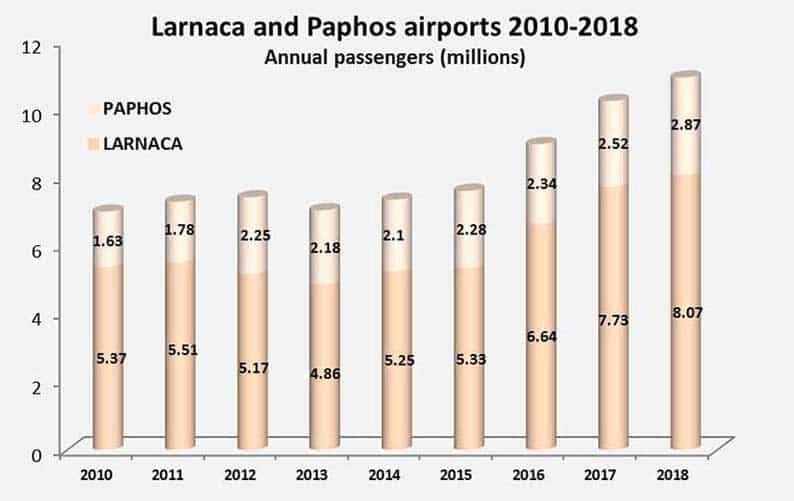 In 2018, however, Paphos airport growth rate was far higher than Larnaca airport, with a 14 per cent increase in passenger numbers compared to 2017, while Larnaca saw just a 4.4 per cent increase, given the collapse of Cobalt.
Since 2013, when the two airports returned to year-on-year growth, the average yearly growth rate for both Larnaca and Paphos combined is 9.4 per cent.
According to the report, the consistent growth patterns of the airports indicate the potential for Cyprus to become a year-round destination rather than a seasonal one.
During the cold months of 2018 (January-March and November-December), both airports saw a growth of almost 11 per cent compared to the corresponding months of the year before, reducing the island's seasonality profile.
With the strong growth rates that marked the first two months of 2019, and given the additional seat capacity provided by Ryanair this winter, the report speculates that the seasonality of Cyprus as a destination will decrease even further.
Ryanair is set to become the island's leading carrier this summer, up from fourth last summer, the report showed, as it is expected to increase its seat capacity by 22 per cent, while also introducing new routes to Mykonos and Kiev Boryspil.
Wizz Air will also be jumping to fourth place from eighth, through an increase of 39 per cent in capacity due to the expected introduction of flights from Larnaca to Debrecen and Krakow later this year.
Beyond low-cost airlines, Cyprus Airways is also expected to mark a 61 per cent growth in seat capacity this summer compared to the summer of 2018. Growth in seat capacity is also expected for British Airways (4.5 per cent), Aeroflot (4.3 per cent), S7 Airlines (5.2 per cent) and Lufthansa (1.9 per cent).
Three new airlines will also be added to Cyprus' aviation market this summer: the Ukrainian carrier SkyUp Airlines which will link Larnaca with Kiev Zhuliany and Khariv; Kuwait Airlines will operate twice-weekly from Larnaca airport as of June; and SWISS will be launching a seasonal service connecting Larnaca with Geneva in July.