The level of non-performing loans (NPL), although significantly reduced, remains high and is a challenge that must be tackled, President Nicos Anastasiades said on Tuesday.
The president was speaking at a swearing-in ceremony for new Central Bank Governor Constantinos Herodotou who is replacing Chrystalla Georghadji.
Anastasiades praised Herodotou's academic training, his multifaceted scientific competence and added: "By taking on this highly honoured office of one of the leading institutions in our country, you are charged with a huge responsibility."
He said the government's main aim was to maintain growth and ensure the necessary conditions were created for it to be sustainable in the medium and long terms.
The president said it was a feasible objective under certain conditions relating to sustainable management of public finances, maintaining macroeconomic stability, the smooth operation of the financial system, and having a business-friendly environment to attract investment.
He also noted that competitiveness must be improved through reforms and new incentives, including tax breaks.
"Our aim is none other than to meet the justified demands of the public for good governance, meritocracy, transparency, and most importantly, upgraded service," Anastasiades said of the reforms the island needed, including justice, health, and education.
Through various measures, the level of bad loans has been substantially reduced "though it still remains high, constituting a significant challenge we must jointly tackle," the president said.
The central bank must ensure financial stability in line with the instructions of the European Central Bank, a key task considering that the banking system has managed to regain its role as the backer of domestic financial activity, he added.
Herodotou stressed that he was fully aware of the heavy burden of responsibility he was undertaking, stressing that the main concern would be to preserve the country's financial stability and contribute in drafting economic and monetary policy in the Eurozone.
"My purpose and goal will always be to add prestige, value and honour to the position to which you are appointing me," he said.
CV of Constantinos Herodotou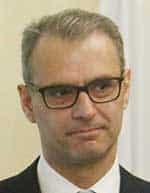 Constantinos Herodotou graduated from University College London (UCL) in 1996 with a Bachelor of Science (BSc) in Economics (First Class Honours and an award for his performance). In 2001, he completed a Master in Business Administration (MBA) with Distinction (top 10% of the year's class) at London Business School.
He joined UBS Investment Bank in 2001 in London, where he worked for almost all of hisinvestment banking career and rose through the ranks to head concurrently two sectors for the investment bank. He was Head of Shipping for Europe, Middle East and Africa and simultaneously Headed Infrastructure & Concessions/ Project Finance for Central & Eastern Europe. He re-launched both sectors and developed them into multi-million annual revenue businesses.
He has advised governments as well as private sector conglomerates and companies on major financial transactions and strategy, totalling an approximate value of over €50 billion. His experience includes structuring and heading complex negotiations, mergers and acquisitions, project concessions, listing companies on stock exchanges (DAQ and NYSE), structuring and raising equity and debt (bank financing as well as bonds) capital, corporate and financial restructurings and project finance. In June 2014 he relocated to Cyprus to take up the role of Commissioner of Privatisations and in March 2017 he was appointed as an executive member of the CBC Board.