A huge storm hit Nicosia Sunday afternoon hours after the met office issues an orange warning, which was to be in effect from noon to 6pm
The storm with hail in some place hit at around 4pm. Numerous reports said four parked cars had been overturned in Strovolos after a mini-tornado hit the area. No one was injured.
Police and firemen went to the scene and had the cars towed, CNA reported. Traffic was running as normal, it said.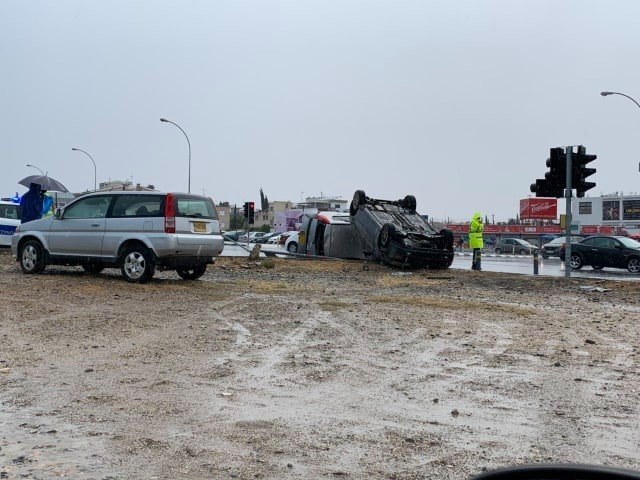 The fire service said it had received 40 calls by 5.30pm related to property damage, falling trees and trapped cars. They also answered calls involving three flooded buildings in Strovolos, Lakatamia and Engomi.
Fire service spokesman Andreas Kettis told Cybc no lives had been endangered in any of the incidents.
Videos online showed strong winds and heavy rainfall around the capital.
Kitasweather reported that there was a risk of road problems but police had not issued any bulletins as of 5pm.
According to the weather site, the storm was moving south east and was expected to hit other areas such as Dhali and Athienou.
The orange alert was issued in the morning on Sunday warning of heavy thunderstorms inland and in the mountains, along with hail and flash flooding. It said rainfall could exceed 55mm per hour.
"Be prepared for strong storms that have a major impact and protect yourself from lightning," the alert read.
"Damage could be caused to property and trees. Flash flooding, wind gusts and hail may occur. Problems in transport and in external activities are expected."
The unstable and unseasonable weather conditions seen over the past few days are expected to continue into the week ahead, probably until Thursday, the met office said, with more isolated rain and storms during the days in the mountains and other inland areas. Some of the storms are forecast to be intense.