The gruesome details behind the seven murders of serial killer Nicos Metaxas, as told to police during interrogation, were heard at the Nicosia criminal court's one-day trial on Monday.
Metaxas, 35, appeared before the court at around 10.30am on Monday under tight security and again unrepresented by a lawyer.
He kept his eyes on the floor throughout the hearing while admitting to 12 of the charges read out by the prosecution. These were seven premeditated murders and five abductions. He was later sentenced to seven life sentences, one for each victim, with two of them concurrent.
After the facts of the case were read to the court by the prosecution, Metaxas issued a tearful apology before the court.
"I have committed the crimes. I take full responsibility. As much as I would like to turn back time, I cannot," he said.
"I apologise to the victims and their families. I apologise to the children. I apologise to the Cypriot public which is wondering how a person could have reached this point. The same question troubles me but I haven't found an answer. I have memories that I have been trying for decades to forget."
He said he would like to put himself at the service of science so that answers could be found to his behaviour and help in similar cases in the future.
The 35-year-old also expressed regret because his two children and family were suffering because of his actions through of no fault of their own.
Five missing women and two girls, the young daughters of two of them, were all murdered between September 2016 and the summer of 2018.
The court heard that of major significance to the 68 days of police investigations was the testimony of the friend of 39-year-old Mary Rose Tiburcio, whose body was the first victim of Metaxas to be found in a mine shaft in Mitsero on April 14.
The friend shed light on Metaxas' online presence under the false name 'Orestis' which he used to communicate with some of his victims.
Tracking down the IP address and email of the fake profile Metaxas kept on the dating-oriented social media platform Badoo, police said they were then able to link Metaxas with another fake profile under the name 'Orestis Apoel' on Facebook, which records showed was deleted the day Mary Rose's body was located, the court heard.
Metaxas was then linked to the fake profiles, while the fact that he had two children but was separated from his wife who lives in a village in the Limassol district, linked the suspect to how 'Orestis' introduced himself online.
The police told the court that Metaxas initially confessed to murdering the first two bodies, those of Mary Rose and 28-year-old Arian Palanos Lozano, after they were found in the Mitseo mine shaft.
On April 25, all seven of Metaxas' murders, including where the bodies were dumped, were detailed to the police in a 10-page handwritten confession by Metaxas, the court heard. The same day, the body of a third victim was found.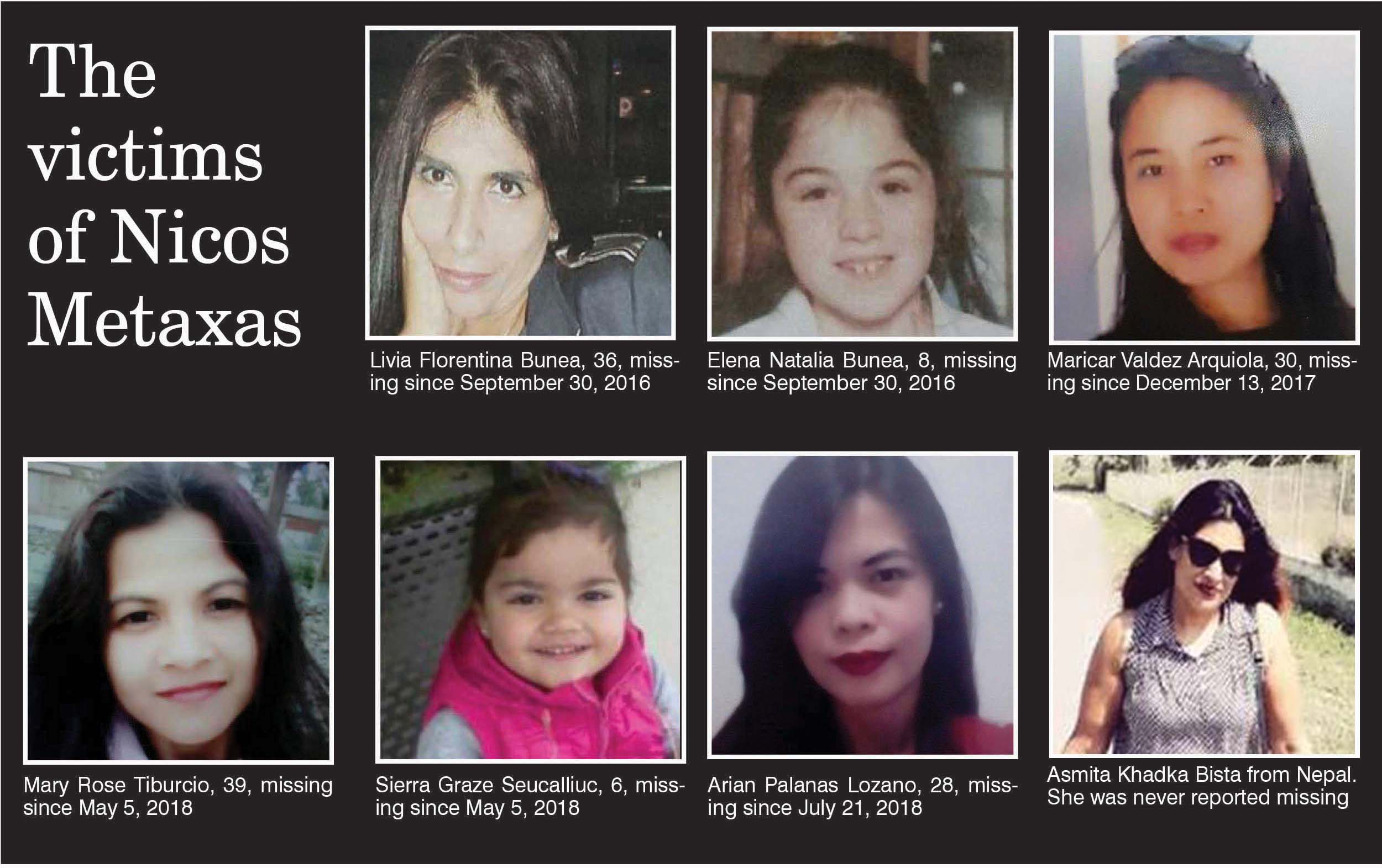 The body was found at a firing range in Orounda, and belonged to Asmita Khadka Bista from Nepal who used the online name Kata Anou to communicate with Metaxas and whose traces were lost in early 2018.
A fourth body, that of Livia Florentina Bunea, 36, was retrieved from a toxic red lake in Mitsero three days later, on April 28.
Livia was found stuffed in a suitcase that was tied to a cement block which Metaxas used to weigh down the body. Metaxas had told interrogators that "the cement block is mine. It's how I did them [the murders], I found rocks and made holes to tie them to the suitcases."
A second suitcase that contained Livia's eight-year-old daughter, Elena Natalia, was retrieved from the red lake on May 5.
Livia and her daughter are considered the first victims of Metaxas, as they were reported missing in September 2016.
According to the prosecution, Metaxas gave cheap excuses in his confession regarding Livia and her daughter. He had said that he was in contact with Livia online and they had sexual relations. Metaxas then told police that he killed Livia due to his deep anger over suspicions that she was pimping out her eight-year-old daughter, who reportedly had mental disabilities.
Metaxas told police he grabbed her by the neck and squeezed until she died. He then said he stared at the dead Livia for some time before going to where Elena Natalia was sleeping and murdered her in the same way. He then said he placed the dead Livia in the passenger seat, while he had already put Elena Natalia in a suitcase and had driven home to get another suitcase from his house to place Livia in.
Regarding Maricar Valdez Arguiola, 30, who was chronologically the third victim of Metaxas as she was reported missing in December 2017 and whose body was found in the red lake on May 14, Metaxas had told police that he had met her on Facebook and believed her to be vulnerable due to the death of her husband.
He said he killed Maricar by strangulation during sexual intercourse because he was reminded of Livia.
Police said that duct tape was found under the bed, leading to suspicions that Metaxas had abducted Maricar with intentions of premeditated murder.
Regarding the murders of Mary Rose and her six-year-old daughter Sierra, Metaxas told police that he believed that like Livia, Mary Rose was also pimping out her daughter. He said he murdered them and then thought of places he had photographed where they would not be found.
"I picked them up on May 4 and took them to my house. We put the little girl to sleep and I then told [Mary Rose] that I had money and that I would marry her, as I had told Livia. I had the same feelings [for Mary Rose] as I had for Livia, as I thought her daughter too was being abused by perverts. I then took her and strangled her. I then strangled Sierra while thinking of the Greek genocide of 1922," Metaxas said in his confession to police which was read aloud to the court.
The prosecution clarified that Metaxas' claims regarding the pimping out of Elena Natalia and Sierra were false.
With the exception of Asmita whose cause of death was a severe head injury, the remaining six of Metaxas' victims were killed by strangulation.
Regarding the killing of Asmita, Metaxas had told police that during sexual intercourse Asmita spat on him and he said he was again angered and reminded of Livia, leading him to murder her.
Two of the victims were found in a mine shaft at Mitsero, three at the nearby red lake, one in another lake at Xyliatos and one in a well near the Orounta firing range. All were foreign nationals, mostly Filipina. The bodies were recovered between mid-April and mid-June this year.
It is the first case of a serial killer recorded in Cyprus.