By George Kassianos
White Wines
2018 Pente Litharia Xynisteri, Ktima Vassiliades – Omodos
The name comes from an area of Omodos where the microclimate contributes to the unique maturation of the Xinisteri grapes, from aged vines on top of Afames mountain. Surpassingly fresh, herbaceous with vivid aromas of white flowers, ripe melon and citrus fruit introduce rich, zesty flavours of pink grapefruit, melon and guava, leading to a long, crisp finish buoyed by bright acidity and refreshing citrus and mineral tones. Irresistible now, this classic Xynisteri will age gracefully for the next three to five years. €10
2018 Playia , Xynisteri – Malaga – Assyrtiko, Ktima Vassiliades -Omodos
Playia means slope, the 2018 white blend is inviting and features aromas of passion fruit, lemon verbena and key lime, herbaceous with white flowers. Crisp and clean on the palate with flavours of lemon and pomelo with Granny Smith apple are lively and refreshing. An incredibly light wine but food-versatile, it's a natural match for shellfish, seafood, and lighter summer fare of feta cheese and tomato. €8.50
2017 Thalero Medium Sweet, Xynisteri – Malaga, Ktima Vassiliades-Omodos
White and sweet, the par excellence dessert wine. It is pale yellow in colour, the intensity of which varies according to the year, intensely fruity, aromatic and lingering. The sweetness is in balance with the low alcohol and acidity, never too high, but that gives the product a pleasant freshness. It is vinified exclusively in steel tanks.
2018 Xynisteri, Tsiakkas Winery – Pelendri
Elegant fruit, a Xynisteri with a light yellow colour, enticing aromas of grapefruit, melon and lime leap from the glass, followed by tropical notes of lychee, pineapple and passionfruit. On the palate, Xynisteri is juicy and bright with silky layers of fruit balanced by lovely natural acidity and a vibrant streak of minerality. Hints of zesty citrus and subtle baking spices linger throughout a long, focused finish. €7.20
2018 KEO Xynisteri – KEO winery, Lemesos
On the palate this wine is dazzlingly soft, lush and round while at the same time bright and lively. The fruits from the nose continue onto the palate and are joined by ripe white peach and warm Granny Smith apple. The finish is long and lovely. This amiable wine is your perfect pairing for long afternoons on the porch swing. €5.50
2018 Riesling, Gerolemou Winery – Omodos
Riesling vinified in Cyprus, one of the surprises. It offers a clean, crisp bouquet, some sweet lime and mandarin, candied orange and lychee aromas, even with subtle mineral notes. The mouth-watering acidity is beautifully balanced by flavourful Omodhos Riesling fruit. On the palate, it's light to medium-bodied, off-dry and stony, with mouthwatering acids and refreshing spritz. €13
2018 Aerides, Xynisteri-Chardonnay, Makarounas Winery – Letymbou
In the glass, our 2018 Xynisteri – Chardonnay displays a pale-yellow hue. Its aromas are reminiscent of walking through a flower garden in spring—with redolent white flower, honeysuckle and orange blossom with crashed citrus, tangerine and herbal tea.  On the palate the wine is lean and focused, with rich warmth and unifying acidity. Hints of minerality reveal themselves over a finish of incredible depth and length.  Super food friendly. A great pairing with grilled fish and stone fruit salad.
2018  Sauvignon Blanc, Makarounas Winery –  Letymbou
Sourced from a single vineyard in the area of Ftena, I found this masterful white to be one of the best Sauvignon Blancs I have tasted this year.
By using a small vineyard parcel, this winery has crafted a wine that spoke to me of sunshine, rocky-clay and limestone soil, and exceptional fruit. Aromas of green apple, citrus chamomile and pineapple, while hints of lime create a sensuousness that works well with grassy notes followed by just-ripe peach and mango. Tinges of sunflower linger on the tongue through the finish. This wine is primarily fermented in stainless steel. The mid-palate shows a lively acidity and soft floral notes leading to a pleasingly persistent finish that would wrap nicely around a lemon-accented and herb dusted roast chicken and make a tremendously good pairing.
2018 Morokanella, Makarounas Winery – Letymbou
Produced from a single vineyard too, from young vines in the area of Katapani on a clay-limestone slope. The wine is sleek and nicely balanced surpassingly fresh with vivid aromas of white flowers, ripe melon and citrus fruit introduce rich, zesty flavours of pink grapefruit, melon and guava leading to a long, crisp finish buoyed by bright acidity and refreshing citrus and mineral tones. Irresistible now, this beautiful Morokanella will age gracefully for the next three to five years and beautifully accompany seafood, poultry, vegetables, and salad dishes. €11.90
2018 Ayioklima Xynisteri, Constantinou Winery – Pera Pedi
Brilliant straw yellow with green and golden hues; this wine is delightfully fresh, the nose has an appealing minerality which is evident on the palate, also attractively floral and fruity, full of citrus and mandarin followed by exotic fruit and aromatic herbs typical of the Mediterranean coast. On the palate, it is fresh and crisp with well-balanced acidity and a clean finish. €6.50
2018 Dry Xynisteri, Yiaskouris Winery, Pachna
The colour is pale yellow with a silvery glint. The wine is crystal and clear. The nose shows beautiful white flowers and yellow fruit, ripe with a touch of small candied fruit and lots of herbs. The mouth has a very expressive and balanced freshness. The flinty minerality springs with a light smokey taste in the mouth. Yiaskouris beautifully extends its aromas with amazing generosity. €7
2018 Sauvignon Blanc, Aes Ambelis winery
Vibrant, intense and effusive! Pale straw yellow with green highlights, this wine offers aromas of lemon grass, lime peel and elderflower, with background notes of white currant, honeysuckle and red pepper. On the palate, it is medium-bodied with white peach, gooseberry and citrus flavours and a dry mineral finish. €14.50
2017 The Young Mountain Climber, Spourtiko – Vouni Panayias winery
The story on the label takes us back in time when young Andreas and his friend were climbing the rocky Vouni region. Andreas, proud of this difficult achievement, was rewarded with the beautiful view around him. It was at this spot that he had a vision, that one day that he should be involved in winemaking using local varieties.
Spourtiko best justified its existence by fertilising the Maratheftiko. This fragile-skinned, green-gold variety is early to mid-ripening and surprisingly aromatic. Cold-soaked cool fermentation of uncrushed grapes as well as extended lees-ageing. Brilliant straw yellow with golden hues. This wine is fresh and lovely with appealing minerality, flowery nose, its aromas and flavours of ripe apples and citrus peel play delicately on the palate. €16.60
2017 Alina, Our Village Xynisteri – Vouni Panayias winery
Xinisteri is widely planted in Panayia. This white is dedicated to the village of Panayia and its heroic vignerons. Cold soak, wild yeast fermentation and extended lees work have created a layered complexity. The Xynisteri shows the fragrance of evergreen shrubs and herbs that typifies the Paphos forest. It hints at aromas of pine and mint coupled with ripe stone fruit and sweet citrus. The palate is at once vibrant and textural and finishes with lingering acidity. €16.60
2017 The Tsaousis (Police Captain) and Aspri Fraoula (White Strawberry) – Vouni Panayias winery
Same variety but two different names depicted on the label. This is a rarely seen variety undergoing cool fermentation in steel vats. It is sourced from family vineyards sitting as high as 1,150m. Straw yellow in colour, with greenish reflections, this wine offers intense and fragrant aromas of stone fruits, pineapple and aromatic herbs with a touch of minerality. On the palate it is fruity, fresh and savoury with citrus and mineral notes. Good overall balance. €16.60
2017 The Woman in the Old Wine Press Morokanella – Vouni Panayias winery
Morokanella is another rare variety, though it is becoming very popular. An ode to a woman seen here crushing the grapes using her feet. It was vinified in stainless-steel tanks and kept on its lees for six months. Straw yellow colour with light golden hues. Complex on the nose with floral notes, white flowers with stone and Mediterranean spices, sage, rosemary and mint. The taste is persistent, full and well balanced by the mineral and lemony notes and bright acidity. There is certainly a great future for Morokanella. €16.60
2017 King Chameleon Promara – Vouni Panayias winery
Humorous label of a chameleon dressed as a king, a reptile often found in vineyards famous for changing colour according to its environment. Promara is from Kampos tis Rigenas vineyards and is made protectively stainless-steel tank. This is a serious Promara that takes on the weight and intensity of a serious unoaked chardonnay with dried-apple and pineapple character. Full and layered with focused and lively acidity that follows through to a vivid and intense finish of fruit and acidity. €16.60
2017 The Biggest Mushroom Promara – Vouni Panayias winery
The Promara fruit is also taken from the same vineyard as King Chameleon but with a different vinification method that takes on an oxidative richness from alcoholic fermentation and maturation in 300-liter French oak barrels. Promara here reveals a yellow colour with green highlights. The nose is delicately minty with aromas of white fruits. The palate is frank and balanced with mineral and smoky notes. The finish is fresh and very charming. Andreas loves picking wild mushrooms, and all the family remembers when he managed to find the biggest mushroom in the region. €16.60
2016 Cabernet Sauvignon, Gerolemou Winery – Omodos
Beginning with a gorgeous nose of boysenberry, cherry, strawberry, cedar, sage and licorice, this lush and lively Cabernet captures the rich diversity of Omodhos' Afames vineyards. On the palate, the alluring fruit flavours are underscored by bright acidity, firm polished tannins and notes of fig, licorice and cinnamon that linger on the well-structured finish. €16
2017 Playia Syrah, Cabernet Sauvignon, Merlot – Ktima Vassiliades, Omodos
The Playia dry red blend cranks up the decibels on its big, bold, unapologetic flavours of mulberry, blackberry, black pepper and vanilla along with a rich medley of mint, liquorice and clove. Dry, medium body, juicy, it's sure to rock any occasion.
2017 Shiraz, Vlassides Winery, Koilani
The colour is deep ruby with garnet highlights. Raspberry jam and citrus with soy and earthy undertone aromas are complemented by an all spice and a subtle meaty character. The palate is full bodied and rich. A smooth mouthfeel glides into a long silky finish with flavours of juicy blueberry, hints of tobacco and subtle gamey undertones. €11
2015 Cabernet Sauvignon-Lefkada, Ktima KEO – Limassol
A potpourri of aromas explode from the glass with notes of raspberry coulis, black cherry, cedar, cocoa nib, boysenberry, mint, graham cracker, and a hint of lavender, rose and bay. The palette follows with bright flavours of red cherry and strawberry jam before tertiary elements of coffee, dark chocolate, licorice and fresh plums take over. This wine is full-bodied, displaying archetypal Southern Troodos Mountain tannin balanced by an elegant structure. €8.50
2016 Geroklima Maratheftiko, Ktima Vassiliades – Omodos
Aged in Hungarian oak, it has rich concentrated aromas of cherry, raspberry and vanilla that lead into flavours of spice and chocolate. Subtle and soft with a lingering toasted oak finish. This wine was created to enjoy now or for many years to come as it will age gracefully. Enjoy with grilled steak or lamb chop, braised short ribs, or pasta with wild mushrooms and prosciutto. €10
2014 Opus Artis, Merlot-Cabernet Sauvignon-Shiraz, Vlassides Winery – Koilani
A blackberry hue, with scents of rich leather, cooked caramel, berries and forrest floor. Youthfully forward on the palate, supple and appealing with rich concentration. Tannins are abundant, yet fine, and persist throughout a layering of textural sensation. The richness of this wine correlates with the fine dust of the Vouni and Kilani soils. Finish expresses oak (French barrel) and Vlassides fruit-forward impressions. This wine is tannic, rich and squared off by our signature suppleness. €16
2012 Shiraz – Kolios Winery, Statos
A juicy avalanche of grilled fruit and game, this vintage offers abundant aromas and flavours of classic meaty, gamey, smoky Syrah with blackberry, blueberry, black plum, savoury spices and black tea. The layers of bold richness are beautifully held together with integrated, ripe tannins that offer tremendous promise for a few years of cellaring. €15
2016 Agios Onoufrios, Maratheftiko – Vasilikon Winery, Kathikas
This deeply concentrated wine boasts rich, ripe aromas of blackberry cobbler and violets complemented by intriguing spice components and wood smoked, scorched earth. The lush, complex palate is balanced beautifully by ample acidity and creamy oak nuances. Tannins are firm, yet supple and will integrate seamlessly as the wine ages. Rich, full-bodied, this is a voluptuous beauty that has more mid-palate depth and richness. €15
2017 Shiraz,Lefkada – Zambartas Winery, Agios Amvrosios
Deep, dark, and brooding. This wine has impressive focus, depth and precision. Really complex pepper, spice-dusted blood plums, cocoa powder and blackberries. The tannins are super succulent, firm but not aggressive. The depth and fluid power here is staggering. Intensely structured and deeply flavoured with blood plums, cocoa powder and graphite. Big on wow factor, this is a great wine that needs another three to four years to build out to full potential. €17
2017 Mavro Mouklos, Tsiakkas Winery, Pelendri
I belonged to the club of connoisseurs that believed you cannot make good wine from the Mavro Ambelisimo grape. I was wrong. A handful of winemakers, including Costas and his son Orestis, are proving that. The fruit of this wine comes from Mouklos vineyard, planted with Mavro Ambelisimo. This varietal greets you with deep aromas of red cherry and strawberry, that give way to subtle notes of cedar spice, mocha and fresh leather. Rich and lush red fruit flavours coat the palate, accentuating the medium body and tannins. Concentrated yet balanced, this wine leaves you with a satisfying, lengthy finish. (€9.50, Available at the winery, Library, Madam and Vinothiki in Limassol)
2015 Merlot Keranis, Tsiakkas Winery, Pelendri
An imported variety from the vineyard zone of Keranis. The wine has a ruby red colour, black cherry and cassis aromas layered with hints of vanilla, mint and toasted nuts. It is elegant and supple on the palate; the juicy plum and cherry fruit flavours are punctuated with cola and black pepper spice. The tannins remain a bit chewy through to the finish. Enjoy it with a bacon cheeseburger, or better with lamb roast for a delicious treat. (€16, Available at the winery, and Patriko tavern at the village of Tersephanou)
2015 Shiraz, Constantinou Winery – Pera Pedi
Costas Constantinou was always famous for his Shiraz, and it was about time to be rewarded with a gold. Deep purple-black coloured, this is a juicy avalanche of grilled fruit and game, this vintage offering abundant aromas and flavours of classic meaty, gamy, smokey Syrah with blackberry, blueberry, black plum, savoury spices and black tea. Decadently fruity in the mouth, the palate is packed with black fruits and exotic spices. The layers of bold richness are beautifully held together with integrated, ripe tannins that offer tremendous promise for many years of cellaring. €9
2017 Maratheftiko, Ktima Hatzipavlou  – Lemesos
A dark rustic red, the 2017 vintage features rich fragrant scents of blueberries, coffee beans, leather and a hint of pomace, enhanced by notes of violet, anise and wildflowers. Entry on the palate is silky, then builds with flavours of dark berry crumble and shaved chocolate. Tannins start off soft, holding onto their softness and fine texture even as they become more pronounced. This is a wine that fills and coats the mouth, leading into an extremely long finish marked by flavours of coffee beans and dark cocoa. €13
2016 Shiraz,Merlot, Ktima KEO – Lemesos
An almost 50/50 blend, this alluring and unashamedly bold Shiraz and Merlot is aged in oak for 12 months. It has hints of spiced plums, blackberry jam and cherry all at the fore and finishes with coffee cream, licorice and vanilla. Full bodied with vibrant berry fruit characteristics, yet elegant with restrained tannins, resulting in a soft mouthfeel. This 2016 blend is sure to be a knockout with roast lamb! €11
2018 Playia Rosé Xynisteri – Maratheftiko, Ktima Vassiliades (Omodos)
This rosé is elegant and distinct with a gorgeous hue of pale salmon and aromas of strawberry and grapefruit, and subtle hints of mint. A burst of fresh orange and lemon zest colourfully drive the palate and are delicately balanced with flavours of nectarine. A silky entrance on the palate coupled with fresh and uplifting acidity leaves you with signature Omodhos terroir expressiveness. It is excellent with all kinds of seafood and fish. €8.50
2017 Mavro Ambelissimo Rosé, Kir Michalis
A surprise rosé of unbelievable quality that made me rethink the qualities of Mavro, well at least from certain vineyards. Mr Michalis is a close friend of Andreas who also lives in the village. This assertive, medium-bodied wine has delicate aromas of strawberries, citrus and violets. Crisp flavours of raspberry, strawberry and fresh lemon zest. Enjoy chilled on a sunny day. €16.60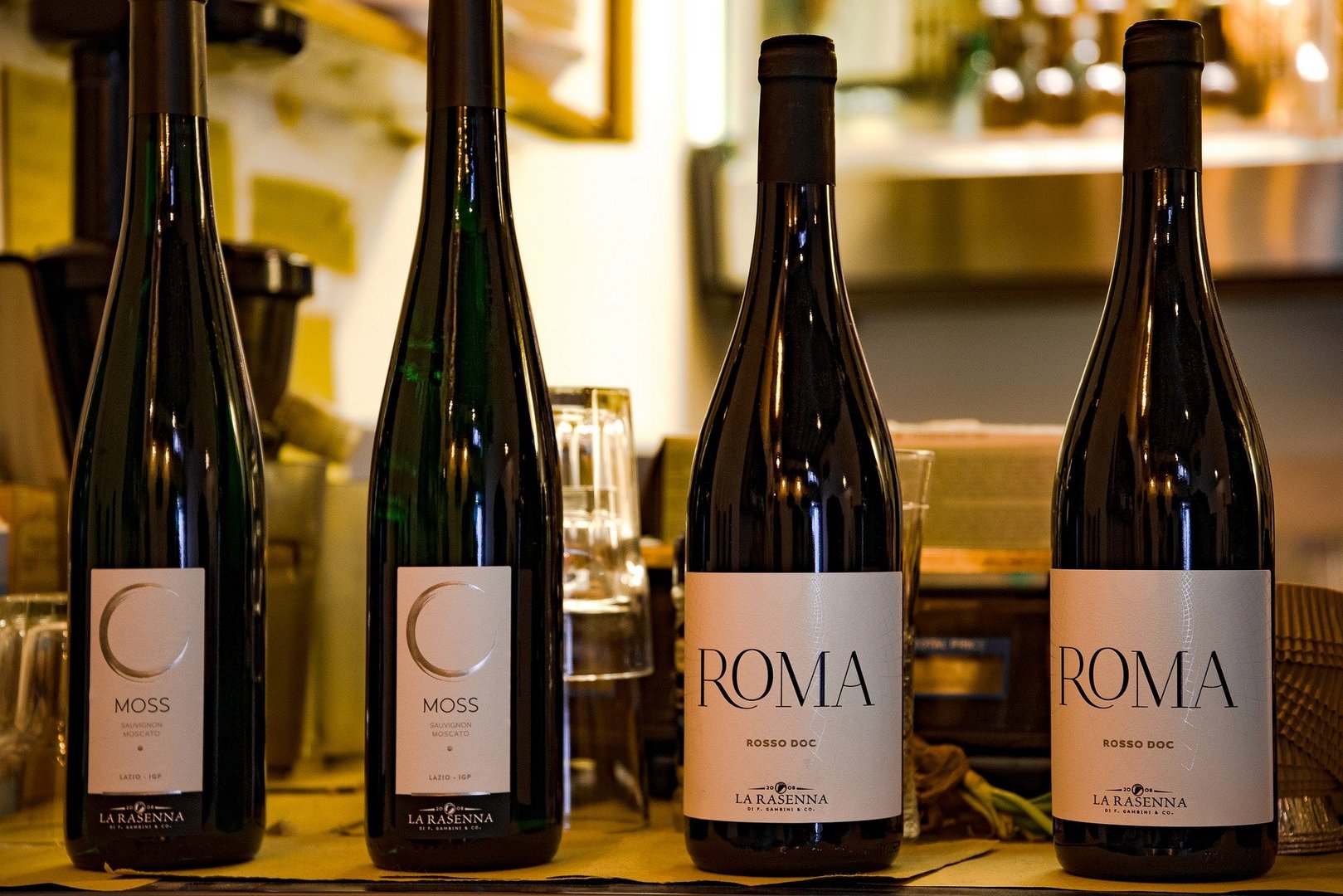 2018 Rodambelo, Rosé Syrah – Maratheftiko, Ktima Vassiliades, Omodos
Lovely cherry colour, aromatically it leaps out of the glass with a delicate bouquet of white flowers and crisp red fruits. A blend aged entirely in stainless steel, this wine displays resounding freshness and appealing acidity. Flavours of honeydew and fresh white strawberries are carried through with a long, mouthwatering finish. This rosé has the versatility of being both a wine to enjoy on its own or with lighter foods, such as salads, grilled fish, or Mediterranean dishes. €10
2018 Minthy Rosé, Cabernet Franc-Lefkada, Makarounas winery, Letymbou
Fruity and fresh, with its delectable salmon pink hues and intense aromas, expressive red berry fruit remains the essence of this rosé. Minthy has a beautiful concentration, with strawberry and raspberry flavours taking center stage, rose petals and spice, balanced by fresh acidity and leading to a sumptuous finish with notes of redcurrant. A perfect aperitif for an alfresco moment, it's also great with flavoursome food, or drink it as we do in Cyprus, anytime and with almost anything! Pair with salads, grilled meats and seafood, curries, sushi, other Asian cuisine, pasta dishes and even dessert.