Greek police on Wednesday afternoon confirmed that the body found in a ravine on the island of Ikaria was that of 35-year-old Natalie Christopher who went missing on Monday.
Reports said police believe she had tried to climb a rock which slipped causing her to fall. Her body was found crushed under a large piece of rock.
According to a police announcement, the body of the 35-year-old UK citizen was located in an around 20-metre ravine in a hard-to-reach area in Kerame area in Ayios Kirikos in Ikaria.
The body, found just before 5pm by a volunteer fireman who was participating in the search for the British Cypriot astrophysicist, was to remain on site until the arrival of a state pathologist to examine the scene.
The ravine where Christopher was found is around 1.5 kilometres from the hotel where she had been staying. Search and Rescue crews had passed near the area during a previous search but the body was only found after one of the rescuers walked down the ravine.
Greek police spokesman, Theodoros Chronopoulos, told state broadcaster CyBC TV that a pathologist and a homicide team were expected to arrive on the island to examine the scene before the body was moved.
Chronopoulos also said that the pathology report would show whether it was an accident or a criminal act.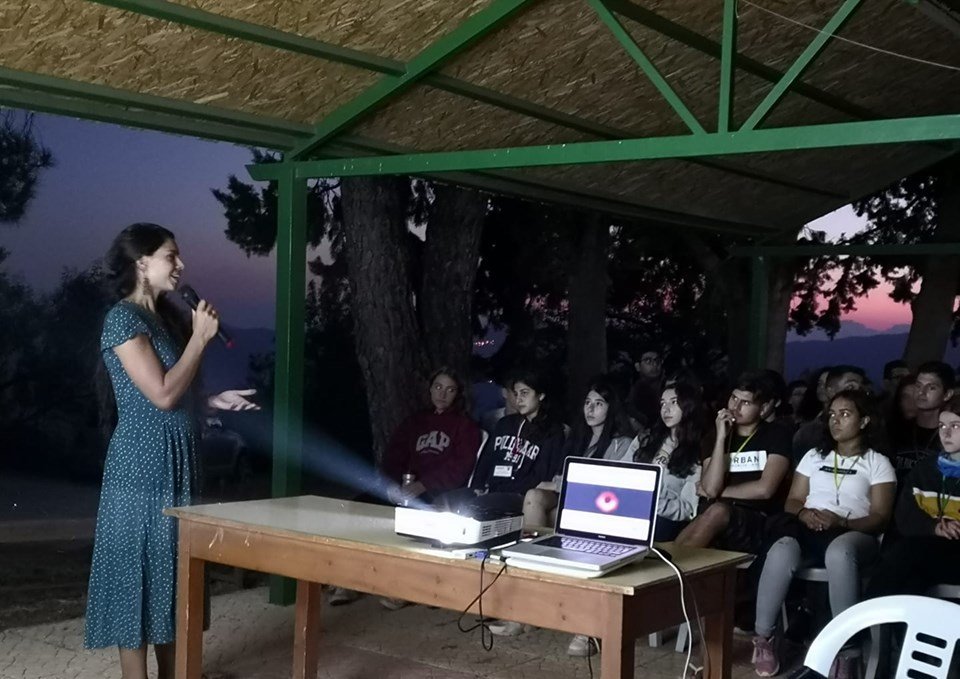 Natalie teaching astronomy at a bicommunal camp for teenagers
Justice Minister Giorgos Savvides said he was shocked to hear from Greek Minister of Citizen Protection Michalis Chrysochoidis that the body was Christopher's.
He expressed his condolences and on behalf of the state to Christopher's family and friends.
The search for Christopher had continued for a third day on Wednesday after she had gone missing on Monday during what was supposed to be a two-day stay on the island of Ikaria with her partner, 38.
The couple had arrived in Ikaria on August 3 and were scheduled to leave for Cyprus on Monday, but Christopher went jogging in the morning and never returned.
Her partner said he woke up in the morning and when he saw she wasn't there he called her mobile. Christopher told him she was out jogging in the Kerame Ayios Kirikos area.
Rescuers told media that she had told him she was about to climb a rock when he called her.
After she failed to show up, her partner called her phone again but there was no response. He then called the police to report she had gone missing at around 12.40pm.
The focus of rescuers was on locating the missing woman's mobile phone. On Tuesday evening police with special cellphone tracking equipment had arrived in Ikaria to search the island for the Christopher's phone.
The head of the Ikaria special rescue unit Michalis Christodoulou told Greek news portal iefimerida that they had already scoured a very large area, around 10 kilometres, and that on Wednesday they were focusing on getting close to the area where Christopher's mobile last sent a signal.
He said the last signal sent by Christopher's mobile phone was in the area of Faros in Kerame, where her body was later found.
Acclaimed astrophysicist, Christopher was an Oxford graduate, a runner and triathlete who was heavily involved in bicommunal activities in Cyprus.
She was known across the island for her work with children. One of the founders of the Cyprus Girls Can campaign which empowers young women through sports, Christopher was also a key figure in the Columba-Herschel project, a bicommunal astronomy endeavour operating under the tagline 'All of Cyprus lies under the same sky'.
President Nicos Anastasiades tweeted that Christopher's death was an unjust loss of a young scientist and active citizen who had her whole life ahead of her and much to offer.
Following news of her death, the 35-year-old's Facebook profile was inundated with messages from friends but also with people who never knew her expressing their sorrow.
Bicommunal group Unite Cyprus Now said in a post that Cyprus had lost one of its best.
"You touched our lives with energy and dedication to make this world a better place. You have been an inspiration and we promise to continue your legacy," the group said.
Christopher was also a member of the Cyprus Trail Runners. They said in their tribute to her that she was "one of the most intelligent people we have ever met, she had a passion for life, and lived it to the full, with unbounded joy."
"When she was trail running, we could always hear her coming. She would whoop with delight through the forest, and laugh and shriek and squeal like a child as she danced down rocky hillsides, as light as a gazelle on her feet. She would ooh with wonder at the sky above, and then aah about the beauty of small blue orchid in the crevice of a rock."
The group said she used her passions – astronomy and sport – to bring people together. "She truly loved her country, and wanted to bring Cypriots together from across the 'divide'" and make sure they would get to know each and understand that they are all Cypriot and lived in a wonderful place.
"She dreamed of a united island."
She really did change lives, and she will never be forgotten, the tribute said.
"We hope Natalie is now running among the stars and planets she loved so much – whooping through the Milky Way and leaping over moonbeams."