A strong thunderstorm came from the east of the island and hit Nicosia hard on Sunday afternoon trapping people in cars, flooding basements and shops, especially in the city's old town.
In Limassol, which was also hit by a storm, a 20-year-old hunter was hospitalised in the intensive care unit after being hit by lightning, reports said. His 61-year-old uncle, who was with him was also slightly injured. They were taken by ambulance to Limassol general hospital. The younger man's condition is said to be critical.
According to reports he and his uncle and his 12-year-old brother had decided to go hunting but had gone only 100 metres from the uncle's house when they decided to turn back due to the weather and it was then the lightning hit. The boy was uninjured and ran for help.
In the Nicosia city centre, people ran for shelter from the heavy downpour as the streets of the old town flooded quickly. The rain was accompanied by thunder and lightning and was followed by a hailstorm.
On social media, people from all areas of the capital were reporting the same phenomenon.
Police warned of flooding on all roads between Dhali and Nicosia and urged drivers to be cautious as parts of the highway were congested.
In the Engomi area, a tree fell at Metochi Kykkou and partially blocked the road.
There were dozens of calls to the fire service from Aglandjia, Strovolos and central Nicosia from where Sigmalive posted footage from a downtown restaurant with an inch of water on the floor.
The fire service in a statement said it had been working non-stop since 2pm to handle the situation in the capital and had called in off-duty staff. Eleven rescue teams were working around the city, it said.
The emergency response unit Emak, and civil defence were also on standby, the fire service said.
Incidents involved freeing trapped occupants of vehicles stuck on flooded roads, pumping water from basements and dealing with fallen trees.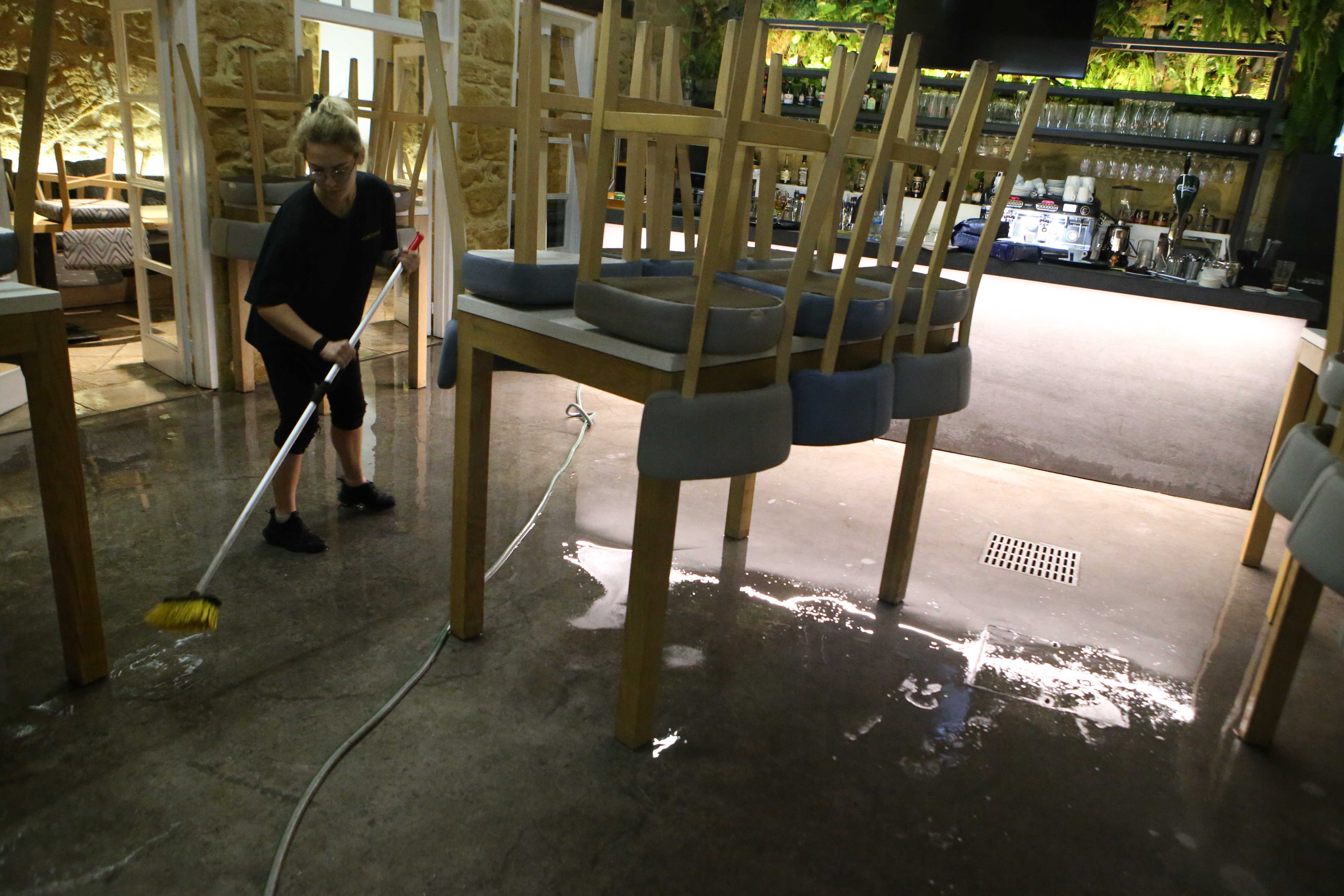 The fire department had responded calls for help from all areas but initially Aglandjia area, Strovolos and central Nicosia in and around Ledra and Onasagorou streets. They said there had been a total of more than 180 from around the city altogether by 6pm. There were also calls for help in Limassol, where a number of trees fell, spokesman Andreas Kettis said. "We will keep going for as long as necessary," he added.
Video footage from various social media posters showed several inches of water around Onasagorou and Phaneromeni where the outdoor areas of cafes and restaurants were clearly abandoned in a hurry.
According to Kitas Weather, the storm is what's known as 'supercellular', something known as one of the most violent atmospheric phenomena. It is characterized by heavy rains, hail, winds and lightning and thunder and in some cases may be accompanied by tornadoes.
Supercellular thunderstorms last from 1-4 hours mainly but under certain conditions, can last longer, up to eight hours. Sunday's storm started in the capital at around 2pm and was still going strong until around 6pm when it began to ease up.
According to the met office by Sunday the unsettled weather is set to continue with isolated rain and storms into Monday and Tuesday.
Temperatures will reach around 26C inland and on the coast and around 15C in the mountains.
Video from Kitas Weather