Turkish Cypriot 'foreign minister' Kudret Ozersay is in London for contacts ahead of Brexit and has raised the issue of direct flights to the north with UK parliamentary contacts, Turkish Cypriot media reported on Wednesday.
They said Ozersay held contacts in the UK parliament earlier in the week where he discussed possible opportunities likely to arise after the Brexit such as direct flights to the north and trade with the UK.
'Prime minister' Ersin Tatar has also announced he would be in London on February 11 with reports saying he was in contact with British Prime Minister Boris Johnson through some of his friends at the Conservative Party, on the issue of direct flights to the north.
During his stay in London, Ozersay spoke at the House of Lords at an event hosted by the UK Parliament All Party Parliamentary Group for the 'TRNC' under the presidency of Lord Northbrook.
In his speech, Ozersay said that following Brexit, the Turkish Cypriots may have the opportunity to trade with the UK again and they will use the opportunities of working together. He also answered questions on the issues of hydrocarbon, transportation, energy, halloumi, and the Cyprus problem negotiation process.
Ozersay reiterated that a federal partnership is based on sharing but the Greek Cypriot side is not ready to share governance and wealth with the Turkish Cypriots. Therefore, the negotiations should focus on partnership models based on cooperation, not sharing, he was quoted as saying.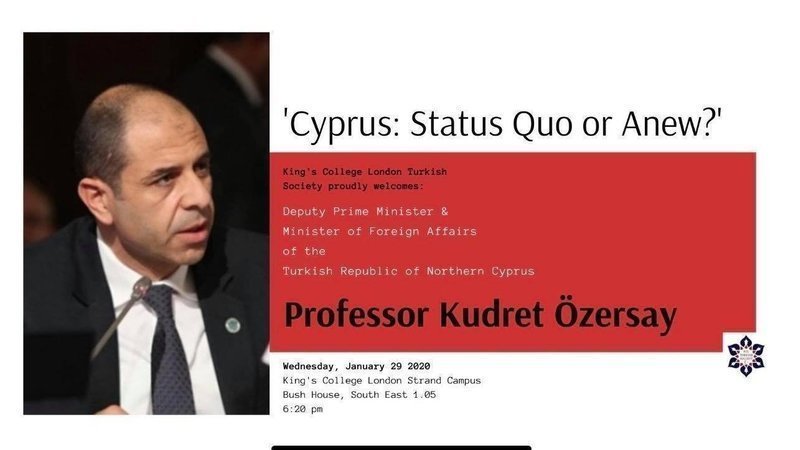 Ozersay is also due deliver a speech at King's College London on Wednesday night at an event organised by the university's student Turkish Society.
Turkish Cypriot media reported that he will be using his official title as 'deputy prime minister' and 'foreign minister' despite protests by Greek and Greek Cypriot students there.
The students and Cyprus' ambassador in London had sent letters to the university administration demanding that the event be cancelled arguing it was unacceptable for Ozersay to address the conference with his official title, the media reports said.
The students are planning a protest outside the building.