THEO PANAYIDES meets a sprightly octogenarian whose book is a belated tribute to the city of his youth, which he left with droves of others with a handful of belongings 46 years ago, as a sense of duty has dictated his life since
A little girl finds a lizard – a chameleon – in the honeysuckle outside the door of her grandfather's house, and begins to ask questions: "Did we have a honeysuckle in our home in Varosi [Famagusta] too?". Elsewhere, a potato farmer recalls his time as an Eoka fighter, and the British coming to arrest him at the office where he worked: "Policemen stepped in and asked for our IDs. I noticed that the man who was collecting the IDs held mine between different fingers. Right then I knew."
Elsewhere in the book, in a story called 'The Cities' – the book being Stories of Famagusta by Dimitris Leventis, winner of the National Short Story Prize in 2015 and now available in an English translation – an architect named Lefteris thinks back to his hometown, and the mass exodus that took place on August 14, 1974: "Everyone thought that the Turks only wanted the old city, as none of them [i.e. no Turks] lived to its south, not even in Kokkinochoria". He recalls his family, who were part of the exodus, stopping briefly at a coffee shop in Derynia to look after the baby – then, a year or two later, camping in the summer in Ayia Napa (before the hotels, of course), down the coast from Famagusta. "These were the only vacations they could afford," recalls Lefteris, "and that was also the only way they could spend a few days in those areas where they used to take him as a little boy."
Lefteris is based on Dimitris' own son (now in his early 50s), just as the little girl who finds the chameleon is based on his own daughter (now in her late 40s). He himself is the Eoka fighter, having spent two years in a British detention camp: March 1957 to January 1959, when he was in his late teens. He'll be 81 in May, though he looks fit enough and moves nimbly as he welcomes me to his home and busies himself making chamomile tea. The face is thin, eyes lively, nose and chin jutting sharply, white hair gleaming like a halo in the morning light streaming through the windows. When he gestures I notice his hands, which are large and surprisingly hairy; not the hands of a fragile 80-something.
The book, he explains, is "based on experiences", which is to say it's true but lightly fictionalised; names have been changed, details added, but the core is essentially accurate. He was in Eoka as a teen, as already noted – but he was a teacher in later life, not a potato farmer like Pieris in 'The Missing Man'. The British did indeed arrest him, and there was indeed a Turkish cop present who may have intervened (he used to play backgammon with Dimitris' father) to prevent him being tortured – but the cop's name wasn't Bayazit, as it is in the story. That said, most of the book hews close to autobiography, especially when it comes to his experience of the trauma that hangs over every book about Famagusta.
"The airplanes kept bombarding," we read in the story called 'The Teacher'. "The grown-ups had tucked the three children under the stairs as fear took over. Suddenly, Martha collapsed to the floor and they rushed to her. She wasn't breathing." 'Martha' is based on his mother who passed away on July 21, the second morning of the first invasion. "She had a weak heart," he explains to me. "She couldn't take it." A stray bullet had already crashed through a window, and lodged in the wall; one imagines a constant barrage of explosions outside the house, wails of panic inside. The anguish of trying to make funeral arrangements (and of course trying to process their grief) in the midst of that pandemonium must've been awful – yet the family didn't leave Famagusta, indeed they moved to a bigger house in the month between the first and second invasions (since they now had Dimitris' father living with them too). "No-one thought they wanted to take Varosi," he explains – "a place where there wasn't a single Turk. Not a single Turk. That's what – anyway…" he breaks off, preferring not to dwell on the question of whether the city might've been saved, had it not been abandoned.
He himself tried to go back on August 15, having joined the exodus the day before – only to see our troops moving out "in an orderly fashion", like it says in 'The Cities'. (A few people went in anyway, he tells me grimly, and are now among the missing.) Famagustans fled to escape the bombs; most of them assumed the move would be temporary. Dimitris and his family, like most people, left with just a handful of belongings. His dad Panos, also a teacher and writer, took some handwritten notes and poems; he himself "chucked a few things into a bag – diplomas, photo albums, sentimental value mostly". They went to relatives to Ormidia, around 50 refugees in a kind of bewildered cluster, many of them sleeping in their cars (his dad had a fine time writing down everybody's names in a notebook) – then to Limassol for a year, then to Nicosia on secondment to what was then the Counselling and Guidance Services department of the Ministry of Education. He took out a loan, built a house, raised his kids, made a new life – but would still go back tomorrow, he assures me, if the occupation could be magically lifted.
Will we ever get Famagusta back, in his opinion?
Dimitris shrugs: "The hope is there," he replies calmly. "So far at least, it seems that – the Great Powers, let's say, don't want the city to be relinquished, and inhabited by the Turks. They'd like it to be returned."
A solution has often seemed close, especially at Crans-Montana three years ago. It must be hard, I venture, getting his hopes up every time only to be disappointed – but Dimitris shakes his head.
"We are people who don't get excited very easily," he says, "nor do we get disappointed."
Meaning who? Famagustans?
Not Famagustans as such, he replies – but himself, plus his wife and kids. "It's like in the first months [after the invasion] when you heard about people packing their bags, getting ready to go back. Ridiculous! No," says Dimitris, and shakes his head slowly. "There is a seriousness in our family."
You do seem a little bit – strict, I admit. A person of principle.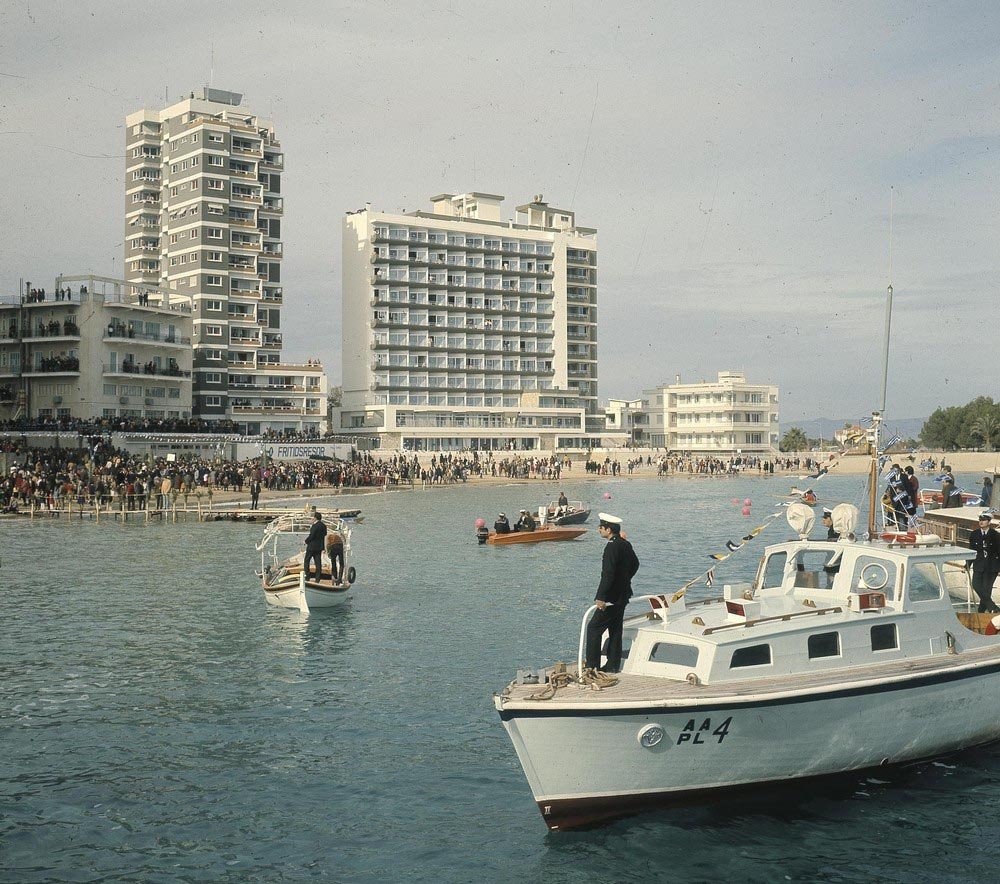 "Yes, yes," he agrees, "that's quite true. And the same goes for my wife, and the children. I mean, there are always certain limits – you agree? – which can't be ignored. Certain values, which must be upheld. And duty, too, along with everything that – well, whatever has to be sacrificed for it. We're always hearing people talk about values and so on, but actions speak louder than words. Not that we [in the family] don't make mistakes, of course we do, but it all depends on how 'strict', as you put it – or perhaps a better word is 'steady' – how steady you are in your values and duties."
It's true, Dimitris does seem rather strict: very correct, down to the smallest detail. I notice it when he suddenly springs up to change my saucer because some of the tea has dripped into it – and I notice it when he talks of the invasion, and recalls that the first thing he did was report to the army and volunteer to fight, despite being too old and the father of two small children. His younger brother did fight in the war, and narrowly escaped being killed when his convoy was strafed; that might've been him, he admits – yet "I considered it my duty," he explains levelly. "In my life, the fundamental value and guiding vision has always been duty. Same thing in my work, same thing everywhere."
Some might be suspicious of such an explicit pronouncement – yet it does seem like duty has played a consistent role in the life of Dimitris Leventis. He finished school at 17, and could've gone to study – but he was already involved in Eoka, and duty dictated that he stay in Cyprus and continue the struggle. (He got a job in a bank, did his time in the British detention camp, then eventually studied Greek Philology in Athens in his early 20s, where he also met his Corfu-born wife.) Later, in 1974, he didn't just go home after being turned down by the army, but joined the civil defence – and indeed only followed his family to Ormidia on the night of the 14th, having waited till the last possible moment to abandon the city. His work, too (his field was counselling and career education), seems to have been all-consuming, from a Master's in the US to assorted seminars and presentations abroad. He didn't really start writing books until retirement; there was no time.
This particular book, Stories of Famagusta, "was a kind of duty too, let's say – there, you see? duty again! – for the next generations," he tells me. "Above all for my children and grandchildren. So they'll know more about Famagusta. About us". It's also, of course, a memoir, implicitly tinged with nostalgia – but what, I wonder, is he truly nostalgic for? Is it really Famagusta? Or just being young?
"Famagusta," he replies after a pause. "Famagusta." What does he miss most? "Its people," replies Dimitris thoughtfully, "its life". The people were good-tempered, they were honest, he reminisces; the life was comfortable. "And of course the sea… That was a big part of our lives, we loved it. And the orchards, with the blossoms coming out in spring and the whole town filled with their fragrance…"
There's an extra little poignancy to these memories – because his life today, though full and pleasant, is perhaps somewhat lonely compared to the easy community he recalls in his book. The house in Nicosia is spacious, having been built to accommodate a family of four as well as Dimitris' father and mother-in-law – but of course the latter two are long gone, and the children too are seldom around, having moved to America to study and decided to stay on. The little girl who finds the chameleon in the honeysuckle is now married to a doctor; they live in Oakland, California and have two sons, whose childish drawings adorn the fridge in their grandparents' kitchen. The real-life model for the architect Lefteris in 'The Cities' is a professor of architecture in Missouri. Dimitris and his wife talk on Facetime with their offspring every week, or every other week – but it's not the same. Stories of Famagusta is at least as much about those old relationships as the city that birthed them.
What does he do all day, anyway? This and that, he shrugs amiably. He likes doing crosswords ("they're educational, too"), and keeps up with current affairs; his values, unsurprisingly, are patriotic as well as moral – though not chauvinistic, he insists – and he worries about Greek culture, and Hellenism in general, being swamped by the great march of globalism. Writing doesn't appear to have taken over his life, indeed the Famagusta book – despite being quite a slim volume – took about two years to complete. He's just done a similar one on the islands of the Aegean, each story touching on a different Greek island (it comes out in Greek later this month) – though of course that's just a book, not a personal catharsis and belated tribute to the city of his youth.
It's all there, from the beach hotels on the front cover to Lefteris' vision in the last few paragraphs of 'The Cities', the final story in Stories of Famagusta. "His eyes closed again. And he saw it… Sandy, fragrant, laborious, gentle. Brimming with people. His first city". It's not gone, says this unsentimental man – an austere, duty-bound, consciously principled person – it won't help to cry and carry on about it. The city might yet be returned; hope never dies. In any case, however, "like I always say, Famagusta continues to exist wherever there are Famagustans". 46 years on, Dimitris Leventis still carries the torch.