As of 6pm Tuesday anyone wishing to go outdoors must fill out a printed form explaining the reason or send an SMS to 8998 (no charge) and within 5-10 seconds one will get a reply.
There are two printed forms, the first for people who need to  travel to work (see below). This form needs to be signed by one's employer; self-employed persons must fill out and sign the form themselves.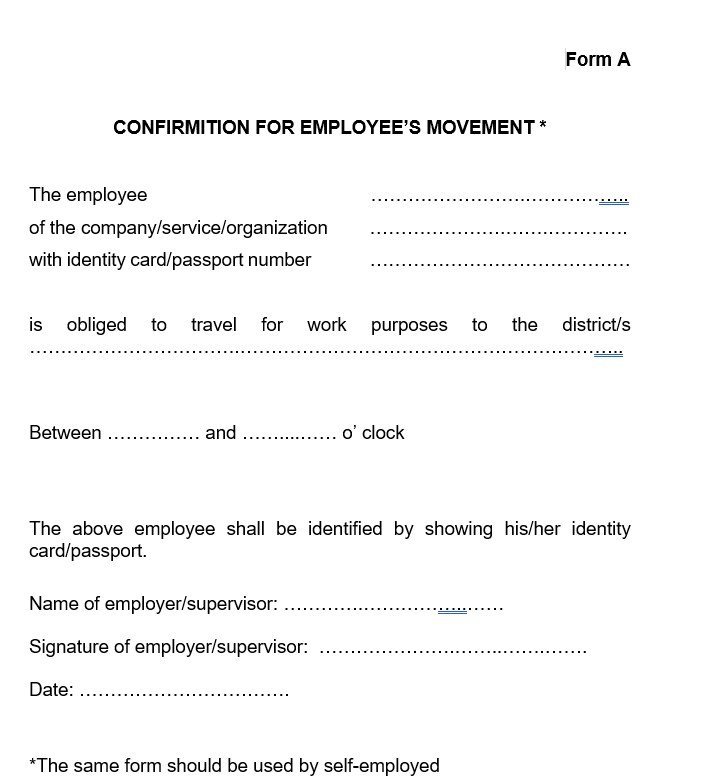 In the second form, each individual must fill it out and sign it to request exemption from restrictions on day-to-day movements (for non-work reasons).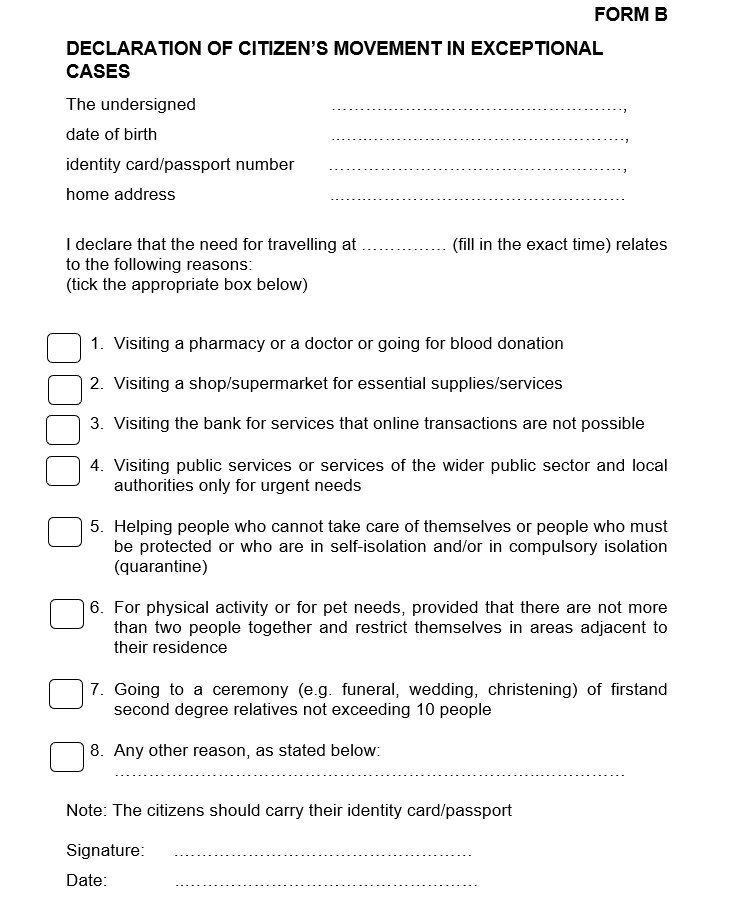 IMPORTANT: Whichever of the printed forms one uses, it must be filled out prior to going outdoors, and presented to police if stopped. It applies to people on foot as well as motorists.
Permission to go outdoors can be also granted by sending an SMS to 8998 (no charge) stating the reason for wishing to leave your house
Your message should read as follows:
Insert reason for leaving your house: (Single digit from 1 to 8)
Space
Passport or ID number
Space
Postal Code
The single digit numbers from 1-8 correspond to the following reasons (also shown in Form B above):
Visiting a pharmacy, a doctor, or for a blood donation
Visiting a store to obtain essential goods or services
Visiting a bank if a transaction cannot be done online
Absolutely necessary visits to state services, public-sector services or municipal services
Visiting persons who are unable to help themselves or are in self-isolation
Going outdoors for exercise or to walk one's pet, for two persons at a maximum and the distance must be close to one's residence
Attending ceremonies like funerals, weddings or baptisms, provided you are a first-degree or second-degree relative and the gathering must be no more than 10 people at any one time
Any other reason (generic) for moving outside that may be justified despite the restrictions.
For more information please read: Coronavirus: Want to go outside for non-work reasons? Ask the authorities via SMS