food and drinkWe're keeping up the topical isolation theme with New Caledonia, a French overseas territory smack bang in the middle of the Pacific! This gorgeous tropical island archipelago comes complete with white sand beaches, jungly mountains, and the longest continuous barrier reef in the world…
Surrounding Grande Terre (New Caledonia's largest island) as well as several smaller islands, the beautiful New Caledonian reef stretches for 1,500km and is home to a vast range of species including dugongs, nesting green sea turtles and sharks.
Boasting the richest diversity in the world per square kilometre, New Caledonia is home to entire genera, families, and even orders of plants that are completely unique. There's also an incredible variety of wildlife.
The human inhabitants are similarly diverse: speaking over 40 officially recognised languages, the 270,000-strong population is comprised of Kanaks (indigenous to the islands), locals of European descent, Wallisians, Futunians, Indonesians, Tahitians, Ni-Vanuatu, Vietnamese. And this, in turn, makes for a wonderfully eclectic cuisine.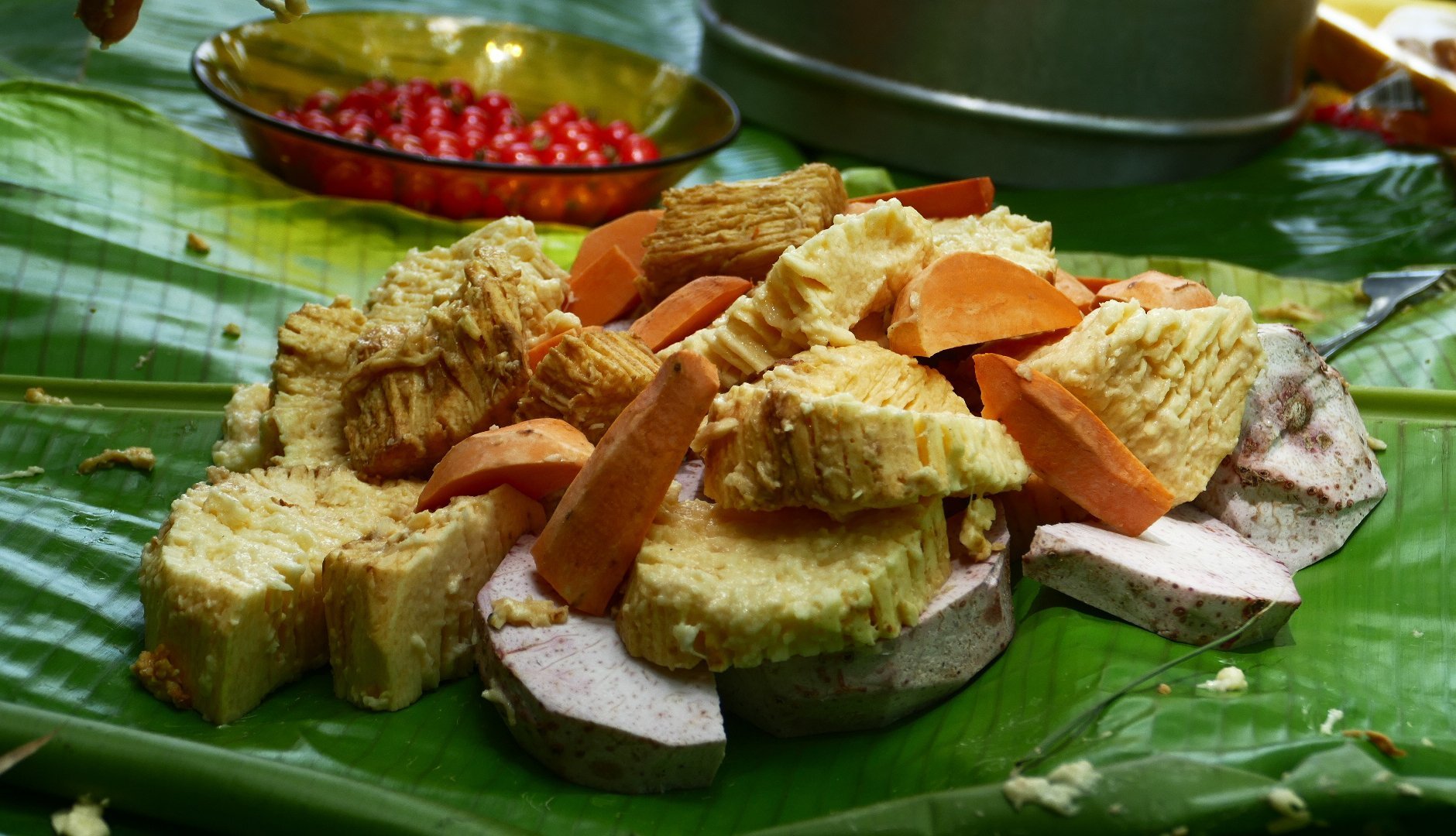 Bougna is probably the best-known local dish, served at festivals, weddings and to welcome visitors. A mixture of yam, sweet potato, taro, vegetables and meat, fish or seafood covered in coconut milk, the dish is tightly wrapped parcels made from banana leaves and cooked on hot stones in an earth oven. Covered in green leaves to keep in the heat and the flavour, the whole is then baked for roughly two hours before being served. The portions are, purportedly, so large they're impossible to finish!
Coconut, of course, is a staple on the islands, along with yam, taro, cassava and breadfruit (which, when baked, dried and pounded, is an excellent substitute for wheat flour). Unripe pawpaw is a favourite in salads (grated and sprinkled with a vinaigrette dressing), and guavas grow wild along the roads. And the abundance of seafood (lobster, crab, innumerable fish) makes for many a tasty meal.