Set up to develop and put forward a framework and process to facilitate the integration of migrant children into the Cypriot educational system, the Geia Xara team had an important task. Through its Greek language classes and mediation services offered in schools around the island, the project sought to equip children aged 6-12 years old, as well as unaccompanied minors, with basic language skills and an understanding of their host community. It gives them the ability to communicate with their classmates and to follow lessons at school with a structured support system to mitigate any challenges that may arise in the communication between them, their families and the school.
Effectively the project has set the basis for migrant children to access the educational system and allowing them to become included in the school community and Cypriot society as a whole. In doing so, Geia Xara creates a longstanding multiplying impact, empowering children to succeed academically and ensuring they are not marginalised. To succeed, the team – comprised of the Educational Centre CARDET, Frederick University and INNOVADE LI-  with the invaluable support of the Ministry of Education and the Pedagogical Institute developed an innovative programme offering a hands on practical approach to learning Greek complemented by a school-parents mediation service.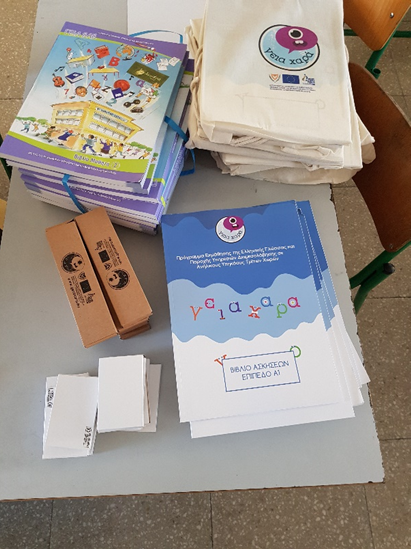 During its third period, Geia Xara operated 47 classes around Cyprus offering Greek language lessons at four different levels that were attended by 500 students from third countries. The students benefited from an interactive learning experience built around the use of practical, real-life situations that acquainted them with the everyday use of the language and were also given the opportunity to learn more about the culture and history of their host society. Additionally, Geia Xara developed a selection of online educational games that students can use to enhance their Greek language skills by playing from home. An approach whose effectiveness becomes evident by the fact that 450 children successfully completed the programme while 386 of them passed their exams. Apart from that, the project has recruited a roster of 20 parents, of migrant background, who utilised their language skills to support 70 schools throughout Cyprus acting as intermediaries and assisting communication between them and the parents of migrant pupils studying at them.
By supporting migrant children to develop their language and communication skills, the programme has helped migrant children attain a foothold in the school community and Cypriot society, playing a pivotal role in their inclusion to the educational system; a contribution that will have an immeasurable multifaceted positive impact on their life allowing them to succeed academically and integrate.
The Programme Greek Language Program and Mediation Services for Minor Third-Country Nationals (TCNs) («Γεια Χαρά! ») is being implemented by the Research Centre CARDET in cooperation with Frederick University and the Advisory Company INNOVADE, the Pedagogical Institute of Cyprus and Department of Primary Education. It is funded by the Migration and Asylum Fund for the Integration of the Republic of Cyprus. Project Code: CY/2018/AMIF/S02.N02.1.4/3